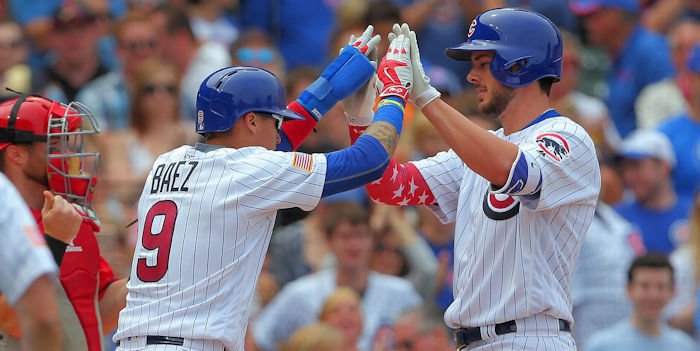 | | |
| --- | --- |
| Cubs ranked #1 in ESPN's Power Rankings | |
---
CHICAGO -- ESPN released their latest article with their MLB Power Rankings on Monday morning and have the Chicago Cubs ranked No. 1 in the rankings. The Cubs had a projected 2017 record of 98-64 and predicted to win the National League Central. The projected records and standings were determined by ESPN insider Dan Symborski using his ZiPs system.
"With series against the Reds, Braves, White Sox and Brewers early in the second half, the Cubs might not feel particularly motivated to make an addition at the trade deadline," ESPN said. "They could win 100 games again even without a full season of good health from their rotation -- within reason. Kris Bryant is only two years into his meteoric career, Jason Heyward should rebound, and Kyle Schwarber will be back for a full season. What was already a very good offense should be even better. Barring the unforeseen, Chicago's real tests start in October."
Cubs right fielder Jason Heyward could be the key to whether the Cubs have a decent season or possibly dominating their division.
"When the calendar turns to June, the Cubs' biggest question is likely to be whether they are running away with the NL Central or merely holding on to a division lead," ESPN said. "The answer could come down to Heyward. After plummeting from a 120 wRC-plus to 72 -- good for 143rd out of 146 qualified regulars -- Heyward spent the offseason trying to retool or rediscover his swing. The Cubs will probably be pretty good again even if Heyward doesn't hit. But it wouldn't hurt if he did!"
The Top 10 teams were the Chicago Cubs, Cleveland Indians, Boston Red Sox, Los Angeles Dodgers, Houston Astros, Washington Nationals, San Francisco Giants, Texas Rangers, New York Mets, and Toronto Blue Jays.