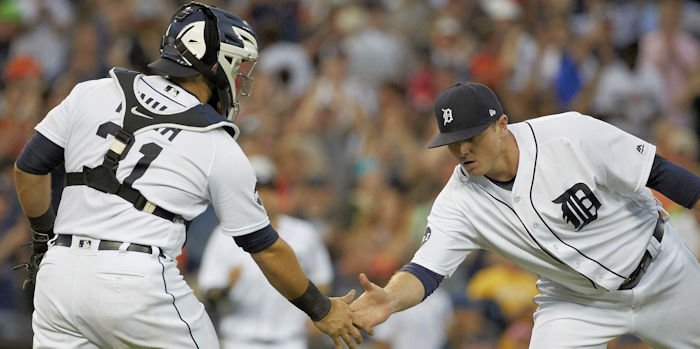 | | |
| --- | --- |
| Cubs send message to MLB with Wilson, Avila trade | |
---
CHICAGO -- The Chicago Cubs management hope to have found the two missing roster pieces that will help their team on their journey to secure back-to-back World Series titles.
Detriot closer Justin Wilson, 29 and catcher Alex Avila, 30, were shipped to the Chicago Cubs in return for third baseman Jeimer Candelario, 23, shortstop Isaac Parades, 18 and a player to be named later or cash considerations. Justin Wilson is under control through next season, his last year of arbitration, and Alex Avila also has another year left on his deal for 2018.
In Justin Wilson and Alex Avila, the Cubs are getting two significant upgrades at positions of need—backup catcher, where rookie Victor Caratini had been thrust into action after the abrupt goodbye to Miguel Montero. While he was doing an adequate job, as a rookie, he was not the top choice or expected to be the Cubs backup heading into August. It is nice that Caratini was not included in the deal, however, as he still has upside and could be an adequate backup in the near - future and is athletic enough to play other positions on the field as well. Avila is currently slashing a decent .274/.394/.475 with 11 bombs and 32 ribbies over 77 games in 219 total at-bats. Not only does he give the Cubs a great defensive backup who is also familiar with the city (being a former White Sox player), but with the way he is hitting, a very nice bat on days Wilson Contreras does not lace up. It should help keep Contreras fresh for the stretch-run, and potentially the playoffs where he will likely be leaned upon heavily, especially if Contreras continues to hit as he did over the month of July.
Wilson, who has been the de facto closer in Detroit since the release of Francisco Rodriguez earlier this season, has put up stellar numbers across the board, including a 57/16 K/BB ratio in 40.1 IP, with a svelte 2.68 ERA, .94 WHIP, and .157 BAVG allowed / 141 AB, and meager .131 / 99 AB vs. RHP to show that he is not just a weapon against left-handed pitchers. While closing for the Tigers, he also converted 11 of 13 saves. Wilson is likely to move into a late-innings setup role for the remainder of this year, but since he is locked up through 2018, he could be a possibility for saves next year if Wade Davis does not return, or at the very least, gives the Cubs an in-house option.
Jeimer Candelario, while a talented offensive prospect who can make hard-contact from both sides of the plate, was blocked by Team Bryzzo and a logical piece to be moved. Candelario will now have to contend with Nick Castellanos and Miguel Cabrera, but the Tigers are still getting a top-100 prospect (the Cubs' last, per MLB Pipeline's midseason update). Isaac Parades, originally signed out of the Mexican league as a 16-year-old exactly two years ago this day—July 31st, 2015—is now on his way to his second professional organization. In Parades, the Tigers are getting a middle infield prospect that is more likely bound for 3B long-term as he is 18 and projected to continue to fill out. Parades, the Cubs' #10 overall prospect on MLB Pipeline's midseason update, is a player who could grow into his frame and be a 10-15 HR guy, but is unlikely to stick up the middle and may be more of a corner infield/outfield utility-type with his size (and age, as he is not done growing or filling out) as it stands.
This is a great trade, and likely all the Cubs needed down the stretch. Over his last three starts, John Lackey is 3-0, while the rest of the starting five have also been very, very solid overall since the All-Star break rolled over. The chances of losing chemistry or disrupting a club house are something that would have been at stake if the Cubs went after another starter, especially with the rotation stepping up lately. This is a trade (acquiring Justin Wilson alongside Alex Avila) that I believe I previously referred to as almost making "too much sense" in a previous write-up surrounding trade rumors. Let's hope for as good as it looks on paper; it translates on the field.
If this was the Cubs' final addition to making a late season push, it was another savvy move and fantastic pickup. Parades and Candelario may yet be solid big league players, but Candelario had been blocked with the Cubs and deserved the fresh start, and Parades may well have been blocked as well if he grows out of the middle infield as expected. This one is a winner and should help the Cubs keep winning.