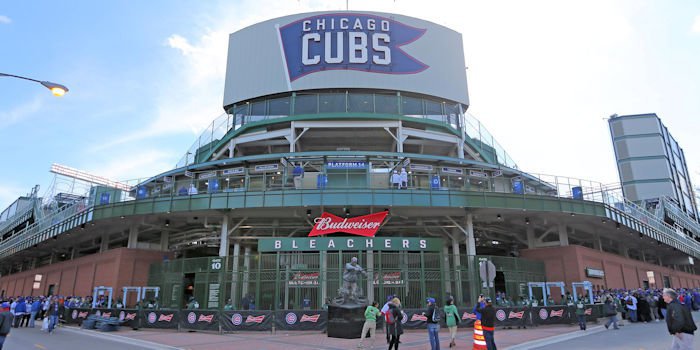 | | |
| --- | --- |
| Cubs sign lefty Brendon Little | |
---
CHICAGO – The Chicago Cubs today announced they have signed left-handed pitcher Brendon Little, the club's top pick with the 27th overall selection in the first round. Terms of the deal were not disclosed.
Overall, the Cubs have signed 14 selections to date (including Little): righthander Cory Abbott (second round), righthander Keegan Thompson (third round), righthander Erich Uelmen (fourth round), lefthander Ricky Tyler Thomas (seventh round), infielder Austin Filiere (eighth round), outfielder Chris Carrier (ninth round), righthander Brian Glowicki (10th round), righthander Casey Ryan (18th round), righthander Brendan King (20th round), righthander Sean Barry (21st round), righthander Mitch Stophel (25th round), righthander Jake Steffens (29th round) and infielder Cam Balego (30th round).
Little, 20, averaged 14.03 strikeouts per 9.0 innings in his sophomore season with the State College of Florida, Manatee-Sarasota in Bradenton, Fla., striking out 133 in 85.1 innings while walking just 33 batters. He went 5-3 in 15 starts with a 2.53 ERA (24 ER/85.1 IP) and surrendered just 67 hits.
The six-foot, two-inch 215-pound Little had seven 10-strikeout games in 15 outings, including 15 strikeouts and no walks, March 29 vs. South Florida State College. That outing began a three-start stretch in which he struck out 35 and walked just two in 20.0 innings from March 29-April 10. He later struck out 13 and walked none, April 21 against Polk State College.
Little is a graduate of Conestoga High School in Berwyn, Pa., and was the second-best junior college player available in this draft according to Baseball America.
Here is a look at Chicago's selections from the 2017 Draft, with the players currently having signed in bold:
Rd. (Pick) Player Pos. School Birthday B T Ht. Wt.
1 (27) Brendon Little LHP State College of Florida, Manatee-Sarasota 8/11/96 L L 6-2 195
1 (30) Alex Lange RHP Louisiana State University 10/2/95 R R 6-4 200
2 (67) Cory Abbott RHP Loyola Marymount University (Calif.) 9/20/95 R R 6-1 210
3 (105) Keegan Thompson RHP Auburn University (Ala.) 3/13/95 R R 6-2 210
4 (135) Erich Uelmen RHP Cal Poly – San Luis Obispo 5/19/96 R R 6-3 195
5 (165) Nelson Velazquez OF PJ Education School (P.R.) 12/26/98 R R 6-0 190
6 (195) Jeremy Estrada RHP Palm Desert High School (Calif.) 11/1/98 S R 6-1 180
7 (225) Ricky Tyler Thomas LHP Fresno State University (Calif.) 12/22/95 R L 6-1 175
8 (255) Austin Filiere 3B Massachusetts Institute of Technology 9/1/95 R R 6-1 190
9 (285) Chris Carrier OF University of Memphis (Tenn.) 4/18/95 R R 6-2 225
10 (315) Brian Glowicki RHP University of Minnesota 10/19/94 R R 5-11 190
11 (345) Rollie Lacy RHP Creighton University (Neb.) 7/17/95 R R 6-4 195
12 (375) Ben Hecht RHP Wichita State University (Kansas) 5/31/95 R R 6-2 185
13 (405) Austin Upshaw INF Kennesaw State University (Ga.) 7/28/96 L R 6-0 180
14 (435) Luis Vazquez SS Alberto Melendez Torres School (P.R.) 10/10/99 R R 6-1 165
15 (465) Jared Young 2B Old Dominion University (Va.) 7/9/95 L R 6-2 185
16 (495) Brandon Hughes CF Michigan State University 12/1/95 S L 6-2 215
17 (525) Peyton Remy RHP Central Arizona College 8/20/96 L R 6-2 170
18 (555) Casey Ryan RHP University of Hawaii 5/20/94 R R 6-4 200
19 (585) Chris Singleton CF Charleston Southern University (S.C.) 7/5/96 R R 6-0 175
20 (615) Brendan King RHP College of the Holy Cross (Mass.) 7/8/94 R R 6-1 200
21 (645) Sean Barry RHP University of San Diego 5/22/95 R R 6-2 190
22 (675) Skyler Messinger SS Niwot High School (Colo.) 11/1/98 R R 6-3 195
23 (705) Brady Miller RHP Western Oregon University 4/4/96 R R 6-2 185
24 (735) Braxton Light RHP Wallace State CC (Ala.) 10/13/95 R R 5-9 185
25 (765) Mitch Stophel RHP King University (Tenn.) 11/9/94 R R 6-3 205
26 (795) Bryce Bonnin RHP Barbers Hill High School (Texas) 10/11/98 R R 6-0 180
27 (825) Darius Vines RHP Oxnard College (Calif.) 4/30/98 R R 6-1 180
28 (855) Kier Meredith CF Robert B Glenn High School (N.C.) 9/12/99 L L 5-9 165
29 (885) Jake Steffens RHP Santa Clara University (Calif.) 6/24/94 R R 6-4 215
30 (915) Cam Balego INF Mercyhurst College (Pa.) 6/12/95 R R 5-11 205
31 (945) Ramsey Romano INF California State University, Long Beach 5/10/95 R R 6-2 205
32 (975) Hunter Ruth RHP Buchholz High School (Fla.) 5/25/99 R R 6-2 185
33 (1005) Joe Donovan C Westmont High School (Ill.) 1/20/99 R R 5-11 177
34 (1035) Andrew Karp RHP Florida State University 9/30/95 R R 6-1 204
35 (1065) Ben Ramirez SS Eastlake High School (Calif.) 12/2/98 L R 6-3 180
36 (1095) Tanner Allen CF UMS Wright Prep School (Ala.) 6/5/98 L R 5-11 180
37 (1125) Alex Cornwell LHP Maranatha High School (Calif.) 5/9/99 L L 6-1 175
38 (1155) Russell Smith LHP Midlothian High School (Texas) 9/10/98 L L 6-9 230
39 (1185) Cooper Coldiron INF University of Houston 9/9/94 R R 6-1 190
40 (1215) Jeffrey Passantino RHP Lipscomb University (Tenn.) 9/25/95 R R 5-9 225