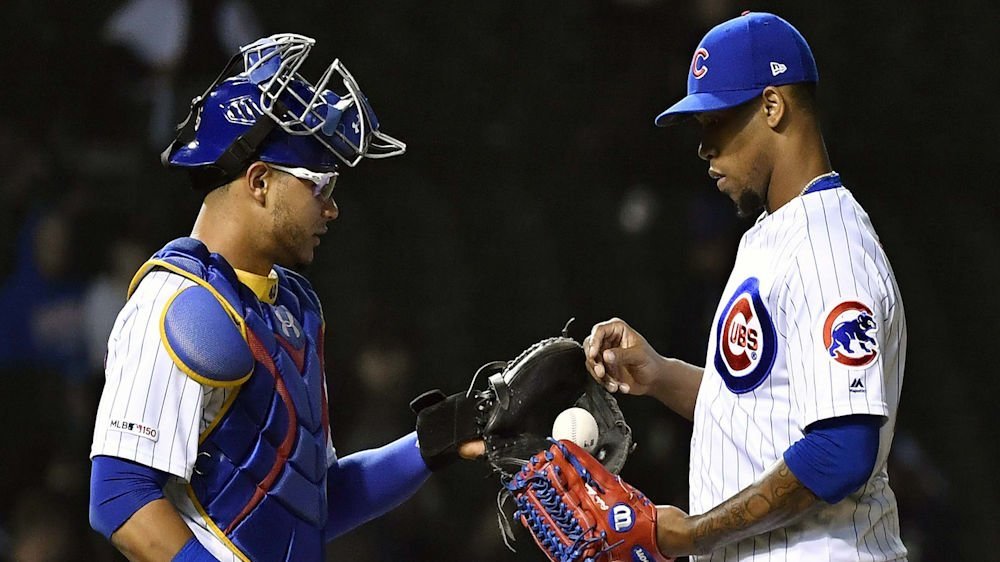 | | |
| --- | --- |
| Cubs speared by Marlins, Bryzzo homers, Edwards recalled, more | |
---
| | | |
| --- | --- | --- |
| Tuesday, May 7, 2019, 8:25 AM | | |
Next Game: Tonight: 7:05 PM CDT: Marlins vs Cubs. LHP Caleb Smith (3-0, 2.00 ERA) vs LHP Jon Lester (2-1, 1.73 ERA).
CUBS NEWS AND NOTES:
Monday's Game Recap: After sweeping the Cards, assuming first place and extending their win streak to seven, the Cubs began a 4-game, home series with the Marlins last night. Cole Hamels squared off against Sandy Alcantara in a very lackluster, and at times ugly, game. Despite a quick 3-run lead by the Cubs, Hamels got beat-up on in the third, to bring Miami to within one. The Marlins tied it in the sixth, then took their first lead of the night in the ninth, which would prove to be just enough.
What started as a potential rout for Chicago, slowly turned into an embarrassing loss. Except for one run, the Cubs couldn't capitalize on the ten walks issued by Miami, though the Marlins sure took advantage of four walks in the ninth, issued by Strop (3) and Brach (1). Anthony Rizzo and Kris Bryant each homered (Bryant in the bottom of the 9th), but that wouldn't be enough. The game could have (should have) gone to extra innings, but Kyle Ryan made a bone-headed play, allowing the go-ahead run to score on a play that would have had the runner out by a mile at the plate. Final score Marlins-6, Cubs-5.

Marlins/Cubs Probables: Wednesday- 7:05 PM: RHP Jose Urena (1-5, 5.45 ERA) vs RHP Kyle Hendricks (2-4, 3.93 ERA). Thursday- 1:20 PM: RHP Trevor Richards (0-4, 4.10 ERA) vs RHP Yu Darvish (2-3, 5.79).
Rizzo's rocket: Anthony Rizzo hit a bullet of a home run in the bottom of the first last night (111.3 mph exit velocity). Rizz not only gave the Cubs an early lead but he that was #200 for him. He is now in sole possession of 9th all-time for homers by a Cub.
The cold never bothered me, anyway. #TeamRizzo #EverybodyIn pic.twitter.com/h1DS5PQoiI

— Chicago Cubs (@Cubs) May 7, 2019
Expanding the lead: While the Cubs should be gutting the Fish this week, the Cards (and their deflated egos) went home (to their boring city) to host the Phillies for a three-game set. The two teams are of about equal strength, and their standings and stats closely mirror one another. The Cards will be hungry after getting swept, and the Phils will want to continue their winning ways and expand their lead over Atlanta.
Roster moves: Yesterday afternoon, the Cubs recalled RHP Carl Edwards Jr. and optioned RHP Dillon Maples to AAA Iowa. Edwards said the demotion felt like he'd "hit rock bottom," and described it as "very humbling."
On the mend: Victor Caratini began a rehab assignment last night in South Bend and was expected to get time both behind and beside the plate. Caratini broke his left hand during an at-bat on April 11 (vs. Pittsburgh) and was expected to miss up to 6 weeks. Good news for the Cubs, as when Caratini was injured, he was slashing .571/.647/1.000 through his first six games (14 at-bats, 17 plate-appearances).
Davis on Darvish: Taylor Davis commented, "I truly believe that Cubs fans need to get excited for Yu Darvish. I think the guy that you saw the start prior is closer to the Yu Darvish you're going to get every day."
Maddon on the offense: "There's a lot of chicken left on the bone, man. There's a lot more to do here, and these guys are definitely pointing in the right direction."
Kris Bryant: Maybe KB stands for "Ka-Boom." Over his last 63 plate appearances, Kris Bryant is slashing .277/.444/.596 (173 wRC+) with a walk-rate (20.6%) nearly double his strikeout rate (11.1%) and a hard-hit rate approaching 50%. (Credit to Michael Cerami for that stat.)
KB. Waveland. #KBoom#EverybodyIn pic.twitter.com/v0UVQgEqaI

— Chicago Cubs (@Cubs) May 7, 2019
Like a rock: The Cubs have now gone unbeaten in their last eight series (7-0-1). This streak started after losing 3-straight series to begin the season, each of which was played on the road. The Cubs have now won eight consecutive games for the first time since winning 11-straight in 2016 (7/31/2016 through 8/12/2016).
Another record: With Javier Baez's last double, he became the only Cub in the franchise's history to have 10+ doubles and 10+ dingers in the first 31 games of a season.
Players with 10+ Doubles & 10+ Home Runs through the team's first 31 games of a season, #Cubs history:

This guy in 2019. That's it. pic.twitter.com/4YvkTmMQE7

— Christopher Kamka (@ckamka) May 6, 2019
For what it's worth: The Cubs' magic number to win in the NLC is now 130… Just sayin'.
Yesterday's Cub Birthdays: Happy birthday to ex-Cubs Tom Baker (85), Leo Burke (85), and posthumously, Bill Hands (79).
ONLY IN BASEBALL…:
Well, I'll "bee": We've seen games delayed for rain, sleet, even snow; but this is ridiculous. The Reds had to delay the start of their game against the Giants yesterday (only 18 minutes total), due to a swarm of bees on and around the field.
Game about to start. Happy for the players that the bees have moved away from the field. Sad for me because they're headed to the press box. #reds

— Mark Sheldon (@m_sheldon) May 6, 2019
Better now than later: Sunday afternoon the Nationals completed their game against Philly (Nats lost 7-1), then prepared to catch their flight to Milwaukee for a series with the Brewers. The plane had engine problems (fortunately, realized BEFORE takeoff), leaving the team to sit on the tarmac for seven hours. The Nats finally called it a night, returned to their hotel, and flew out this morning.
NL CENTRAL SCHEDULE (May 5 – May 4, 2019)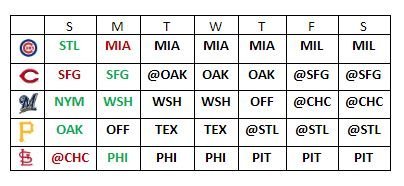 YESTERDAY'S NL CENTRAL SCOREBOARD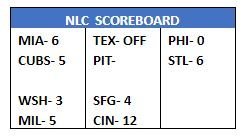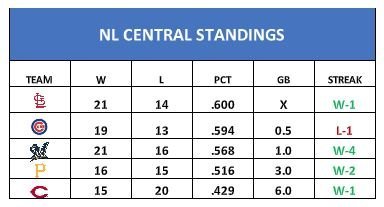 Tags: Cubs Baseball
,
Caleb Smith
,
,
Cole Hamels
,
Anthony Rizzo
,
,
Kyle Ryan
,
Kyle Hendricks
,
Yu Darvish
,
Dillon Maples
,
Victor Caratini
,
Taylor Davis
,