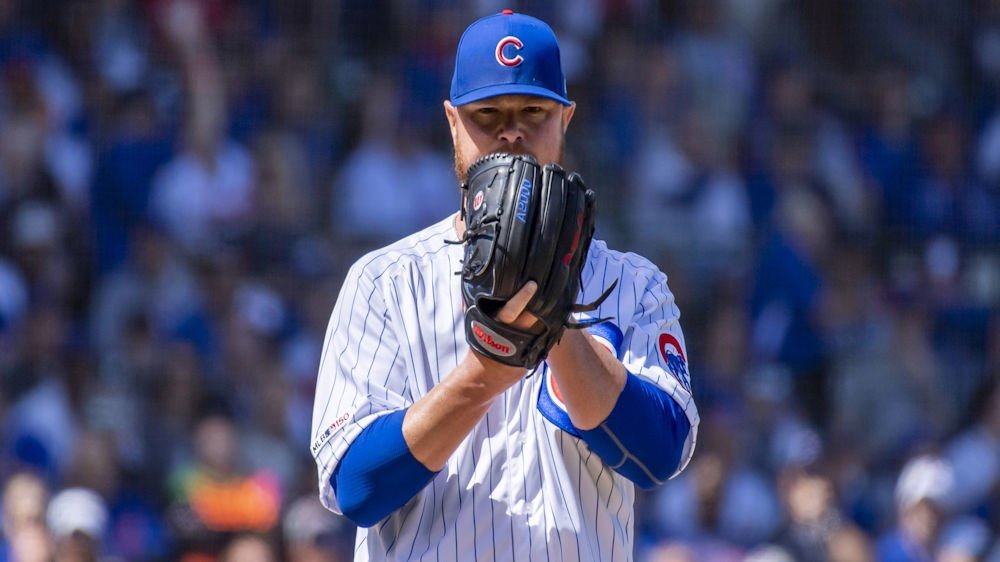 | | |
| --- | --- |
| Cubs vs. Angels Game Preview: TV times, Starting pitchers, Prediction, more | |
---
| | | |
| --- | --- | --- |
| Monday, June 3, 2019, 3:22 PM | | |
The Cubs and Angels have a little unfinished business to take care of, resulting from a "snow day" on April 14. When the teams last played, the series was tied at 1-1. I'm not sure if MLB would back-date stats, but should the Cubs win the rubber match, their series win streak (April 8- May 12) could technically stand at nine straight.
The Pitching
The Cubs continue to share in the pitching struggle, although Kyle Hendricks has now seemed to, once again, put the past behind him. For Jon Lester, the struggle continues, and it's become very real. In less than a month, Big Jon has seen his ERA go from 1.16 (an MLB best) to 3.59, as the team has gone 1-3 in Lester's last four starts.
If any one man has struggled for the Angels this season, it's Trevor Cahill. Cahill had an abysmal month of May that saw him post an 8.22 ERA in five starts. In his last outing (vs. Oakland), he was clobbered for a season-worst, six runs in just 4.1 innings.
When it comes to the bullpen, Chicago's continues to be unpredictable at best, while the Angels are even worse. Their closer, Hansel Robles, is sporting a 4.26 ERA (but I guess they can't complain- at least they have a closer) and Ty Buttrey has been lights out, posting a 1.27 ERA, but nearly half of their bullpen has posted ERAs over 4.60, with both Cody Allen and Justin Anderson over 5.00.
The Offense
The Angels don't appear to have a bad offense on the surface, slashing .258/.337/.427 as a team (excluding pitchers), but they lead the AL in strikeouts (361), while their team's slugging percentage ranks 8th. Despite Tommy La Stella blasting home runs at the rate of about one every two at-bats, the Angels have posted a minus six-run differential, finishing May with a 5-5 record, in fourth place, and 10.5 games back.
If the Cubs want to get back on track, they must start focusing on contact hitting with runners on base. Homeruns are nice, but when you're stranding 12-20 men a game, you're not cashing in on the runs that will eventually matter the most. Their run differential is far superior to that of the Angels, but they must provide a struggling Jon Lester with run support.
Mound Matchup
Monday: RHP Trevor Cahill (2-5, 6.92 ERA) vs LHP Jon Lester (3-4, 3.59 ERA). Game time 3:05 PM CDT; Televised WGN, SAP WGN and MLB TV.
Very few Cubs have seen Trevor Cahill in the past (Jim Adduci, Daniel Descalso, Jason Heyward and Anthony Rizzo) and combined, they've only gone 3 for eight against him. Rizzo has managed to tag Cahill for a homer, and collectively, the four have tallied 3 RBI (Rizzo-2, Heyward-1).
Jon Lester didn't see the Angels while they were at Wrigley Field in April, but historically, he's done so-so against them, posting a 5-4 record (12 starts) with an ERA of 3.69
Series Prediction:
I think the Cubs win this game and, ultimately, the postponed series, but the most significant thing this team needs right now is a big win, with a solid outing by both the pitching and the offense to reinstate some of their confidence.
Next up: Colorado Rockies vs. the Cubs from Wrigley Field.