| | |
| --- | --- |
| Cubs vs Cards Series Preview: TV times, Starting pitchers, more | |
---
| | | |
| --- | --- | --- |
| Tuesday, July 30, 2019, 2:05 PM | | |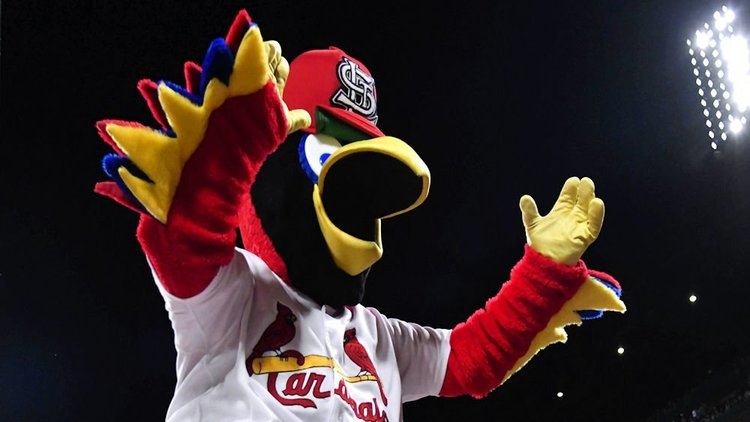 The Cubs and Cardinals are about to do battle in their fourth series of the year. If nothing else, this season series has been strange. Marked by a sweep of the Cards in Chicago, a sweep of the Cubs in St. Louis, then a sweep of the Cards in Chicago, the teams are about to play at Busch Stadium again: Mayday.
The last time there were three Cubs-Cards series sweeps to start a season was 1978.
The Cards aren't the third-place team anymore, they're right up there in first, battling away with Chicago, so a sweep this time, by either side, is going to have some dramatic consequences.
Injury Report:
CUBS: Cole Hamels: Rehabbing in Iowa; Daniel Descalso and Pedro Strop: 10-day IL (ankle).
CARDINALS: Matt Carpenter: 10-day IL (foot); Jedd Gyorko: 10-day IL (back); Jordan Hicks: 60-day IL (elbow); Yadier Molina: 10-day IL (thumb); Marcell Ozuna: 10-day IL (finger)
The Pitching
I have to think that by the end of tomorrow night's game, Theo Epstein will either have reemerged as a guy who means business or that he'll retreat quietly to his offense and start thinking about next year. The Cubs rotation has been good (even great) this year, but it would take me about 17 hours to tally the number of blown saves, lost leads and other (non-necessary) drama that this bullpen has caused them.
A lack of action by Theo in this area could indicate that either the Cubs are screwed for acquisitions due to low trade value on their players, or that Epstein is placing the blame somewhere else… like management. Granted, the offense isn't exactly setting the scoreboard on fire lately, but the premise is simple: either it is the bullpen's fault, or it isn't, and wherever the blame lies, needs to be addressed.
So far as the Cardinals are concerned, this couldn't be a better starting trio to use against the Cubs, as all three have been effective against them this year. Their overall team ERA isn't all that impressive (4.15), and their rotation's ERA isn't much better, with only Dakota Hudson coming in below 3.90, but somehow, it works for them.
The Offense
The Cubs offense seems to do one thing well recently; homer, but as they've seen, that isn't always enough to win. I'm working on tracking down the exact number (and having some difficulty finding it) but the amount of runs that the Cubs have derived from the long-ball this year is just insane. As of last Sunday's game, 19 of the Cubs' last 20 runs came courtesy of the salami. And I wouldn't be surprised to learn that the total RBI from dingers sits around 65-70% for Chicago. That's just crazy. While homers are way up around the league, the Cubs have been almost solely dependent on them, which is a huge problem.
The Red Birds' offense seems like they should be having some issues, as they're missing all kinds of key players, yet they keep winning. In one road trip, they managed to go from third to first, helped in part by a Cubs' team that has gone 2-4 to open this set of away games.
Mound Matchups
Tuesday: RHP Yu Darvish (3-4, 4.54 ERA) vs RHP Adam Wainwright (7-7, 4.63 ERA). Game time 7:15 PM CDT; NBC Sports Chicago, MLB Network (out of market) and MLB TV.
Yu Darvish has been unbelievable as of late and has been about the most consistent arm in the rotation for the last month. Since the All-Star break, Darvish has posted an ERA of just 2.00 with 21 strikeouts versus only two walks over his previous three starts (18 innings). He was able to hold the Cards to one run at Busch Stadium back on May 1, but his 4.07 road ERA still has plenty of room for improvement.
When it comes to beating Wainwright, watch for Kris Bryant to be the productive one. In 26 at-bats, KB has stroked a .308 average, with his Bryzzo counterpart batting .241 against Wainwright in 41 at-bats. Jason Heyward has also been productive (.333 average in 21 at-bats), but Javier Baez, Willson Contreras, and Kyle Schwarber have struggled immensely.
Wednesday: RHP Kyle Hendricks (7-8, 3.41 ERA) vs RHP Mile Mikolas (7-10, 4.19 ERA). Game time 7:15 PM CDT; WGN and MLB TV.
Since coming off of the IL, Kyle Hendricks has managed to post an ERA of just 2.88, yet he's 0-3, as the Cubs don't seem to want to lend him much in the way of run support- averaging only 1.6 runs per game. Hendricks has done well against the Cards, but obviously, it will make little difference if the Cubs can't score runs.
The Cubs have had some mixed results when facing Mikolas, and the Cards have gone 1-1 against the Cubs this year when he's started. Both of those games were low scoring affairs, seeing a total of seven runs scored between the teams. The Cubs lost the first time they saw Mikolas (final of 2-1, Cards), but won the last meeting (at Wrigley) on June 7, by a final of 3-1.
Thursday: LHP Jon Lester (9-6, 3.87 ERA) vs RHP Jack Flaherty (4-6, 4.24 ERA). Game time 6:15 PM CDT; NBC Sports Chicago MLB Network (out of market only) and MLB TV.
Jon Lester missed a start due to a fever but then rebounded nicely in his last outing, going seven, shutout innings, while striking out five, walking three and allowing four hits. Lester has done reasonably well with the Cards, but Goldschmidt- just named the NL Player of the Week, has been trouble for Bog-Jon- posting a .545 average in 11 at-bats against him.
For Flaherty, Rizzo has been the thorn in the derriere, as he's stroked a .667 average in 12 at-bats. Save for Willson Contreras (.273 in 11 at-bats) and Albert Almora Jr. (.250 in 8 AB), Flaherty has stymied the Cubs offense.
Series Prediction:
The good news is that I can't see the two teams continuing to sweep each other when playing at home, but the bad news is, I can't see the Cubs winning this series either.
I think the Cubs will win against Wainwright tonight, as Yu Darvish has been spot-on, but I think they drop the remaining two games. Mikolas has prevented the Cubs from scoring runs, and the Cubs haven't shown Hendricks much for run support, which results in a Cubs' loss on Wednesday. When it comes to facing Flaherty, only three of the Cubs have a track record for hitting him. I'd venture to be that one of the three (Almora) gets benched, as Maddon will choose to use Happ for the matchup game- bad mistake this time, in my opinion.
Cubs lose the series 2-1.
Next up, Milwaukee vs. Chicago from the Friendly Confines.

Tags: Cubs Baseball
,
Cole Hamels
,
Daniel Descalso
,
Yu Darvish
,
,
Jason Heyward
,
,
Willson Contreras
,
Kyle Schwarber
,
Kyle Hendricks
,
,
Albert Almora Jr
,
Theo Epstein