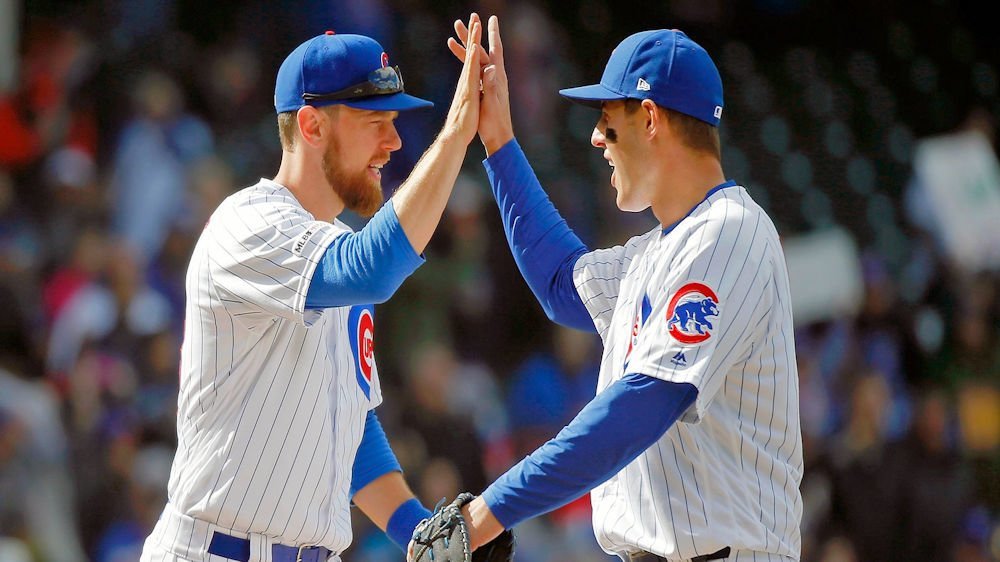 | | |
| --- | --- |
| Cubs vs Mariners Series Preview: TV times, Starting pitchers, more | |
---
| | | |
| --- | --- | --- |
| Tuesday, April 30, 2019, 3:37 PM | | |
This season started as a disaster for the Cubs, who posted a 2-7 record over the first nine games. That was then; this is now. Excluding a weather postponement for what would have been the rubber-match of the D-backs/Cubs series at Wrigley a week ago, the Cubs have now won their last five series. At home, on the road, it doesn't matter anymore- the Cubs are on fire, and they'll need that momentum to sink the Mariners.
With only a two-game set this series, the Cubs will need a sweep to win this one, before returning home to face the first place Cards, the Marlins, and then the Brewers.
Pitching
The Cubs' rotation has remained solid with the exceptions of Kyle Hendricks and Yu Darvish, neither of who will start in Seattle, and the bullpen has continued to toughen up tremendously as the season progresses. Cole Hamels and Jon Lester will be the starters for the series, and combined; they'll put their collective 2.78 ERA, against a team with a .253 batting average, and ranks first in the AL in terms of hits, runs, and homers.
The Mariners are no slouches on the mound either, though, like the Cubs, they are plagued with a few guys who remain struggling. Overall their team ERA stands at 4.45 (ranked 8th in the AL), and more specifically, the two starters for this series (Hernandez and Gonzales) combine for an ERA of 3.36 against a Cubs team who's batting .257. Getting to the Mariners' starters will be the key, as scoring against their pen can be a tough hill to climb.
Mound Matchups
Tonight: LHP Cole Hamels (3-0, 3.16 ERA) vs RHP Felix Hernandez (1-2, 3.91 ERA). Game time 9:10 PM CDT; Televised on NBC Sports Chicago and MLB Network.
Cole Hamels has been nothing short of amazing in his previous five starts this season, providing both longevity and quality. Having come from the AL, Hamels is no stranger to the Mariners, and this roster has done well against him. Throughout his career, Hamels has faced Seattle a total of 14 times and has posted an ERA of 4.64 when facing them.
Hamels' counterpart will be veteran righty, Felix Hernandez, who has only faced the Cubs twice in his 15-year career, posting a 2.57 ERA against them. This season, Hernandez has been average, allowing 11 earned runs on 28 hits, throughout 25.1 innings. He can be a bit wild, having already hit three men, and tossing an additional pair of wild pitches, but his strikeout (21) to walk (3) rate stands at 7 to 1. Hernandez is most vulnerable this season during the first and third innings (ERA of 3.60 and 9.00 respectively), but he's been untouchable in the sixth (0.00 ERA).
Wednesday: Wednesday: LHP Jon Lester (1-1, 2.47 ERA) vs LHP Marco Gonzales (5-0, 2.80 ERA). Game time 5:40 PM CDT; Televised on WGN and MLB Network.
Big-Jon Lester will get his fifth start of the year, but only his second since coming off of the IL after suffering a hamstring strain in the Cubs' home opener. Lester still sports the best ERA on the team (2.37) and will look to improve on that, while mounting an effort to last more innings than in his previous starts.
Opposing Lester will be Mariners' lefty, Marco Gonzales, who has been unbelievable in his first seven starts this season, posting a record of 5 wins and 0 losses, with an ERA of just 2.80. Although Gonzales came from the Cards, he's limited exposure to the North-Siders, pitching only 6.0 innings against them, and posting 1.50 ERA in the process. Gonzales' ERA tends to rise throughout each inning of a game, though he buckles down in the second inning (1.62 ERA). Although his first inning ERA is 3.24, the Cubs' best chances of scoring against him will come in the third through sixth innings, when his ERA fluctuates between 4.78 and 5.87.
The Offense
The Cubs have had a flair for scoring runs, but they've had minimal experience with either of the Mariners' starters in this series. Only KB, Rizzo, Heyward, Contreras and Zobrist have ever faced Hernandez, and he's done well at shutting them down. Collectively, those five Cubs have only achieved a combined .076 batting average against him in a total of 27 at-bats. Concerning Gonzales, only Baez has faced him, and he been held hitless in 3 attempts.
The Mariners, on the other hand, have seen a ton of Cole Hamels, and they've been hugely successful. In a combined total of 66 at-bats, the Mariners have tagged Hamels for a team batting average of .265, which also comes with a total of 3 homers.
Seattle has also seen a lot of Jon Lester in the past, and he, too, has been walloped by this team. In a combined 58 at-bats at Lester (26 of them belonging to Jay Bruce), the Mariners have compiled a .246 batting average, though Lester has Bruce to a batting average of just .115.
If there's one thing in the Cubs favor, it's run differential. While the Mariners currently sit at +14, the Cubs have outscored their opponents by a total of 26 runs.
Drink some coffee and stay up late tonight, as this series will be exciting. If you oversleep and don't get fired, you'll get a reprieve on Wednesday, as the game is in the late afternoon. On the other hand, if you oversleep and get canned, you'll have plenty of time to nap before Wednesday's game. I'll be honest, I'm hard-pressed to see the Cubs sweeping Seattle, but by all means, they should be able to split this series.