| | |
| --- | --- |
| Cubs vs. Nationals Series Preview: TV times, Starting pitchers, Predictions, more | |
---
| | | |
| --- | --- | --- |
| Friday, May 17, 2019, 5:01 PM | | |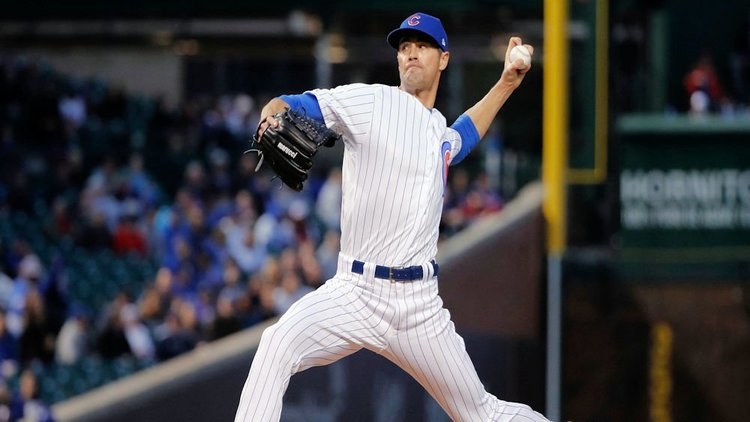 The Pitching
The Cubs' rotation has had a few minor glitches lately, but if Cole Hamels only lasting six innings is the biggest worry, life is good. The Cubs' threesome for this series (Hamels, Jon Lester, and Kyle Hendricks) have been filthy, and it doesn't seem to matter who they face.
Lester has now captured MLB's lowest ERA (1.16). Hamels has averaged over 6.0 innings per start and has maintained an ERA of 3.08 with a WHIP of just 1.067. Kyle Hendricks is eating up innings, collecting strikeouts, limiting runs and doing away with the concept of walks, as he plows on toward ranking as the Cubs #2 starter. This trio has now combined for 138.2 IP, with a collective ERA of just 2.37, which is undoubtedly among the tops in baseball. Despite allowing 116 hits and 34 walks between them, their combined WHIP sits at 1.110.
While I wouldn't say the Cubs' bullpen has reverted to their old ways, they have been a little generous to their opposition lately. They lost Wednesday night's game, and they've been less a little less effective than what they had been recently, for about a week now. Any bullpen can be spotty, especially when they see limited work, but they've got to tighten up some, especially in close games.
The Nationals have had some ups and downs with their starters this year, and teams have been able to attack them for runs. The starters have a combined ERA of 4.26, although the three starters for this series (Scherzer, Strassburg, and Hellickson) have combined for an ERA of 4.42, allowing a total of 78 runs (71 ER) over 152.1 innings.
The Nats' bullpen has been quite unpredictable and undependable this season. Sean Doolittle is rocking a 1.80 ERA over 20.0 innings, Justin Miller's is 3.00 over 15 innings, and Kyle Barraclough is stable with a 3.31 ERA over 16.1 frames, but the remainder of the pen is abhorrent, combining for an ERA of 7.43 over 61 innings pitched.
The Offense
The Cubs key to success this series is to chase the starters out early and focus on attacking the pen, which is not an easy task when facing Scherzer and Strasburg. The Cubs are good at protecting the plate, so if hits are hard to come by, little things like fouling off pitches, demonstrating patience, and taking walks will be key- anything to run up the pitch counts. Build the lead and protect it, before Doolittle gets involved.
Going into this series, Kris Bryant is sitting on a 25-game on-base streak, the best in MLB, while Javier Baez is looking to extend his hitting streak to 14-games- also a personal best. With Heyward slumping badly, Anthony Rizzo's bat is vital, as he's one of the few that have had generalized success against the Nats' starters, but his status remains day-to-day.
The Cubs' have struggled some in the last three series, posting a 6-4 record which includes three losses to a pair of last place teams. Run production has been down- just 33 runs over their previous ten games, which is far from the 5.66 runs per game they had been averaging.
Manufacturing offense has also been a big problem for Washington. Their (-24) run differential ranks second worst in the NL East and ranks fourth worst in the NL. They rank 10th in the NL for both hits and runs scored, however, they do like to run (25 stolen bases), which may create a problem for Lester.
Mound Matchups
Friday: LHP Cole Hamels (3-0, 3.08 ERA) vs RHP Max Scherzer (2-4, 3.64 ERA). Game time 6:15 PM CDT; Televised on WGN and MLB TV.
Who could forget last year's matchup between Cole Hamels and Max Scherzer? 14 combined IP, 20 K's, and just one run allowed. Well, the pair is getting ready to get after it again tonight.
In his first five outings this year, Hamels had walked a total of nine guys, but for some reason, he's walked eight in his last three outings. In two of his previous four trips to the hill, he's only lasted 5.1 innings, and in one of those outings, he only made it through six. Nothing to see here, just a few off-nights, and he's undoubtedly stoked for a rematch against Scherzer. By the way, even better than Hamels 3-0 record, the Cubs are 6-2 when it's Hollywood's hill.
The good news is that other than Anthony Rendon who has stroked a .286 batting average against Hamels in 14 at-bats, there aren't many Nats-bats that've done well against him. Dozier is only batting .222 against Hamels in 9 at-bats, Michael Taylor is at .167 in 12 attempts, and beyond that, no one has faced him more than a handful of times. Hamels has completely shut down Eaton, Difo, Soto, and Robles (0-9 collectively) and he's held Parra to a .167 average in six at-bats.
As for Max Scherzer, he's manhandled the Cubs "B-Squad": Bryant, Baez, and Bote. In a combined 21 at-bats, the trio has managed a .030 batting average, and no, that's not a typo. The hurt goes a little deeper, as Daniel Descalso and Willson Contreras have gone just .165 against Mad Max in a total of 19 at-bats, but there is a silver lining: the remainder of the team is batting .289 against him in 50 at-bats, and that doesn't count Caratini who's 2 for 2 against him.
Saturday: LHP Jon Lester (3-1, 1.16 ERA) vs RHP Stephen Strasburg (3-3, 3.63 ERA). Game time 6:15 PM CDT; Televised on WGN and MLB TV.
Lester currently leads all of MLB with his 1.16 ERA, and that's just the tip of the iceberg. Since coming off the IL, Lester has masterfully pitched to a 0.36 ERA with 25 punch-outs in 24.2 innings.
Jon's had some mixed results when it comes to dealing with the Nationals' offense. He's shut down almost 2/3 of the Nats' roster with authority, seeing seven of 12 combined for a .103 average in 47 at-bats. There's another 25%, however, (Difo, Eaton, Gomes, and Suzuki) who have combined for a .399 average in a combined 42 at-bats.
Stephen Strasburg was a bit sporadic on the mound to start this season, although he's settled down over his last handful of starts. His ERA is up to 3.63, but he's managed to fan 75 this season, 47 of those in the previous five games.
If the past projects the future, Bryant, Descalso, Heyward, and Rizzo (if playing) will be the ones to produce for the Cubs against Strasburg, combined, that four have batted .341 against him in 38 at-bats, while Baez, Contreras and Addison Russell have each contributed a .167 average or less in anywhere from six to nine at-bats each.
Sunday: RHP RHP Kyle Hendricks (3-4, 2.86 ERA) vs RHP Jeremy Hellickson (2-1, 5.52 ERA). Game time 6:05 PM CDT; Televised on ESPN.
Hendricks ranked at the bottom of the Cubs' rotation for his first five starts this year, but the difference over his last three starts has been amazing. With an ERA now down to .286 (and a batting average almost as high), Hendricks has pitched to a .195 ERA over his last five starts (37 IP), punching-out a total of 31, while issuing only four walks; three of those five appearances were scoreless outings.
Hendricks has also had very mixed results vs. Washington, but the good news is, the guys who've had the most success against him, have also had limited exposure to him. Dozier, Kendrick, and Soto have combined for a .645 average against Hendricks, but the sample size is only a total of 11 at-bats. Gerardo Parra and Adam Eaton are the two problem-children, combining for a .279 average in 25 at-bats, but Hendo has managed to hold Suzuki, Taylor, Rendon, and Difo to batting averages of .200 or less in a combined 31 at-bats.
Jeremy Hellickson has been the one weak link for the Nats' rotation this year. In his last five starts, Hellickson has an ERA of 8.06, and he's allowed an OPS of .976 to his opposition over that time. Three times this season, Hellickson has surrendered at least five runs, including a first-inning grand slam in his last start.
The Cubs have had pretty limited experience with Hellickson (40 total at-bats), but he's been able to silence them, at least for the most part. Chicago has managed a team average of only .190 against him, and only Descalso (.429 in 7 at-bats) and Bryant (.333 in 6 at-bats) have had any measured success. Bote, Contreras, and Heyward have combined to go 0 for 10, Javy's been a little successful (2 for 4), and neither Victor Caratini nor Albert Almora, Jr. has ever faced him.
Series Prediction:
The Cubs have dropped two straight, while Washington is 4-6 over their last ten, and have won their previous two. Odds are, the Cubs will win the series, as Hendricks should take Hellickson, and between Lester and Hamels, two losses are unlikely. I don't see a sweep for either team in this series, but depending on which version of the Cubs' offense shows up, this could go either way.

Tags: Cubs Baseball
,
Cole Hamels
,
,
Kyle Hendricks
,
,
,
Anthony Rizzo
,
Daniel Descalso
,
Willson Contreras
,
Addison Russell
,
Victor Caratini