| | |
| --- | --- |
| Cubs vs. White Sox Series Preview: TV times, Starting pitchers, Predictions, more | |
---
| | | |
| --- | --- | --- |
| Tuesday, June 18, 2019, 2:58 PM | | |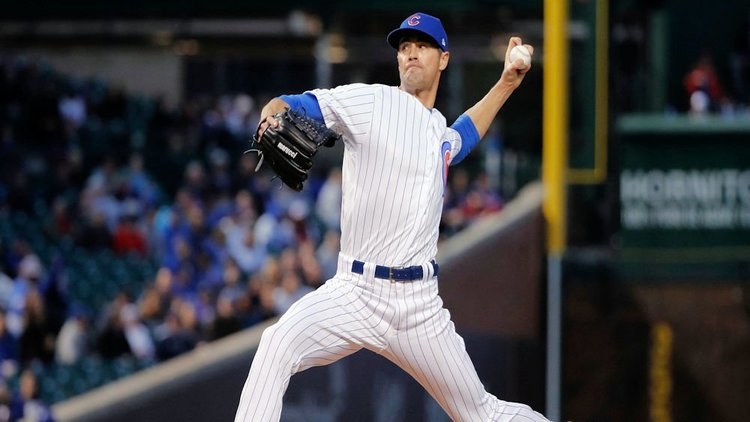 Ah, the Crosstown Classic, also known as the Red-Line Series, The Windy City Showdown, North-South Showdown and about 100 other names, including whatever they decided to call it this year, now that it's a sponsored event. If you know, please don't tell me, I don't care- to me it'll always be the Crosstown.
What an event! For years, back when I was growing up, these games meant nothing in terms of standings or stats, as they were purely exhibition games for charity, but they meant everything to the fans. First and foremost, was the unwritten right to boast, brag, and bully or belittle, every fan from the "enemy," whose team had just been defeated. You always had to exercise caution though, as you may be the one eating crow next year.
Times have changed, though, as now these games count.
Injury Report:
CUBS: (1) Kyle Hendricks: 10-Day IL (right shoulder inflammation. (2) Steve Cishek (right-knee bruise) has thus far avoided the IL but remains day-to-day. (3) Carl Edwards, Jr.: 10-Day IL (thoracic strain).
WHITE SOX: (1) RHP Ryan Burr: 10-Day IL (elbow). (3) 2B/3B Yoan Moncada: Remains day-to-day (mid-back pain). (3) RHP Dylan Covey: 10-Day IL (shoulder). (4) LHP Jace Fry: 10-Day IL (shoulder). (5) OF Jon Jay: 60-Day IL (groin). (6) RHP Nate Jones: 60-Day IL (elbow). (7) LHP Carlos Rodon: 60-Day IL (elbow).
The Pitching
This has been quite the sore spot for the Cubs for most of the season. The starters (save for Hendricks) have had a ton of ups and downs lately, and the bullpen is a never-ending crap-shoot (I'm referring to the dice game but take that as you will). Brandon Kintzler has been the Rockstar of the pen this year, and although Steve Cishek has a better ERA than Kintzler, his appearances have been sporadic at times.
Except for Tyler Chatwood, there isn't a reliever in that pen who could go three innings, if needed, and that includes Mike Montgomery. Brad Brach and Kyle Ryan seem to be the new go-to guys but seldom do they make an appearance without giving up a run. Oh well, at least the trade-deadline is approaching.
The Offense
The White Sox do only one thing reasonably well; stealing bases, as their 39 of those ranks sixth in the AL. When it comes to the "big stats," the South-Siders rank among the worst in the league. They're no better than tenth in any stat with regard hitting the ball, and the team's slash-line is a mediocre .254/.314/.406. The Sox have 625 Ks to their name this season, with just 176 walks, which says they swing (and miss) a lot.
The Cubs' bats have been very "Dr. Jekyl and Mr. Hyde-ish," as you never know which version of the offense you'll see. There are some constants though- Kyle Schwarber, Kris Bryant and Anthony Rizzo have been beasts, and both Willson Contreras and Jason Heyward have perked up.
Very seldom do the Cubs have an issue getting men on base, the problem has been leaving them stranded there, especially those in scoring position. When the Cubs focus on station-to-station hitting, the results are generally incredible; it's when they start depending on the long-ball that things seem to go awry.
Mound Matchups
Tuesday: RHP Ivan Nova (3-5, 6.28 ERA) vs LHP Cole Hamels (6-2, 2.98 ERA). Game time 7:05 PM CDT; Televised on WGN and MLB TV.
The Cubs have seen a ton of Ivan Nova from his days as a pirate, and for the most part, they've clobbered him. Every man on this Cubs roster has faced Nova, and except for Victor Caratini (0 for 2), everyone has hit him. Collectively, the Cubs have a team average of .281 (combined total of 129 at-bats).
I like Albert Almora Jr., but don't expect him to play in this game, as Carlos Gonzalez bats .545 against Nova (11 AB), Heyward is .368 in 19 at-bats, and Schwarber is batting .231 in 13 at bats. Anthony Rizzo has obliterated this guy, batting .467 in 15 at bats. Javier Baez has been held to a .211 average in 19 at-bats but has tagged Nova for a pair of homers.
Despite coming from the AL, Cole Hamels hasn't faced many on this Sox roster, and the results from those he has faced are 50-50. He's held McCann to a .222 average in 9 at-bats, and he's entirely shut down Garcia, Moncada, and Sanchez (.000, 11 total at-bats). Abreu has done some damage, hitting Hamels to the tune of a .444 average in 9 at-bats, while Tim Anderson has gone 2 for 6, and Castillo 2 for 2. Hamels hasn't given up an earned run in his last three starts (22 total innings) and has logged 22 strikeouts with only four walks in that span.
Wednesday: RHP Lucas Giolito (10-1, 2.22 ERA) vs LHP Jon Lester (5-4, 4.08 ERA). Game time 7:05 PM CDT; Televised on NBC Sports Chicago, ABC-7 and MLB TV.
For an eight-start win streak, Giolito had pitched to a 0.94 ERA with 65 strikeouts over 57-1/3 innings, and he's currently 9-0 over his last 11 starts. Giolito hasn't faced the Cubs much, but he's done extensive damage to them when he has. While Almora and Victor Caratini have never faced him, Giolito has held Willson Contreras, Daniel Descalso, Heyward, Rizzo, and Addison Russell to a .000 average in a combined 15 at-bats. Bryant has only managed one hit in six at-bats against him, as has Carlos Gonzalez (each of them batting .167), while Baez, David Bote and Kyle Schwarber each have a .333 average in a combined 12 at-bats.
There's no way around it: Big Jon was terrible last time out, allowing six runs (3 homers) in five innings. For his last six starts, Lester has posted an ERA of 7.59. Lester's only had trouble with three of the Sox in the past: Abreu (.400- 15 AB), Castillo (.375- 8 AB) and McCann (.333- 6 AB). Once he gets past that trio, Jon has held the remainder to a .100 average in a combined 34 at-bats. However, he's never faced Jimenez, Cordell or Tilson.
Series Prediction:
I'm quite sure that the Cubs will destroy Nova, but I'm not so sure about Giolito. Still, the Cubs are overdue for another win streak, and I believe they'll sweep the two-game series, so long as the offense shows up for work.
Next up: A four-game set at Wrigley with a Mets team who is currently in shambles.

Tags: Cubs Baseball
,
Cole Hamels
,
Kyle Hendricks
,
Steve Cishek
,
Jon Jay
,
Brandon Kintzler
,
Tyler Chatwood
,
Mike Montgomery
,
Kyle Ryan
,
Kyle Schwarber
,
,
Anthony Rizzo
,
Willson Contreras
,
Jason Heyward
,
Victor Caratini
,
Albert Almora Jr
,
,
,
Daniel Descalso
,
Addison Russell
,
David Bote