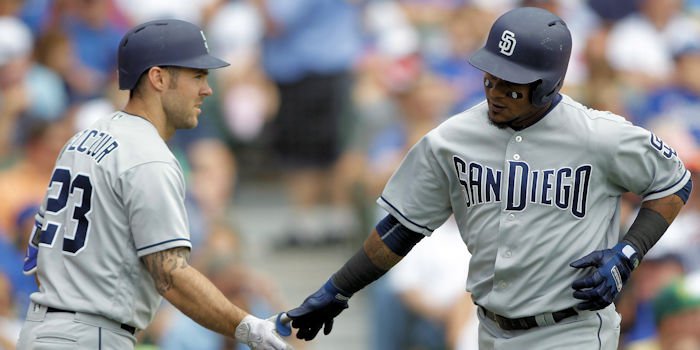 | | |
| --- | --- |
| Cubs waste early lead, lose to Padres | |
---
CHICAGO – The Cubs kicked off the first official day of summer with a loss to the visiting Padres, 3-2. Eddie Butler made his seventh start this season giving up just one run in four innings to go with five hits, three walks, and four strikeouts. The Cubs were unable to generate much offense off of rookie Miguel Diaz who made just his third career start and sported a 7.36 ERA coming into this contest.
For the first time in seven games, Anthony Rizzo made an out leading off a game. That seven-game lead-off streak ties Hall of Fame leadoff man Rickey Henderson's longest streak. That ended up being a detriment to any first-inning offense when Kris Bryant laced a ground-rule double into right field.
After the first inning, the Cubs would not get another hit until Ian Happ deposited a ball into the right-center field bleachers plating himself and Kyle Schwarber. Happ has been on a tear lately putting up a 1.093 OPS and smacking five home runs in his last eight games.
The Padres got a run right back in the fifth and tied the ballgame in the sixth with a home run from shortstop Eric Aybar. They took the lead in the eighth during a rare implosion by Koji Uehara. He loaded the bases and walked home Wil Myers to give San Diego the lead and the eventual win.
That was the last home game for the Cubs, who will embark on a long road trip to the east coast where they will play the Marlins four times and the Nationals four times, and then coming back to the Midwest to play the Reds.
Tomorrow's matchup is Jake Arrieta (6-5, 4.64 ERA) against Jeff Locke (0-2, 4.58 ERA). These two pitchers previously matched up on June 6 when the Cubs won 10-2. Start time is scheduled for 6:10 PM CDT.
Play ball!

?? https://t.co/7wr9degLQM ?? pic.twitter.com/GAZ8r1bzq9

— Chicago Cubs (@Cubs) June 21, 2017
Ian Happ crushed that HR... 112 MPH pic.twitter.com/pWvHejJWnj

— Daren Willman (@darenw) June 21, 2017