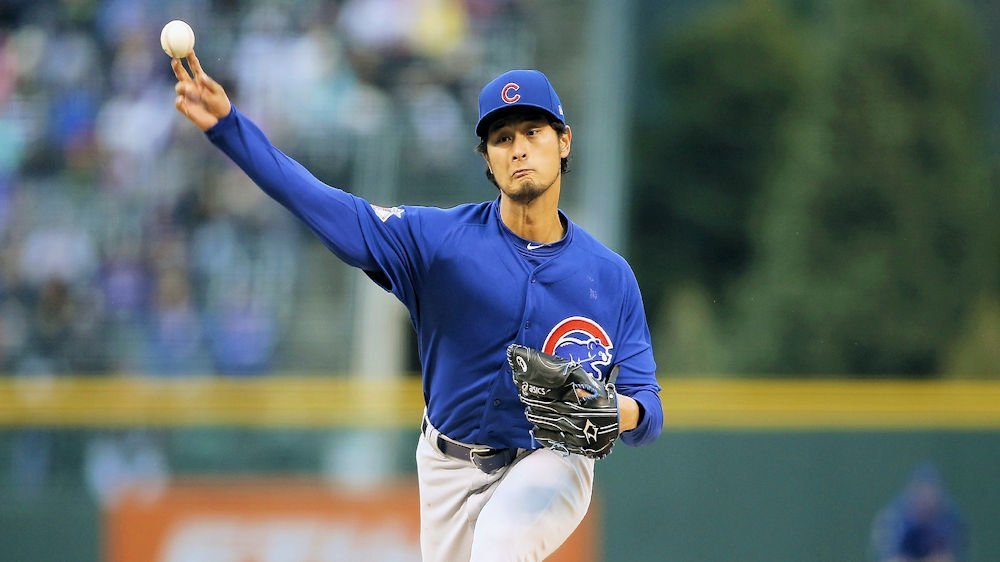 | | |
| --- | --- |
| Darvish implodes as Rockies top Cubs | |
---
DENVER — Through three innings, Chicago Cubs starting pitcher Yu Darvish was on no-hitter alert, pitching a no-no against the Colorado Rockies and frequently making Rockies hitters look silly. However, following suit with his previous three starts as a Cub, Darvish came unglued in the middle innings, giving up five runs in the fifth to blow an early 2-0 Cubs lead.
Falling 5-2, the Cubs wasted an auspicious start, as they took a 2-0 lead in the opening frame for the second straight game. Facing off against Rockies hurler Tyler Anderson, Chicago took advantage of back-to-back singles from Albert Almora, Jr., and Javier Baez to begin the contest, with both spark plugs following up on their magnificent performances from Friday night.
Later in the inning, catcher Willson Contreras picked up a pair of RBI on a double off the padding at the top of the center-field wall, nearly missing a home run. Another significant double for the Cubs came in the second inning, with call-up David Bote, who started at third base, picking up a two-bagger.
Congratulations to David Bote on his first @MLB hit! #EverybodyIn pic.twitter.com/jqbyLItQPu

— Chicago Cubs (@Cubs) April 22, 2018
Called up on short notice after Ben Zobrist was put on the disabled list, Bote, a Denver-area native, got the chance to make his MLB debut in front of his loved ones. And he quickly made the most of it. With his first swing of the bat, Bote crushed a double in the gap between right and center. Looking to make quite the impression in his introduction to the majors, Bote attempted to steal third thereafter but was tagged out. Bote went 1-3 at the dish and made several quality plays on the infield.
The Cubs had a chance to go up 3-0 in the top half of the third, after Almora, Jr., walked to lead it off and then took second on a passed ball. Boasting men on first and third with just one out in the third, the Cubs failed to score a run, with two consecutive pop-ups ending the inning. Almora continued to make his presence felt in the bottom half of the third, this time on the defensive end. Making a Willie Mays-esque catch while running toward the wall in center field, Almora was fired up after the web gem.
.@albertalmora's got it going on. pic.twitter.com/npwrpRbh7J

— Chicago Cubs (@Cubs) April 22, 2018
Darvish, meanwhile, continued to pitch well, not giving up his first hit until Rockies third baseman Nolan Arenado earned a single in the fourth. Almora created another scoring opportunity for the Cubs in the fifth by leading off with a double to deep left-center, but he erroneously attempted to make it to third on an ensuing groundout by Baez, resulting in a double play. That proved costly for Chicago, as Darvish fell apart in the bottom of the fifth by getting tagged for five runs, all of which were scored with two outs.
With a man on first and two outs, Rockies second baseman DJ LeMahieu catalyzed the Rockies with a ground-rule double that brought home Colorado's first run. Next, Rockies right fielder Geraldo Parra picked up his third and fourth RBI of 2018 on a two-run single to center that gave the Rockies their first lead of the contest.
Following a Parra steal and a walk of Charlie Blackmon, it was fairly evident that Darvish had come undone, like he has been prone to do in tough spots throughout his MLB career. Strangely enough, Cubs skipper Joe Maddon opted to leave him in the game, and Colorado took advantage. Arenado came through with an RBI single that scored Parra, putting the Rockies ahead 4-2, and, after that, Rockies shortstop Trevor Story smacked a double to deep left that scored Blackmon with ease.
Darvish was finally pulled after falling behind by three runs, but the 5-2 deficit proved to be insurmountable for Chicago. The Cubs failed to garner a base-runner in the final four innings, with former Cub Wade Davis picking up the save in the ninth for the Colorado Rockies. Despite outhitting the Rockies (12-10) by a margin of 6-5, the Cubs (9-9) fell 5-2, done in by Darvish's continued woes. Darvish received the loss to fall to 0-2 through four starts as a Cub. The prized offseason pick-up for Chicago currently sports a miserable 6.86 ERA.