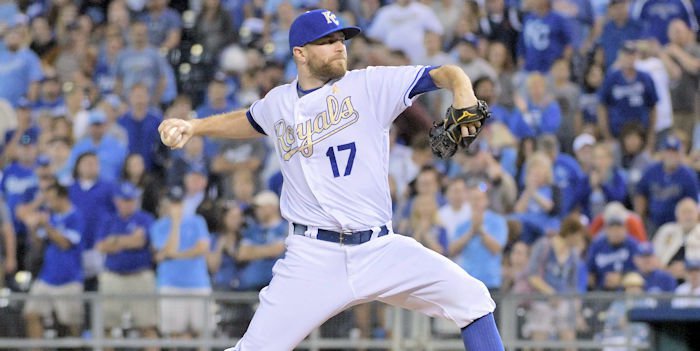 | | |
| --- | --- |
| Did Cubs make the right move trading Soler for Davis? | |
---
CHICAGO -- The Cubs have long been expected to move on from last year's big acquisition, Cuban fireball closer Aroldis Chapman, who is rumored to currently have an offer of 92 million on the table. This meant that finding a closer elsewhere was likely an inevitable move.
A trade for a closer always seemed like the most logical choice, with the other big names likely to command big money (Mark Melancon already setting a record for relievers after his deal with the Giants, which should soon be squashed by the contracts that Aroldis Chapman and Kenley Jansen soon agree to sign for). As rumors swirled last night, the word was that Wade Davis was likely to be dealt, and the Cubs--linked briefly earlier this offseason--quickly emerged as favorites. With the signing official, he will be the new Chicago Cubs closer for the next season, at a salary of ten million (the last year of his contract).
Davis, a former top prospect who came up as a starting pitcher for the Rays (the managed by Joe Maddon), to eventually be dealt in the infamous "James Shields/Wil Myers" trade, will be reunited with his former manager in Chicago as the team's new closer for the upcoming season.
Kansas City converted the former top-prospect to middle relief full-time, which is where he found his niche and thrived to the tune of a 1.18 ERA in 185 appearances, while also striking out 11.5 over nine innings per over a 3-year span. Davis is considered as one of the best relievers in the sport, which he has shown when healthy. Coming off of a season in which he battled some forearm issues, the only question was health. The deal now being official, with Davis having passed his physical, it would seem he is all sound & ready to go for next year.
The rumored return for Kansas City had been outfielder Jorge Soler, and their return will in fact be, Jorge Soler...and just that. Confirmation per FOX Sports' Ken Rosenthal states that it is a straight 1-for-1 swap, with the Royals receiving Soler in return. Soler, while carrying immense power potential, has shown issues defensively, struggled with strikeouts, and has never broken out despite flashes of tremendous promise, seeing his stock take a bit of a dip. Soler, who was only slated to see time against left-handed pitching in an extremely crowded outfield, is also eligible to opt-out of his nine years, 30 million deal once he is arbitration eligible, in order to go the typical arbitration route, which is logically what he will do.
Kansas City controls his rights for the next four seasons, but his price will not be so team-friendly (mainly, for a 4th outfielder if he had stayed in Chicago) after 2017. The Cubs quantity and quality of outfield depth made him the most expendable piece on their roster, and to acquire a closer like Wade Davis when the market has some expecting Chapman to make north of 100 million. This move is a very nice bargain financially, and so long as Davis pitches to his abilities he has shown over the last three years, a great one for the team as well.
Soler, still only 25 years of age (for the upcoming season), carries a load of power potential that he has at times flashed in Chicago--potential which the Royals will be happy to gamble on, knowing that a lot of their potential FA next season will be more likely to walk under new CBA/draft compensation guidelines. This trade helps both teams, but the Cubs made out well in not needing to give up any top prospects to fill one of roster's few voids.
Strop-Rondon-Davis should be a very formidable 1-2-3 punch in the back-end of the pen, and with them also being healthy heading into next spring, it should only help Davis as the new closer for the Cubs.