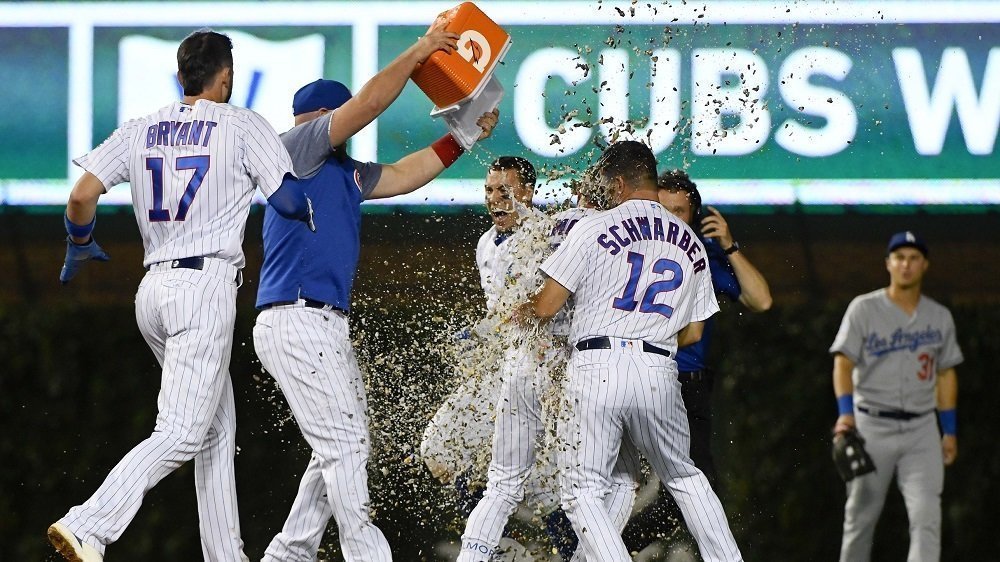 | | |
| --- | --- |
| Dodgers radio host: Delete your Twitter now! | |
---
| | | |
| --- | --- | --- |
| Wednesday, June 20, 2018, 7:49 PM | | |
LOS ANGELES — David Vassegh, the host of Dodger Talk on KLAC AM 570 in Los Angeles, performed his usual beat-tweeting duties this week by covering the three-game series between the Dodgers and the Chicago Cubs on Twitter. Living up to the stereotype of being a typical blowhard sports radio talking head, Vassegh utilized his expert acumen on all things Dodger baseball by offering virtually no insight on the series at all and instead opting to troll by tweeting several incredibly lame remarks about the Cubs and their fans.
His favorite shtick was the old "accuse supporters of other good teams of being bandwagon fans without having any proof of that whatsoever" ploy. While a reasonable person might surmise that it's incredibly audacious for anyone from the city of Los Angeles, a safe haven for fair-weather fans, to condemn sports fans from another city of being bandwagon supporters, based on his latest tweets, Vassegh clearly has no self-awareness and therefore should be considered an outlier with regard to recognizing audacity.
Naturally, Vassegh drew the ire of the Cubs faithful on the Twittersphere with his ridiculous condemnations and rightfully so. Epitomizing a sore loser, Vassegh had the nerve to criticize Cubs fans for doing their job of being, you know, fans when the Wrigley Field crowd erupted in a show of support after the Cubs pulled off a double play in the second game of the series.
Cubs fans just acted like it was November 2016...Instead it was a double play in June 2018.

— David Vassegh (@THEREAL_DV) June 20, 2018
Vassegh didn't stop there, however, as the so-called sports media personality stooped to the level of accusing the peeved Cubs fans who were blowing up his Twitter mentions of being disingenuous members of the Cubs fan base. Sending out a petty tweet concerning "brand-new hats," Vassegh accused members of arguably the most passionate, loyal fan base in American sports as being fair-weather phonies. Good thing that the Los Angeles sports scene has not been teeming with fair-weather phonies for decades now. Oh, wait. It definitely has.
I've enjoyed all the love from #Cubs fans the last 24 hours. Keep those brand new hats fresh and clean.

— David Vassegh (@THEREAL_DV) June 20, 2018
This blowhard mouthpiece assuredly quit while he was this far ahead, right? Wrong! While his Dodgers were getting shut out on Wednesday afternoon, Vassegh posted a tongue-in-cheek, backhanded compliment concerning Cubs right fielder Jason Heyward, who threw out Dodgers shortstop Chris Taylor at the plate with an incredible outfield assist.
Jayson Heyward showed off his $184 million arm. Standing ovation well deserved. #Dodgers #Cubs

— David Vassegh (@THEREAL_DV) June 20, 2018
Referencing Heyward's steep $184 million contract, Vassegh implied that the only thing about Heyward worth that kind of money is his throwing arm. This was dumb for a couple of reasons. For one, Heyward, has been one of the hottest hitters in baseball over the course of the past few weeks. If Vassegh actually did his job and analyzed the sport that he is paid to cover, instead of wasting time scheming his vitriolic Twitter attacks, he might know that. Regardless, the timing of tweeting subversive criticism of Heyward's plate production could not have been any worse. And, for the record, Heyward's first name is Jason, not Jayson. Vassegh might want to spellcheck his passive-aggressive tweets in the future if he wants to be considered anything more than an attention-seeking troll.
Also, for anyone associated with the Dodgers to slight another franchise for fiscal irresponsibility is beyond audacious. Think about that. A radio personality who covers the Dodgers, a franchise that was most recently sold because its owner went bankrupt, poked fun at something as minor as a bloated contract. Yes, a media member who covers the Dodgers, a team that's so familiar with the luxury tax that it might as well be renamed the Dodger tax, had the unmitigated gall to castigate the Cubs for overpaying a player.
And, to cap off Vassegh's impeccable display of juvenile Twitter behavior, he referred to the fans in attendance at Wrigley Field for the series finale as "tourists" while chastising them for chanting Cubs second baseman Javier Baez's name after he produced a stellar unassisted double play.
The tourists at Wrigley Field are chanting Javy! Javy! after a good play in June.

— David Vassegh (@THEREAL_DV) June 20, 2018
So, to recap, not only did Vassegh denounce the Cubs fans at Wrigley Field, who are fondly known as the "Bleacher Bums" for their undying devotion to filling the Wrigley Field seats for over a century now, as being nothing more than tourists, but he also denigrated them for showing support for one of their team's star players after he made a highlight reel-worthy play.
Because, according to Vassegh's philosophy, getting excited over June baseball is ridiculous. Evidently, in Los Angeles, where all of the "real" baseball fans are, it's not worth supporting a baseball team until late in the season (assuming the team is really good, of course). After all, in Vassegh's incredibly meaningless opinion, only bandwagon fans get enthused about something as insignificant as a regular-season double play.
For tried-and-true baseball fans like Vassegh, aimlessly trolling the best fan base in Major League Baseball on social media and not getting fired up about your favorite team until the playoffs start is the way to go. And, if you don't do that, you're nothing more than a bandwagon fan. Evidently, logic isn't a required skill for earning a spot on the Los Angeles sports talk radio airwaves. Thankfully, we have blowhard meatheads like David Vassegh to constantly remind us of that.