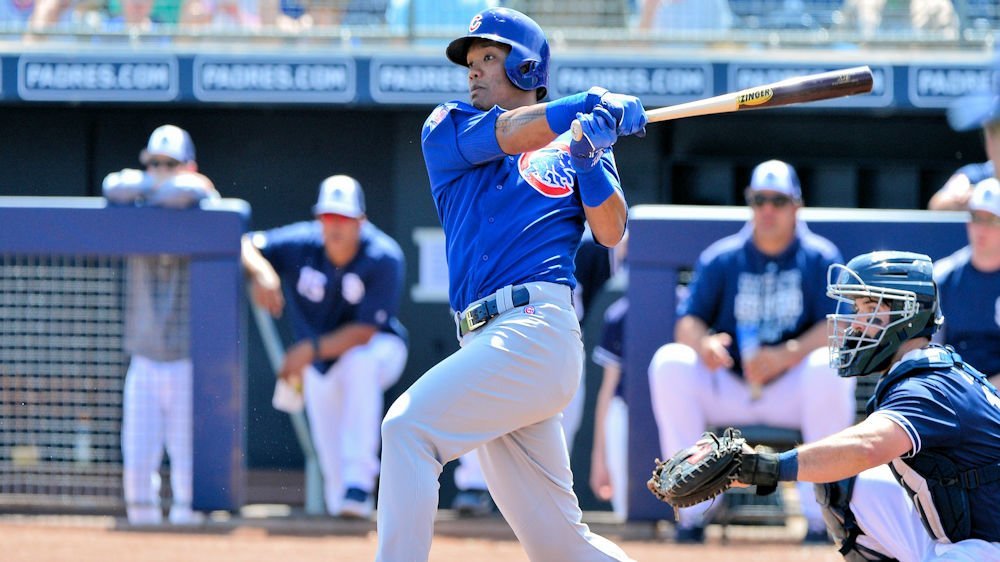 | | |
| --- | --- |
| Down on Cubs Farm: Russell's multi-hit day, Machado homers, Patterson unstoppable, more | |
---
In total, eight games were on the docket for Tuesday as the Cubs organization was going to be a busy one. Despite a less than pleasing 3-5 record, most of the contests came right down to the wire as the Cubs were a few breaks away from going 6-2 on the night.
IOWA CUBS 7 – Reno Aces 13: The suddenly disturbing trend of baseball continued for Iowa on Tuesday as the fell to 57-51 following a 13-7 defeat. Tyson Miller continues to struggle at AAA, allowing five more runs in under three innings to see his ERA rise to 11.49.
Offensively, things went well for the Cubs especially in the early stages of the game. Dixon Machado gave the Cubs a 1- 0 lead in the first with a double before coming home to score on an Addison Russell single to make it 2-0. Now up 2-1 in the second, Iowa extended their lead to 4-1 as Donnie Dewees brought home a pair with a double.
Reno continued to battle back using an Andy Young homer in the third to make it 4-3 before Jim Adduci pushed it to 5-3 in the third. That is when things began to go south for Iowa as the Aces had enough of this back and forth affair. Over the next two frames, Reno brought home six runs with John Ryan Murphy collecting three of those RBI's to put the Aces in front 9-5.
Machado continued not only to have a huge day, but a strong run of play as his 16th homer in the seventh made things a 9-6 game.
5?? games, 5?? homers for Dixon Machado ?? pic.twitter.com/Fzpzrbnl2N

— Iowa Cubs (@IowaCubs) July 31, 2019
Once again, Reno found a way to get the offense going scoring four times in the next two innings to seize control 13-6. Machado added an RBI groundout in the eight, but that was it as the Cubs fell 13-7.
The Cubs received a plethora of multi-hit efforts with Machado leading the way with two hits and three RBI's. Phillip Evans, Mark Zagunis and Russell all added two-hit games as the Cubs connected for 12 hits. James Norwood was the lone pitcher not to allow a run as he tossed a scoreless inning for Iowa.
Dixon Machado has homered in three-straight games and has five bombs through his last five contests ?? pic.twitter.com/QVgOlIWdlg

— Iowa Cubs (@IowaCubs) July 31, 2019
Tough one ?? pic.twitter.com/3Z10hhyRPf

— IowaCubsGameDay (@IowaCubsGameDay) July 31, 2019
TENNESSEE SMOKIES 5 – Chattanooga Lookouts 6: With the Smokies and Lookouts involved in multiple extra-inning contests in this series, it was Tennessee jumping in front 3-2 looking to seal the deal. However, a four-run eighth inning from the Lookouts proved to be the difference as they came from behind to win 6-5 sending Tennessee to 46-62.
Alex Lange continued to his thing in AA going six wonderful innings yet again to allow 2ER in a no-decision before Oscar De La Cruz let things get away late. After spotting Chattanooga, a 1-0 lead in the first on another Jose Siri homer it was all Tennessee for awhile as they tied things up 1-1 in the second.
It was in the fourth inning when the Smokies were able to take charge as Vimael Machin put them in front 2-1 with a sacrifice fly. Up to this point, both Smokies runs were scored without a hit until Jhonny Pereda came through with a single to push the lead to 3-1. Alfredo Rodriguez made things 3-2 in the fifth with a sacrifice fly of his own before the Lookouts took charge in the eighth.
Down by a run, Chattanooga squared up De La Cruz after he tossed a scoreless seventh. Stuart Fairchild tied things up with a double setting himself up in scoring position in the process. With a sacrifice fly making it 4-3, Tyler Stephenson provided the game-winning hit as his fifth homer made things 6-3 Lookouts.
Unlike earlier in the second half, the Smokies would not let that eighth inning defeat them as they battled back in their final at-bats. With Machin continuing to reach base, Jared Young made things a bit more interesting with his fifth homer and just like that it was a 6-5 game. With two outs, speedster Zach Davis reached on a walk to provide the tying run as his legs could move him into scoring position. It was not meant to be for Tennessee as Charcer Burks struck out to end the rally with the Smokies falling 6-5.
Although he only collected one hit, Machin reached base four times working three walks on the day. Both Pereda and Nico Hoerner added multi-hit games for Tennessee as those three played prominent roles in the offense. The Smokies struck out just four times in the game and managed to take ten walks.
Smokies three game road winning streak snapped by some late runshttps://t.co/k0JFlhDSyN

— Tennessee Smokies (@smokiesbaseball) July 31, 2019
MYRTLE BEACH PELICANS 1 – Frederick Keys 3: For anyone that thinks pitching doesn't win baseball games, you didn't watch the Pelicans Tuesday night as pitching certainly set the tone. With Jack Patterson once again dominating through five innings with a career-high nine K, the teams remained tied at zero heading into the ninth inning. It was in that inning when the Keys busted loose for three runs before holding 3-1 to send the Pels to 41-65.
Patterson continues to amaze for High-A Myrtle Beach as he has yet to allow a run with the Pelicans and seems to get better every start. With five more shutout frames allowing just 2H 1BB and 9K Patterson may find himself on the top prospect radar sooner rather than later. With the score tied 0-0 and heading into the ninth, it was the Keys who finally cracked the scoreboard in a big way looking to snatch a win.
Jomar Reyes put an end to the shutout bid with a sharp single as Frederick was now in front 1-0. Looking for a much-needed insurance run, the Keys got just what they needed from Robert Neustrom whose first homer of the year was the difference with the Keys up 3-0. Looking to rally in the bottom half, Wladimir Galindo singled to drive in a run to cut things to 3-1.
After two straight wild pitches moved pinch-runner Jose Gutierrez to third, a pair of walks to Kevonte Mitchell and D.J. Artis loaded the bases, and suddenly Myrtle Beach could tie things up with a single. That was where the fun ended as Delvin Zinn fanned to end the game with the Pelicans rally coming up short 3-1.
Galindo was the lone Pelican with multiple hits as he was also responsible for their lone RBI. Five others recorded a hit including Miguel Amaya who also took a pair of walks to reach base three times. Enrique De Los Rios continued his impressive work out of the pen, tossing two scoreless frames to drop his ERA to 1.66.
Despite a dominant start from Jack Patterson, the Pelicans fell to the Keys in the series opener.

READ ?? https://t.co/IS2QGAzLgk pic.twitter.com/ciYjZ7HsLl

— Myrtle Beach Pelicans (@Pelicanbaseball) July 31, 2019
SOUTH BEND CUBS 4 – West Michigan Whitecaps 1: Don't look now but the suddenly surging South Bend Cubs now occupy the best record in the non-Rookie league farm system improving to 57-48 after a 4-1 win. In just his second start since moving to the rotation, Peyton Remy was solid going 5 2/3 innings and allowing 1R on 4H to go with 1BB and 6K. His ERA is now 2.92 for the season.
Not needing a ton of offense to get the job done, South Bend pushed across just what they needed in the first as they took the lead and never looked back. For the second straight game, Brennan Davis went deep for his seventh homer of the season to put the Cubs up 2-0. Davis has come back from his injury and hasn't missed a beat.
That 2-0 score held up until the sixth inning when the Whitecaps were finally able to break through on Remy. With a man on third and one down, Parker Meadows traded an out for a run as his grounder made things 2-1. Fortunately for South Bend, their bullpen was able to hold them to that lone run as their offense wanted some insurance runs late.
Davis added to his solid game with an RBI single in the seventh to pad the lead to 3-1. Luke Reynolds capped off the scoring in the eighth, ending a long homerless drought with his second of the season to give the Cubs the 4-1 win.
Reynolds may finally be getting back to the hitter he wants to be, leading the team with three hits to go with that RBI. Along with Davis' multi-hit game, the Cubs received multi-hit efforts from Nelson Maldonado as he continues to hit in his first game up from Eugene. Davis led the way with three RBIs while Cole Roederer went hitless. Sean Barry earned his fifth save, lowering his ERA to 1.74.
CUBS WIN! pic.twitter.com/YyrSz78L8k

— South Bend Cubs (@SBCubs) July 31, 2019
EUGENE EMERALDS 2 – Salem Indians 0: As the crowds continue to file into PK Park, the Emeralds are looking to find the grove that gave them a league championship last season. Maybe after their 2-0 win to move to 20-26 on Tuesday, they can use it as motivation to finish the rest of the season strong and possibly reach the postseason.
Ryan Jensen continues to be eased into action, tossing two more scoreless frames with 1BB and 5K as he now sports a 1.35 ERA. It was Alex Whitney earning the win in relief, tossing four scoreless frames of his own with 4K to drop his ERA to 3.03.
With Jensen sending a message right away in the first, Emerald's bats responded by doing their team an early favor. Grayson Byrd continues to see the ball well as he delivered an RBI single in the first for the 1-0 lead. At that time, no one expected that score to hold up, but it did as the pitching dominated the Indians.
Eugene managed to double their lead in the top of the third when speedy Fernando Kelli notched his 11th double of the season to make things 2-0 in favor of Eugene. That would be all the offense the Emeralds would need as they held Spokane to just five hits in the game and prevailed 2-0 for the win.
The Emeralds had just six hits of their own with no one picking up multi-hit efforts. Along with Kelli and Byrd, Edmond Americaan, Caleb Knight, Luis Vazquez, and Luis Diaz added the other four hits. Three scoreless frames from Zach Bryant and Tanner Dalton ended the game as both of those pitchers have a 0.00 ERA.
Cubs first round pick Ryan Jensen (@rystacks24) was electric tonight for Eugene: 2 IP, 0 H, 1 BB, 5 K. Fastball 95-98 on stadium gun, slider up to 90.

Here were my four favorite pitches of the outing, each against a different hitter. Slider, fastball, slider, fastball. pic.twitter.com/DOyF6xllnQ

— Cubs Prospects - Bryan Smith (@cubprospects) July 31, 2019
That's ?? how ?? you ?? pitch ??

Four Emeralds pitchers combine to hold the Indians to 5 hits and 1 walk while striking out 11 to secure the win. #GoEms | #ItAllStartsHere pic.twitter.com/JRoBlmBBLg

— Eugene Emeralds (@EugeneEmeralds) July 31, 2019
DSL CUBS (2) 4 – DSL Mets 3: Talk about some drama in the Dominican Republic, as the Cubs were able to rally from three down to come back and win 4-3 and improve to a league-best 31-19. After Gregori Montano delivered five scoreless frames, the Mets were able to push across three runs in the sixth and seventh inning off Wilfri Figueroa to take a 3-0 lead.
With just three outs to go, the Cubs rallied in the ninth as they looked for the comeback win. First, it was both Orlando Zapata and Lizardo Ruiz picking up RBI singles as the Cubs roared back within 3-2. With two outs and a pair in scoring position. Christian Espinal delivered the game-winning knock as his single gave the Cubs a 4-3 lead before winning by that score.
DSL CUBS (1) 5 – DSL Dodgers 8: The Cubs struggle against the Dodgers continues to be an organization problem as DSL Cubs 1 fall to 23-27 after an 8-5 loss. Things were not so bad early for the Cubs as they took a 2-0 lead in the second off solo homers from Juan Mora and Augusto Acevedo. With Marlon Cairo going deep in the third to make it 2-1, came up huge in the fourth with Juan Vazquez pushing the lead back to two with a single.
The Cubs then decided to use speed to their advantage with a double steal leading to their fourth run ahead of a wild pitch pushing the lead to 5-1. Unfortunately, that would be all the offense the Cubs would generate the rest of the game as the Dodgers finished the game with seven unanswered runs including a four-run eighth to emerge victorious 8-5.
AZL CUBS (1): Postponed
AZL CUBS (2) 1 – AZL Dodgers 2: I don't know what the Cubs must do to beat the Dodgers, but they fell to AZL 2-1 to drop to 17-17. In the light Arizona air, the Cubs pitchers did a phenomenal job with four arms combining to allow just 2ER in the game.
Unfortunately, the Dodgers were slightly better as the Cubs mustered just one run on four hits to take the loss.
With the score tied 0-0 heading into the seventh, the Dodgers were able to take the lead as a throwing error on a stolen base attempt led to a 1-0 lead. That score would hold up until the ninth when the Cubs have gift-wrapped a run of their own on a wild pitch to tie things up 1-1. Unfortunately, it would be the Dodgers getting the last laugh with Danny Sinatro coming through for the walk-off single and 2-1 Dodgers win.

Upgrade Your Account
Unlock premium boards and exclusive features (e.g. ad-free) by upgrading your account today.
Upgrade Now

Tags: Cubs Baseball
,
Tyson Miller
,
Dixon Machado
,
Addison Russell
,
Jim Adduci
,
Phillip Evans
,
Mark Zagunis
,
James Norwood
,
Oscar De La Cruz
,
Vimael Machin
,
Jhonny Pereda
,
Jared Young
,
Zach Davis
,
Charcer Burks
,
Wladimir Galindo
,
Kevonte Mitchell
,
Delvin Zinn
,
Miguel Amaya
,
Peyton Remy
,
Luke Reynolds
,
Cole Roederer
,
Sean Barry
,
Fernando Kelli
,
Caleb Knight
,
Luis Vazquez