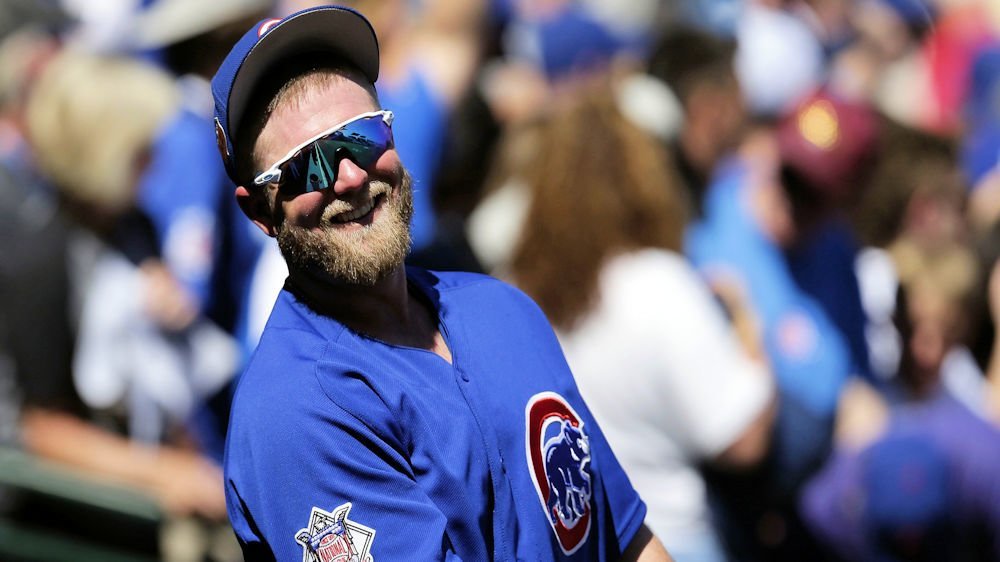 | | |
| --- | --- |
| Down on the Cubs Farm: Taylor Davis with walk-off, South Bend shutout, Eugene stays hot | |
---
Originally with five teams scheduled to be in action Thursday, it was going to be a busy night down on the farm. With rain pushing the Smokies back until Friday, the remaining four teams did reasonably well as they posted a 2-2 record for the evening.
IOWA CUBS 4 – Round Rock Express 3: With Adbert Alzolay getting promoted to the show, Iowa was left in a pinch Thursday as they suddenly needed a starter for their game. Thankfully for them, they had an off day on Wednesday which meant everyone moves up in the rotation, but still stays on regular rest.
That meant it was time for Matt Swarmer to get back on the hill as he looked to duplicate a winning performance from last time out. Swarmer was knocked around a bit allowing ten hits, but he managed to minimize the damage as threw a season-high seven innings allowing just 3ER in a no-decision effort as the Iowa bats came alive late to deliver a 4-3 walk-off win.
Runs were at a premium early as it took three innings for someone to break through finally. Fortunately for Iowa, they were the ones grabbing the early lead as a third-inning double from Dixon Machado but the Cubs in front 1-0. That lead later doubled in the fifth inning on a Robel Garcia homer putting the Cubs up 2-0 through five, but it was in the sixth inning when Round Rock finally began to make their move.
Your @EMCInsurance Player of the Game tonight is Robel Garcia! pic.twitter.com/ANdOncpfz8

— Iowa Cubs (@IowaCubs) June 21, 2019
Despite consistently putting men on base via hits, the Express were unable to push across any runs as Swarmer was able to work around countless jams. The best way to prevent that from happening is by hitting one over the head of everyone. That is precisely what Jamie Ritchie did in the sixth as his fourth homer of the season got Round Rock on the board trailing 2-1.
The Express comeback bid continued in the seventh as once again it was the long ball playing dividends. With a man on base, Nick Tanielu went deep for his 10th of the season and just like that it was a 3-2 Express lead. Swarmer was able to settle down and finish the inning as it was now up to both the
Iowa offense and pen to keep things close.
After Xavier Cedeno tossed a scoreless eighth, the Cubs took their turns to bat with one thing on their mind, scoring runs. That thought was quickly put to good use when Donnie Dewees got in on the long ball fun for his 10th of the season and just like that we had a 3-3 game heading to the ninth.
Once again, the Cubs managed to make quick work of the Express with James Norwood pitching a strong ninth inning despite loading the bases with two outs setting things up for his team to deliver the walk-off win. With one down, back to back singles from Jim Adduci and Trent Giambrone put runners on the corners as the Cubs were indeed threatening.
Looking for a huge double play ball, Round Rock decided to play with fire as they loaded the bases with an intentional walk to Humberto Castellanos bringing Taylor Davis to the plate. With Davis as an obvious double play candidate, the situation for Round Rock couldn't have been any better. However, Davis got the upper hand as he lofted a fly ball to center field for the walk-off sacrifice fly giving Iowa the 4-3 win.
The Cubs are now 41-32 on the season and appear to be getting hot once again. Only one player managed to pick up multiple hits as Garcia took those honors bringing his average up to .286 for the year. Six other players picked up hits, including Mark Zagunis who was 1-4. Ian Happ had a rough night at the plate going 0-4 with 3K as his average has dropped to .228 after reaching 242 a couple of weeks ago.
Jim Adduci extends his hitting streak to 16 games and gets the game winning run in the ninth! pic.twitter.com/NNeGDazngr

— IowaCubsGameDay (@IowaCubsGameDay) June 21, 2019
TENNESSEE SMOKIES vs. Montgomery Biscuits: The Smokies had an extra day's rest following their all-star break as Thursday nights contest was postponed for wet grounds. Doubleheader scheduled for Friday.
Tonight's game postponed ... fans can redeem their tickets for any future 2019 Smokies game.https://t.co/ACULgaxmmH

— Tennessee Smokies (@smokiesbaseball) June 21, 2019
MYRTLE BEACH PELICANS 3 – Fayetteville Wood Peckers 10: The Pelicans opened the second the way much of the first half went as they suffered a 10-3 setback to the Wood Peckers. After pitching out of the pen for the past few weeks, Ryan Kellogg was called upon to take the start hoping his fortunes would turn for the better. That was far from the case as he was roughed up for 5ER in just 3 2/3 innings of work.
After falling behind 1-0 in the first inning off a Michael Papierski the Wood Peckers began to tack on the runs in both the third and the fourth as Fayetteville was in complete control 5-0 heading to the bottom of the fourth. It was at that time when Myrtle Beach finally got on the board as they began to chip away at the lead.
Miguel Amaya got the inning started positively as he remained hot connecting for a double. With a wild pitch helping Amaya trot to third, Myrtle Beach was in the position to score their first run of the game. With one down, Cam Balego put an end to the shutout bid as he crushed his sixth homer of the season to make things a 5-2 game. That would be as close as the Pelicans would get as the Woodpeckers took complete control with a huge top of the fifth inning.
With Tyler Peyton now pitching, it was not easy going as a one-out double from Scott Schreiber had Fayetteville in business. On the verge of working around that double, Jonathan Arauz picked up a single before Scott Manea earned a walk to load the bases with two down. The command issues continued to pop up for Peyton as he walked home a run to make it 6-2 keeping the bases loaded. That set the stage for Jacob Myers who delivered the biggest hit of the night with a grand slam putting the Pelicans in a 10-2 hole.
Myrtle Beach continued to battle back in the bottom of the fifth as their offense was once again on the attack. This time it was an unfamiliar face getting a rally started with Jimmy Herron picking up a one-out walk. Five pitches later it was Zach Davis coming through with a single as a pair of runners were now on base. With two outs in the inning, the Wood Peckers gift-wrapped a run for Myrtle Beach as a throwing error allowed Amaya to reach bringing a run home to make it 10-3. That would be the final run of the game as the Pelicans fall yet again.
Pelicans grab a run in the bottom of the fifth inning and now trail 10-3 after the fifth. pic.twitter.com/CHn65zdPXX

— Myrtle Beach Pelicans (@Pelicanbaseball) June 21, 2019
With a record of 21-47, fans are becoming restless as this team has struggled since the beginning of 2019. Myrtle Beach managed six hits from six different players with Balego responsible for both official RBI's. Brian Glowicki and Garrett Kelly patched things up late, throwing 4 1/3 innings of scoreless relief.
SOUTH BEND CUBS 0 – Bowling Green Hot Rods 2: Looking to come out of the all-star break the way they went in, the Cubs returned home to take on the Hot Rods of Bowling Green. Despite another five-inning gem from Derek Casey allowing just 1ER on four hits, it was the South Bend offense which lost their way as they fell 2-0 to the Hot Rods.
The biggest key to this game was keeping Bowling Green DH Chris Betts uncomfortable at the plate as he had an eventful all-star week. After winning the home run derby Monday, Betts delivered again on Tuesday with another home run derby win, this time to give his team the all-star win. The message to keep him in check was undoubtedly delivered, as he went 0-3 with a pair of K's in the game, but it was the rest of his team that found ways to produce.
With both teams scoreless through five, Bowling Green finally managed to break through in the fifth inning as they grabbed the lead. Roberto Alvarez got things started with a leadoff double. Two batters later, Beau Brundage came through with a single to put his team in front 1-0. The Hot Rods added to that lead off the bullpen in the next inning when Grant Witherspoon homered for the 8th time this season to make it a 2-0 game.
With just five hits in the game, South Bend couldn't generate many scoring opportunities, past the second inning when they had two runners on base, but it was in the ninth inning when they had their best chance as a runner would reach third base for the first time. Down to their final out, Jonathan Sierra made sure to keep things interesting with a triple as that was the first South Bend runner to reach third base in the ballgame. Unfortunately, he was stranded there as South Bend falls to 37-32 following a 2-0 loss.
The Cubs may have had only five hits, but three of those came from Tyler Durna who can't seem to miss a pitch right now. Christopher Moreland Sierra picked up the other two in what was a quiet day at the plate. Brennan Davis was held hitless as his average dropped to .319. After allowing the sixth inning run, the bullpen was strong with Eugenio Palma standing out with a pair of scoreless innings.
Cubs are shutout 2-0 in game one against Bowling Green. Back to it tomorrow at 7:35! pic.twitter.com/wBzSatrjZC

— South Bend Cubs (@SBCubs) June 21, 2019
EUGENE EMERALDS 3 – Vancouver Canadians 0: The Emeralds capped off their four-game series with Vancouver in style as they shut out the Canadians 3-0 for their third straight win. It was all about pitching in this one as Zach Mort continues to make hitters look silly in short-season ball. Coming off four shutout innings in his last start, Mort upped the ante by going six innings this time around and yielding just a pair of hits to pick up his first win of the season.
Offensively, things were challenging early, but in the fifth inning, Eugene finally found the ball with their bats as they picked up just the right amount of runs to win. Fernando Kelli continued his hot stretch leading things off with a double. Three pitches later it was Jonathan Soto getting in on the extra base fun with a double of his own as the Emeralds brought home the games first run 1-0.
A Dalton Hurd walk but two runners on base with no outs but following two consecutive outs the Emeralds were in danger of stranding those men with no further damage. Have no fear; Jake Slaughter is here as he continued to pile up the RBI's with another single pushing the Eugene lead to 2-0 after five. That score would hold up until the top of the ninth inning when Soto picked up his second double of the night extending the lead to 3-0. That was all the Emeralds would need as Riley McCauley finished things with a two-inning save to preserve the 3-0 win.
Eugene is now 4-3 on the season as they have won their last three games. Slaughter and Soto both had great nights at the dish picking up a pair of hits each to go with all three RBI's. Luis Vazquez, Edmond Americaan, Kelli and 17-year old Reivaj Garcia added the other four hits. Following Mort's strong start, both Raidel Orta and McCauley tossed scoreless relief, with McCauly adding 5K in two innings.
FINAL | Heading home on the right side of the .500 mark and with a three-game win streak! @ZMort7 tosses an absolute gem allowing just two hits over six innings of work, the longest outing of his pro career thus far. #GoEms pic.twitter.com/lYt9AVPqzS

— Eugene Emeralds (@EugeneEmeralds) June 20, 2019

Upgrade Your Account
Unlock premium boards and exclusive features (e.g. ad-free) by upgrading your account today.
Upgrade Now

Tags: Cubs Baseball
,
Adbert Alzolay
,
Dixon Machado
,
Robel Garcia
,
Xavier Cedeno
,
James Norwood
,
Jim Adduci
,
Trent Giambrone
,
Taylor Davis
,
Mark Zagunis
,
,
Ryan Kellogg
,
Miguel Amaya
,
Cam Balego
,
Tyler Peyton
,
Zach Davis
,
Brian Glowicki
,
Garrett Kelly
,
Derek Casey
,
Jonathan Sierra
,
Tyler Durna
,
Eugenio Palma
,
Fernando Kelli
,
Riley McCauley
,
Luis Vazquez