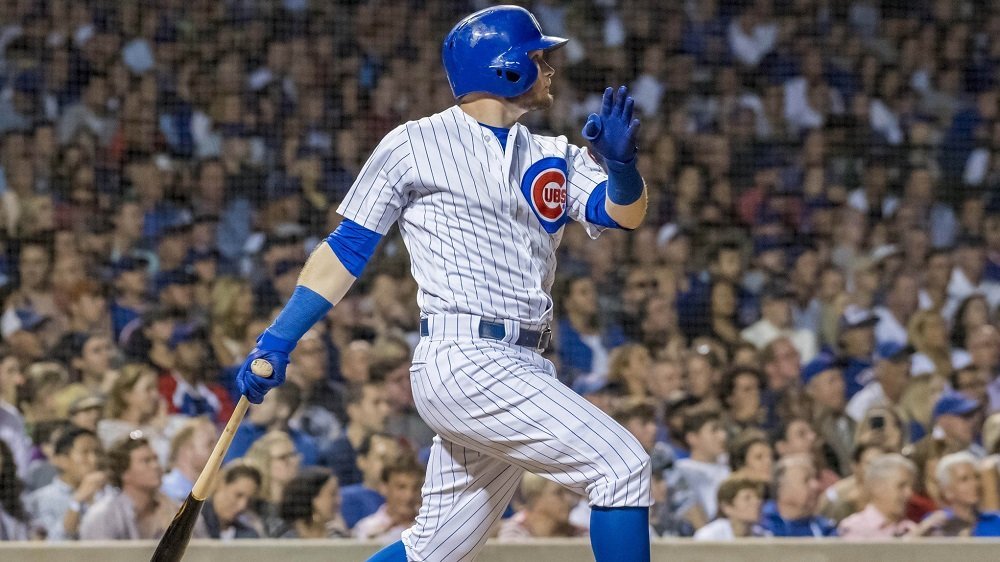 | | |
| --- | --- |
| Down on the Farm: 2-2 record, Triple-A relievers impress, Happ struggles at plate, more | |
---
| | | |
| --- | --- | --- |
| Monday, April 8, 2019, 12:34 PM | | |
A minor league split happened Sunday as the Cubs farm system compiled a 2-2 record over the course of the day.
IOWA CUBS 5 – Nashville Sounds 3: For the second game in a row, the Iowa Cubs needed just one big offensive inning to pick up their third win of the year. Looking to make a strong first impression was offseason acquisition Collin Rea as he took the ball.
Although his outing wasn't horrible, it wasn't great either as Rea yielded three runs in 4 2/3 innings of work before turning things over to the bullpen. That was one of the positives to take away from this one as Ryan Williams (looking to bounce back to pre-injury form), Dillon Maples and James Norwood combined to pitch 4 1/3 innings of shutout ball to preserve the 5-3 win.
Things did not get off to a good start for the Cubs as the Sounds touched Rea up right away in the first. With a runner on third and one gone, Danny Santana grounded out to first to push the first run across for the game. A Chase D'Arnaud home run followed that as the Sounds led 2-0 after one inning of play.
It didn't take the Iowa offense long to respond as they opened things up in the third inning. Coming off a big game on Friday, Donnie Dewees was at it again with an RBI groundout to get Iowa on the board. A Dixon Machado single tied things up at 2-2 before a Zach Borenstein RBI groundout gave the Cubs the lead for good at 3-2.
Trent Giambrone added some insurance later in the frame connecting for his second double of the season and plating a pair as Iowa plated five runs in the third to take a 5-2 lead. Not to be outdone, Nashville battled back in the fourth when Andy Ibanez doubled home a run to make it 5-3. That was as close as things would get as the Iowa pen was lights out from there. Coming off his big game, Ian Happ had an off night going 0-4 with three strikeouts and one walk.
3-1 ?? pic.twitter.com/20v2AXjdoj

— IowaCubsGameDay (@IowaCubsGameDay) April 7, 2019
TENNESSEE SMOKIES 4 – Mississippi Braves 3: If you want to look at who has had the best pitching staff in the Cubs organization thus far, look no further than the Tennessee Smokies. That trend of strong pitching continued on Sunday as the Smokies moved to 3-1 following a 4-3 win.
One of the most touted arms in the system in Justin Steele took to the mound and delivered a strong outing despite not making it through the fourth. Steele allowed just one run in his outing on four hits, but his three walks and four strikeouts racked up his pitch count a little bit forcing the call to the pen.
Tennessee found themselves playing from behind for the first time all season in the first innings as Alejandro Salazar singled home the first run of the game to put the Braves in front 1-0. With that score still intact heading into the bottom of the fourth inning, Jhonny Pereda evened things up 1-1 with a solo shot to right to the Smokies on the board.
The Braves appeared to deliver the knockout blow in the sixth as both offenses struggled to put runners on base continuously. It was in the sixth inning where the Braves retook the lead as Jonathan Morales stayed red hot with another double to give Mississippi the 3-1 lead. Looking to provide some late-game magic, look no further than the eighth inning when the Tennessee bats finally came to life.
With runners on second and third and no outs, Pereda added to his excellent start to 2019 with an RBI groundout cutting things to 3-2. After a walk put runners on the corners, Erick Castillo tied things up with his sacrifice bunt as a throwing error by pitcher Michael Mader put a pair of runners in scoring position with just one out.
Now with the bases loaded following an intentional walk, Nico Hoerner came off the bench to pinch hit looking to play hero once again. Despite not coming away with a big hit, his keen eye at the plate allowed him to draw a go-ahead bases-loaded walk to put the Smokies in front before Ian Clarkin closed things out in the ninth for the 4-3 win.
SMOKIES HIGHLIGHTS 4/7 vs Mississippi -- Another day ... another comeback. pic.twitter.com/EyzdmmOda8

— Tennessee Smokies (@smokiesbaseball) April 7, 2019
MYRTLE BEACH PELICANS 0 – Lynchburg Hillcats 3: Despite what may have been their best pitching performance of the season, the Pelicans bats managed just three hits as they were shut out 3-0 by the Hillcats on Sunday.
21-year-old Javier Assad couldn't have pitched much better in this one going five innings allowing three hits and one run. Unfortunately for him, that first inning run courtesy of an Oscar Gonzalez double was all Lynchburg would need as the Pelicans bullpen was not able to keep the score at 1-0 late.
The Pelicans collected hits from Jimmy Herron, Jhonny Bethencourt and Yeiler Peguero while a pair of base on balls from D.J. Wilson was all the baserunners Myrtle Beach could muster.
.@EdPiotrowski Bobblehead night at @Pelicanbaseball was a success capped with a full-fledge @wpdeabc15 rendition of "Take Me Out To The Ball Game" ?????? @SydneyWPDE @ZachWPDE @JohnSmithWX @TaggartHouck pic.twitter.com/4YXZJk18oB

— Kacy Hintz (@KacyHintz) April 8, 2019
SOUTH BEND CUBS 3 – West Michigan Whitecaps 7: After sweeping the Whitecaps in a two-game home set to open the season West Michigan returned the favor by scoring seven unanswered runs to top South Bend 7-3.
Riley Thompson earned the start and this one. After working through some trouble early on, Thompson was strong the remainder of his start, tossing 4 2/3 innings punching out 4. He left with the game tied at three, but a bullpen hiccup later on the day handed the Cubs their second consecutive loss.
Early on things were going great for South Bend especially offensively as they opened the scoring in a big way in the second. With the first two hitters retired, a Jonathan Sierra double started a two-out rally as he came home to score on a Delvin Zinn blooper to make it 1-0. A Levi Jordan single moved Zinn to third before he was able to score on a wild pitch to make things 2-0.
South Bend was still not done as Eric Gonzalez stepped to the plate. His long double to right field capped off a furious rally as South Bend was comfortably in front 3-0. That lead was short lived with West Michigan getting right back into things in the bottom half of the second.
A Christopher Procter fielders choice followed by an Avery Tuck single cut things to 3-2 as the Whitecaps offense was just warming up. Tuck continued the comeback attempt with a double in the forth and just like that it was a 3-3 game. It wasn't until the eighth inning when things came unglued for South Bend as the Whitecaps capitalized on every Cubs miscue.
With the bases loaded, John Valente delivered the knockout punch as his single gave West Michigan the lead for good at 5-3. The Whitecaps were not finished scoring as Procter picked up a sac-fly which was followed by Ulrich Bojarksi and his double as West Michigan closed out the game with seven unanswered runs to pick up the 7-3 win.
South Bend drops both games in West Michigan. We will pack the bus and head to Great Lakes for the first of four games tomorrow! pic.twitter.com/1jlTFymRJ9

— South Bend Cubs (@SBCubs) April 7, 2019