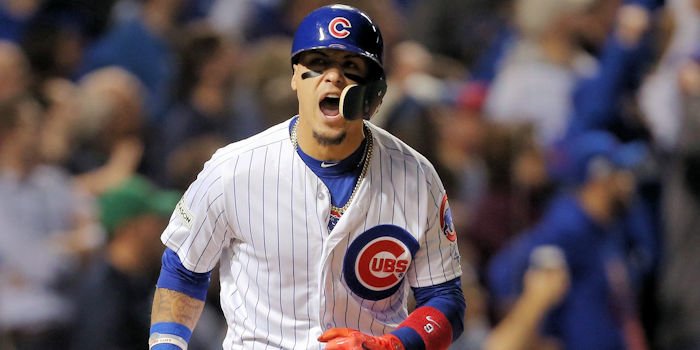 | | |
| --- | --- |
| ESPN's 2018 Sunday Night lineup features Cubs-Cards | |
---
| | | |
| --- | --- | --- |
| Tuesday, December 19, 2017, 6:27 PM | | |
ESPN today announced its 2018 Sunday Night Baseball presented by Taco Bell schedule for April, May and select dates in July and August. The schedule features 14 MLB Clubs within the first 13 Sunday Night Baseball game selections, including appearances by all 2017 MLB Postseason teams (divisional round to World Series). The schedule will also spotlight several of baseball's biggest stars, including 2017 MLB award winners. The defending World Series Champion Houston Astros and the N.L. Champion Los Angeles Dodgers will also make multiple appearances.
2018 will mark the 29th season of Sunday Night Baseball – the exclusive national Major League Baseball game of the week – which started in 1990. Sunday Night Baseball generally airs at 8 p.m. ET and it is available across ESPN, the ESPN App, ESPN Radio, ESPN Deportes and ESPN Deportes Radio. Baseball Tonight: Sunday Night Countdown presented by Chevrolet generally precedes Sunday Night Baseball with a one-hour pre-game show, starting at 7 p.m. on ESPN.
Schedule:
Date Telecast
Apr. 1 San Francisco Giants at Los Angeles Dodgers
Apr. 8 New York Mets at Washington Nationals
Apr. 15 Texas Rangers at Houston Astros
Apr. 22 Washington Nationals at Los Angeles Dodgers
Apr. 29 New York Yankees at Los Angeles Angels** – Olney's Pick!
May 6 Chicago Cubs at St. Louis Cardinals
May 13 Washington Nationals at Arizona Diamondbacks
May 20 Cleveland Indians at Houston Astros
May 27* San Francisco Giants at Chicago Cubs
July 1 Boston Red Sox at New York Yankees
July 22 New York Mets at New York Yankees
July 29 Chicago Cubs at St. Louis Cardinals
Aug. 19 MLB Little League Classic
New York Mets at Philadelphia Phillies** – Mendoza's Pick!
*Telecast to air on ESPN2.
**Buster Olney and Jessica Mendoza selected the games they're most looking forward to calling in 2018.
Additional Sunday Night Baseball selections for June through September will be made up to two weeks prior to the dates.
Sunday Night Baseball schedule highlights:
Multiple appearances by many of MLB's biggest superstars: A.L. M.V.P. Jose Altuve, N.L. Rookie of the Year Cody Bellinger, Mookie Betts, Kris Bryant, Yoenis Cespedes, Paul Goldschmidt, Bryce Harper, A.L. Rookie of the Year Aaron Judge, Francisco Lindor, Buster Posey, Anthony Rizzo, World Series M.V.P. George Springer, N.L. M.V.P. Giancarlo Stanton, Mike Trout, and more;
29th Sunday Night Baseball season debuts Apr. 1 when the San Francisco Giants and Buster Posey visit the Los Angeles Dodgers and Corey Seager;
The New York Yankees and Giancarlo Stanton to visit the Los Angeles Angels and Shohei Ohtani in a matchup of two of the most sought-after stars this offseason. Matchup also includes stars Aaron Judge and Mike Trout (Apr. 29);
Rivalry games: San Francisco Giants at Los Angeles Dodgers (Apr. 1), Texas Rangers at Houston Astros (Apr. 15), Chicago Cubs at St. Louis Cardinals (May 6, July 29), Boston Red Sox at New York Yankees (July 1);
New York Yankees – led by new manager Aaron Boone – host the Boston Red Sox and new manager Alex Cora – July 1;
The New York Mets "visit" the Philadelphia Phillies in the second annual MLB Little League Classic in Williamsport, Pa. – site of the Little League World Series (Aug. 19);
Three appearances so far for the Chicago Cubs, the New York Mets and the New York Yankees.
Sunday Night Baseball commentator update:
Jessica Mendoza will return for her third season as an analyst on Sunday Night Baseball. Mendoza made her debut in August of 2015, and began her first full season in the booth in 2016. In addition, Buster Olney will return for his eighth season (since 2011) as the Sunday Night Baseball reporter. There will be additional commentator announcements in the coming weeks.
MLB Second Half Opener
ESPN will exclusively televise a special Thursday night MLB game to launch the second half of the 2018 MLB season. It'll take place on July 19, following the MLB All-Star break. The Chicago Cubs and Kris Bryant will host the St. Louis Cardinals and Dexter Fowler at 7 p.m. on ESPN. It will be the only MLB game played on that date.
ESPN previously announced its 10-game 2018 MLB season-opening schedule, highlighted by an Opening Night telecast: the Los Angeles Dodgers to host the San Francisco Giants on Thursday, March 29, at 7 p.m. The full schedule is available on ESPN Media Zone.
All ESPN MLB telecasts are also available via the ESPN App.