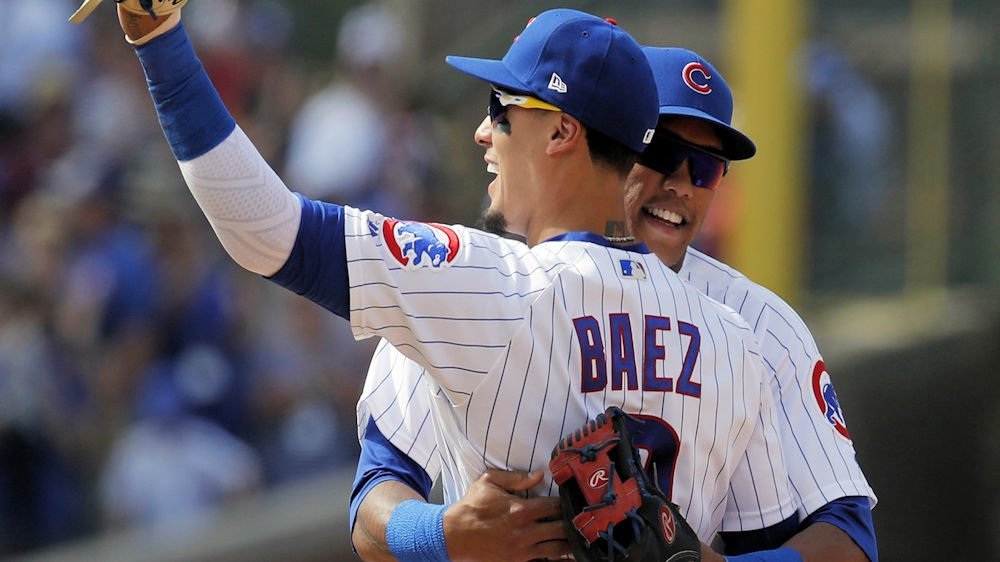 | | |
| --- | --- |
| Cubs News: 'El Mago' deserves to be an All-Star | |
---
| | | |
| --- | --- | --- |
| Friday, June 29, 2018, 8:44 AM | | |
As the All-Star game looms closer, Javier Baez is sitting in second place on the fan-driven ballots. With time running out, will Baez collect enough votes to make it to the dance, or will he be left watching from home?
Loyal Cubs fans are going to cast their votes for Javy, and I'm doing the same. If you were voting with the mind and not the heart though, what separates Baez from another top contending, NL second-base nominees like Ozzie Albies and Scooter Gennett?
Gennett has been a maniac this year, both offensively and defensively, and has been one of the forces to be reckoned with, as the Reds continue their ascent from last place. Gennett is currently batting .331 with 13 HR, 53 RBI's, an OPS of .907 and a WAR of 3.1. Defensively? Well, you'll just have to watch; it won't be too long before he does something to make the highlight reel.
Albies is a little different. He shines defensively and lets the long-ball fly frequently (17 home runs thus far). He's racked up seven stolen bases so far this season, and that number is only going to rise as time goes on. His other offensive numbers are weaker than those of Gennett and Baez (.271 Avg., 46 RBI's, OPS of .870 and a WAR of 2.4,).
Now that we've looked at his competition, let's look at Baez. The only argument that could possibly be made for Gennett over Baez is that Baez's offense seems to come in spurts; but wait, Baez out-homers Gennett (16-13), and he leads Gennett in RBI's (57-53). While Baez's other numbers are slightly lower than Gennett's (.285 BA, .870 OPS and a WAR of 2.8), his next hot streak appears to have started in Los Angeles with a flurry of hits and a first-pitch, grand-slam home run on Tuessday night that sailed a little over 400 feet.
Defensively? The man is a walking highlight reel; enough said. There's an old-Latin saying, Res ipsa loquitur, which means, "The thing speaks for itself."
Perhaps the biggest reason Javy should be on the 2018 All-Star team doesn't rely on statistics, analytics or sabermetrics, the truth is, the guy is just flat-out fun to watch. Diving, unassisted double-plays, lightning speed tags, stealthy moves to get behind a leaning base-runner and a shotgun style arm, don't even begin to encapsulate all of his insanely good plays on the field. The fun doesn't stop at second base either: Baez's defensive efforts could have just as easily earned him a spot as the NL's starting shortstop or third-baseman. Position to Baez is merely a formality. Next time you get bored, take some videos of Javier Baez's amazing slides and set them to the theme song from "The Benny Hill Show;" guaranteed hours of entertainment.
What is the All-Star game all about anyway? Plain and simple- it's entertainment and a chance for the league's best players to showcase what they do best while playing for a "dream-team" of sorts. For the fans, it's a once-a-year chance to get to root for the best of the best, no matter what jersey they wear. Personally, I'm hoping like crazy for a Baez-Altuve matchup at second, but as long as Baez gets in, I'm good.
So get to voting, vote often and vote "Javy," because there is no one more entertaining to watch than Javier Baez when he's doing his thing, and your time to vote is running out. "This message paid for by the Baez for All-Star Campaign." [Heard in the background] "I'm Javier Baez and I approved this message."
.@MLBNetwork sees what we see.@javy23baez deserves a trip to DC: https://t.co/gdRdxZuUXL pic.twitter.com/3bhuC25e8E

— Chicago Cubs (@Cubs) June 29, 2018