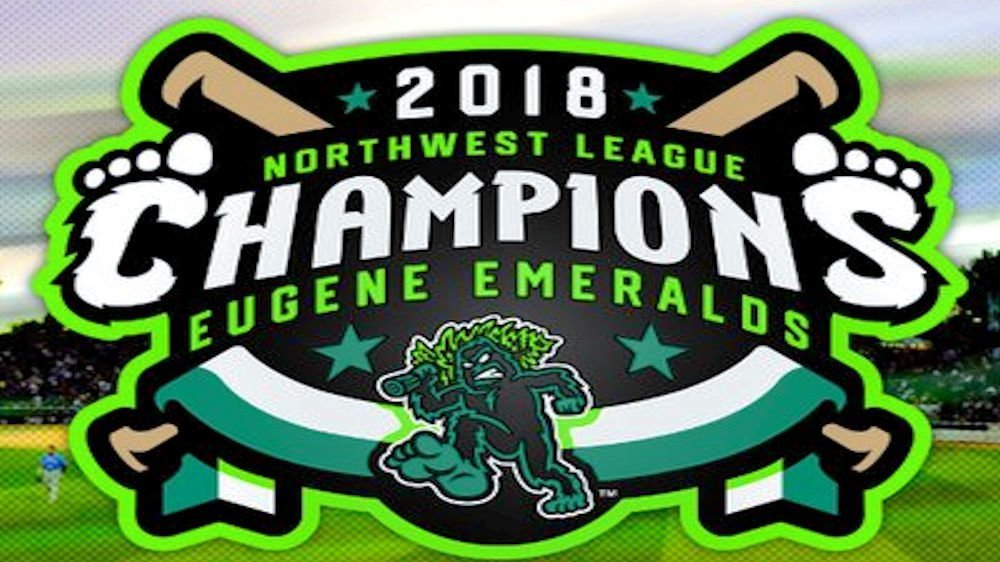 | | |
| --- | --- |
| Emerald Cubs: Jewel of the Northwest | |
---
| | | |
| --- | --- | --- |
| Thursday, December 20, 2018, 8:50 AM | | |
I like the Emeralds best because that's my birthstone and it's the prettiest, and I want you to buy me some and – wait – wrong post. But seriously folks, if you like baseball in all of its rule and stat-clad glory, you would be hard pressed to find more fun teams than the Eugene Emeralds. Our foray into the Cubs minor league system continues with this gem of an SS (Northwest League) single -A team. Okay okay, I'll stop.
By now, most fans of minor league ball know that the Emeralds won the 2018 Northwest League (NWL) title on a Balk against the Spokane Indians back in September. Heckuva way to win a series title, but they did it. Bottom of the 9th, last game in the series, bases loaded. How awesome is that? Not precisely a walk-off Grand Slam (we're thinking of you, David Bote), but they were in a position to win.
Officially classified as a Class A Short Season minor league affiliate, the Emeralds had a great season of baseball topped off by their series win. They call themselves "The Bad News Ems," but were long on good news in 2018. In addition to the title, they also won the Larry McPhail award for Best Minor League Game Promotions, an honor they had been nominated for in eight consecutive seasons. So not only do you get great baseball, you get it in large doses of fun.
Roster-wise, the Emeralds launched Nico Hoerner on his Major League journey, and they have some prospects getting scout's attention. In no particular order, here are some players worth watching when 2019 happens.
First, third baseman Luke Reynolds, a 23-year-old that finished off the season with a .289 BA and a solid .383 OBP. Reynolds began his Cubs odyssey in the AZL on Cubs1 after being drafted by the club in the 10th round of the 2017 draft. He had a .610 OPS, an SLG of .421, 16 RBI's and 11 doubles. He played the hot corner and logged some time at first base as well, posting up a more than respectable 49 putouts and a range factor of 5.56. Reynolds is the kind of steady, reliable hitter that doesn't jump off the stat page, but finds a way to get on base, and his defense is solid.
Over in left field another 23-year-old, Grant Fennell, played in 46 games for Eugene and 20 for Cubs2 in the AZL, where he batted a stellar .355 with an OBP of .417. His BA dipped a little after the move to Oregon, but overall in 2018, he hit to .301 with an SLG of .487 and an OPS of .849, all blue-collar-strong numbers. Fennell had a fielding percentage of .991, 105 putouts, and a stellar range factor of .815 overall. That's what you want from your outfielders, and Fennell delivered in a big way on the way to Eugene's title run. He shined at all the right moments, putting his career trajectory on the upswing.
On the mound, the Emeralds did enough to earn their league title with an array of pitchers throughout the season. In 2018, 25-year-old RHP Luis Aquino pitched 12 games for Eugene and posted a 1.83 ERA for the year (he also threw for South Bend) and a WHIP of 1.65. Aquino has been something of a journeyman pitcher, logging time in the DSL, and the AZL since being picked up by the Indians in 2012. His sojourn through the Cubs minor leagues began in 2015 after sitting out the entire 2014 season.
Although classified as a Short-A team, the Emeralds are indeed a gem when it comes to developing talent. Confusing as it may get at times, as a training ground or rehab destination, the MiLB as a whole has come a long, long way since Branch Rickey started it. Any player can be sent to the minors for any number of reasons, as you already know. What gets missed sometimes is just how critical teams like the Emeralds are to the Cubs. Players like Aquino contribute more than just wins and losses. They are integral to the maturation process of players hoping to strike it big, as it were.
That the "Bad News Ems" won the Larry McPhail award typifies what fans should expect from any minor league team. Baseball is a business, yes. Let's not forget that it's also supposed to be fun for players and fans alike — kudos to the Emeralds for reminding us all of that. I can't wait to see what they bring us in 2019.