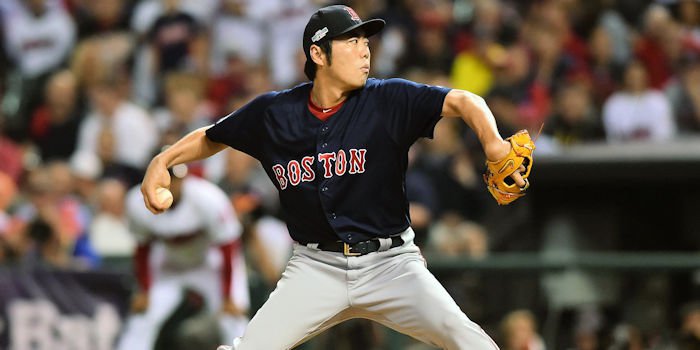 | | |
| --- | --- |
| Cubs News: Epstein hits homer with signing of Uehara | |
---
CHICAGO -- Another day, another deal!
The Cubs have agreed to terms with former Boston Red Sox closer & setup man Koji Uehara to a one-year, $4.5 million dollar deal according to multiple reports. The club has not confirmed the reports as of Saturday morning.
Uehara, now 41, has thrived over the course of his major league career since coming stateside from Japan in his mid-30s. After 12 starts as a rookie with the Baltimore Orioles in 2009, he would be moved to the bullpen permanently and never look back, where he found himself and where he fit best and has continued working out of the bullpen and dominating ever since. He was the Boston Red Sox closer on the 2013 Championship squad, while also being named to the 2014 All-Star game. Uehara has pitched to the tune of a career 2.53 ERA, impressive 0.86 WHIP, which includes his 12 starts as a rookie in Baltimore.
Coming off of a season in Boston which saw him put up a pedestrian (by his standards) 3.45 ERA--the highest in seven seasons, dating back to 2011 (which came in very limited time for Texas, seeing him log only 18 IP, in fairness), but his 2016 ERA also came along with an impressive 0.96 WHIP, 12k per 9IP--and if you want to count stats to boot?--18 holds & 7 saves (with most saves coming from times while briefly filling in the closer role, which he has shown capable of doing when working as teams' setup men in the past--making him an even more valuable asset at the price of this deal).
A move out of the AL East, and into the National League Central, will help his value, even if only a little bit. Both divisions likely represent the best of each League, in fairness, but the East has (or had) more firepower last year, and when you think about it, a lot of the National League Central's firepower is on this Cubs team!
Uehara has previously pitched for Boston (2013-2016), Texas (2011 & 2012), & Baltimore (2009 & 2010, also the team in which he debuted with, and has big-game experience having been in the World Series with the Rangers, and winning one with the Red Sox in which he ended the Cardinals season, striking out Matt Carpenter to clinch it. He should help bring a veteran presence and stabilize a Cubs bullpen that was already looking much better in entirety than it had last year. Arguments can be made a healthy Wade Davis is as good as or better than Chapman, and he is also playoff-tested.
Uehara, in addition, as well--hell, World Series-tested--so he knows a thing or two about big games. What this means for the long-term future of Pedro Strop and/or Hector Rondon is unknown right now, but it pushes them both back at least an inning, or gives the Cubs another 8th inning option in Uehara and potentially another move up their sleeve that has yet to come...
Something to consider, though, is that despite being a righty, Uehara has actually fared better against lefties over his career, which is just something to take into consideration with guys like Wood leaving town to sign elsewhere. There may not be one permanent fixture in the 8th inning, but we will have to wait & see. One more reason to be optimistic about the addition is the great movement Uehara gets on his pitches, in addition to featuring one of those 'bowling ball' sinkers which should do just fine in Wrigley--and with the defense, he'll have behind him, that can't hurt either! I think this is another shrewd move by Team Theo, and one of the better off-season bargains for any team as a whole.