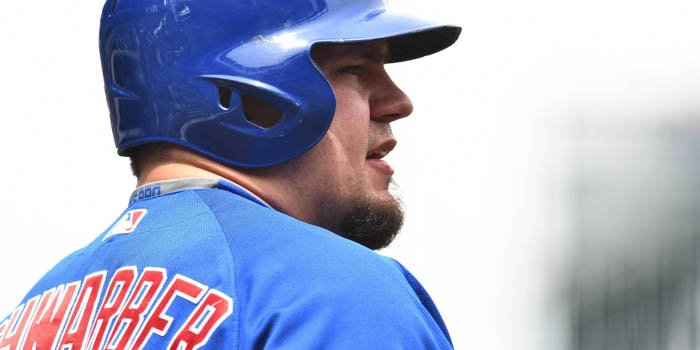 | | |
| --- | --- |
| Cubs News: Failed Schwarber leadoff experiment could be reason for rocky start | |
---
Chicago Cubs manager Joe Maddon has established himself as one of MLB's top active skippers throughout the course of his managerial career, often going against the baseball coaching grain with his unorthodox approach to the game and larger-than-life personality. Epitomizing that, Maddon's brazen decision to bat power-hitting outfielder Kyle Schwarber in the leadoff position for the first seven weeks of this season was perhaps the boldest move of his career. However, his refusal to accept the fact that the Schwarber leadoff experiment was a failure until just recently could prove to be the biggest mistake of Maddon's career and might ultimately ruin the Cubs' chances of returning to the postseason for the third straight year.
Maddon has made it clear that he is an inventive manager, with his heady coaching style complementing his intellectual appearance and quirky persona. But opting to bat a 235-pound former catcher as a leadoff hitter was a risk that seemed too daring even for Maddon. And indeed it was, as Schwarber failed to settle into a groove throughout his seven-week stint batting first. Hitting a dismal .182 during that stretch, Schwarber was a victim of his own manager's stubbornness. As a result, the 24-year-old's promising career could suffer a major decline in trajectory, and the Cubs' run at a return trip to the World Series could already be too far gone for Maddon to save.
The leadoff experiment involving Schwarber was audacious, to say the least, but Maddon's relentless commitment to seeing it out before his prized outfield slugger was practically listless at the top of the batting order was downright ridiculous. Furthermore, that refusal to accept failure and attempt to assuage the problem before nearly a third of the regular season was in the books could very well be the ultimate factor behind Chicago's subpar record thus far this season. Not to mention, it might result in the incredible promise boasted by Schwarber never coming to fruition, which would be a crying shame.
2017 was supposed to be a year in which Schwarber was given an opportunity to gradually work his way back to top form by building upon what had made him such a formidable weapon in the past. Instead, Schwarber was thrust into a new role not at all befitting of his intangibles or his offensive approach, and it quickly proved to be too tall of a task for him. Coming off of what was essentially a lost season, Schwarber should have been granted the chance to assimilate himself into his role as a regular member of the batting order again, but he was not, as Maddon seemingly glossed over the fact that Schwarber missed practically all of last season with a serious knee injury suffered in April of 2016.
It was almost as if Maddon was miffed by the fool's gold that was Schwarber's sporadic productivity in the 2016 World Series, something that was exaggerated by baseball fans and the baseball media alike due to the fact that Schwarber was performing at a high level on baseball's biggest stage a mere six months removed from a significant knee injury. Sure, his flashes of greatness as a designated hitter for the Cubs were worthy of commendation, but they did not indicate that Schwarber was superhuman, like Maddon seemed to think by deciding to bat Schwarber leadoff.
Schwarber was marvelous as a rookie in 2015, with his rapid ascension serving as a primary catalyst during the Cubs' corresponding ascension from a work in progress to a championship contender. And Schwarber was able to make a name for himself through his power-hitting acumen, with the slugger first entering the national conversation as one of MLB's top young stars as a result of his epic five-homer performance in the 2015 postseason. At 6'0'', 235 pounds, Schwarber boasts incredible upper body strength, bearing a stronger resemblance to a linebacker than an outfielder. A prototypical power hitter in every way, Schwarber never belonged in the leadoff spot, and that was fairly evident from the start.
When explaining his decision to finally pull the plug on the Schwarber leadoff experiment, Maddon was far from transparent, serving as a master of deflection with his quotes to the media. "The other component I thought we've talked a lot about is Kyle hitting a lot of balls into the shift," Maddon claimed when discussing various tedious reasons for removing Schwarber from the leadoff role, all the while avoiding taking the blame for the failed experiment.
With that being said, Maddon's stubborn refusal to accept that he was wrong about perhaps the riskiest decision of his managerial career before the situation got out of hand not only resulted in a major disservice being done to Schwarber but resulted in a major disservice being done to the entire Chicago lineup, as well. The Cubs built themselves from the ground up following Maddon's 2015 arrival primarily through their offensive versatility. Like most National League teams, the Cubs embraced the elements of small ball by buying into scrappy on-base hitters, such as Javier Baez and Ben Zobrist. That, combined with the power-hitting abilities of Kris Bryant, Anthony Rizzo and Schwarber, was primarily what made the Cubs so dynamic and dangerous with the bat in their hands.
Therefore, by opting to bat Schwarber leadoff and effectively turn his back on the bevy of young Cubs hitters with a knack for getting on base, whether it be Baez, Albert Almora or Addison Russell, Maddon should bear the brunt of the blame for the Cubs' offensive woes of this year. Currently hitting under .220 for the season with runners in scoring position, it is obvious that the entire Chicago batting order is out of sync like it has not been in quite some time. But with all of the talent that it boasts, it is mystifying just how out of sync it has been, which indicates that the risky Schwarber experiment might have caused significant damage to the Cubs' chemistry.
The old adage states that well enough should be left alone, but Maddon refused to heed those words by attempting to fix what was not broken through his insertion of Schwarber into a leadoff role that he was not at all suited for. Despite Maddon's lengthy list of amazing accomplishments that he has compiled throughout his managerial career, he cannot reinvent the wheel. Baseball teams have lived or died by a beneficial presence or a detrimental lack of a scrappy spark plug leadoff hitter in the batting order for as long as organized baseball has been in existence, and a 235-pound natural catcher was certainly not a qualified candidate for Maddon to choose when attempting to break that trend.
Needless to say, the Major League Baseball season is long and strenuous. The Chicago Cubs will likely experience many ups and downs throughout the course of this season, bringing with them several changes to the team along the way. And if this season does continue along its current trajectory as one of bitter disappointment, there will be plenty of finger-pointing with regard to who is to blame. But regardless of who receives the blame when all is said and done, it may be a moot point, as the Cubs' season could have been doomed from the start because of Kyle Schwarber's ill-fated stint as the leadoff hitter. And Joe Maddon, whether he likes it or not, will deserve to have all of the accusatory fingers pointed directly at him.