| | |
| --- | --- |
| Chicago Cubs: Fans start a GoFundMe to pay Russell off; well, sort of | |
---
| | | |
| --- | --- | --- |
| Thursday, January 10, 2019, 2:16 PM | | |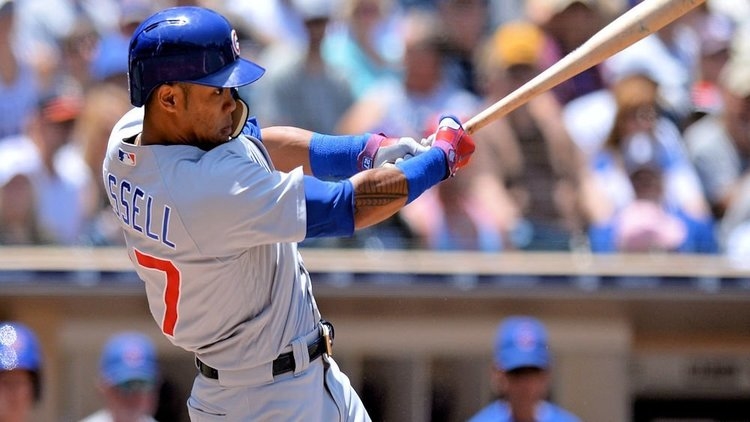 I knew it would only be a matter of time before the understandably disgruntled fans started expressing their hate and discontent for the Cubs' decision to tender Addison Russell a contract. Here we go.
A new Twitter account was formed last night, under the Twitter handle "@releaserussell." Jeff Falk and other "Fans of Cubs Twitter" started a GoFundMe account last night, hoping the Cubs would receive the message and release Addison Russell, especially after additional allegations of mental and physical abuse surfaced in January from both Russell's ex-wife (Melisa Reidy) and from the mother of one of Russell's children, Mallory Engstrom. The fund is titled "The Addison Russell Pink Slip Fund."
The goal of the fundraiser is to raise the $4.3M that Russell is expected to be granted through arbitration this winter, in order to "pay Russell to leave Chicago." While the funds won't go directly to the Cubs or to Russell, should he actually leave the team, there is an upside; all funds will reportedly be donated to the Domestic Violence Legal Clinic of Chicago.
The description of the GoFundMe reads as follows:
"To Tom Ricketts, Theo Epstein, Jed Hoyer, and any other parties this may concern,
We would like to pay Addison Russell to go away.
We are raising his entire projected salary in 2019, to be donated to the Domestic Violence Legal Clinic of Chicago, in hopes that you will release him from your roster. We've read in the press that you're barely scraping by. While we, like most Americans, can't imagine what it's like to be wealthy and powerful beyond all measure, we've come together to scrape our pockets and dig into our couch cushions in hopes that one or preferably all of you decide to find a soul.
"You go talk to their girlfriend, you go talk to their ex-girlfriends…" - said our brave leader, Theodorus Nathaniel Epstein, on 60 Minutes. He promised us that times would change. We were told that character counts. And we've already been asked to forgive a lot on that score. We haven't forgotten Aroldis Chapman.
Now you've been presented with a man who has choked his wife in front of his children, who has been delinquent in his child support, who has mentally and physically abused his wife for years, and who has been suspended by Major League Baseball after accepting responsibility for his actions. It's long past time to do the right thing.
Release him. He does not deserve the honor of having this position. He is not entitled to a job as a major league baseball player. He is a repeat offender, a danger to any woman around him, and it would spit in the face of every fan of this team to tell us that you respect us so little, that you don't mind demanding that we clap our hands for a man who has used his to do much, much worse.
As always, all the power rests in your hands, all we can do is wait, and wish, and hope that we're fans of human beings with souls, and not spineless jellyfish, clinging desperately to a cruel man who would cause millions of us trauma and pain to see in a Cubs uniform again. It's time for you to give Addison Russell the pink slip.
Signed,
The Fans of Cubs Twitter"
I reached out to Russell's agent, Scott Boras, for comment, but received no reply. The office was probably aware of the "movement," but a secretary would only offer to take my message. Likewise, a written request to the Cubs' Media Relations Department for comment has not yet been answered.
If the Cubs choose to go forward without Russell, it will certainly be a team decision and not based on a GoFundMe account, however, releasing him may now be their only choice if, in fact, they wish to part ways. Ken Rosenthal reported yesterday that the Cubs did try to trade Russell earlier in the off-season, and one team apparently took it to ownership for approval, however, after the most recent allegations of abuse surfaced, the interested team reportedly backed off.
As of the time of this writing, the GoFundMe account is 15 hours old and has raised $1,197.00 from a total of 41 donors. The Twitter account has also challenged the Cubs to match their donation.
When I reached out to Jeff Falk, the site's organizer, for comment, Jeff replied, "First of all this isn't about Cubs fans. It's about the systemic problem the league and the Cubs have in how they deal with players who commit domestic violence. Simply put we'd like to raise enough money for a valuable Chicago DV resource, so that the team might take notice and reconsider their position on Addison Russell. But ultimately it's about helping victims of domestic violence."
An attorney that I respect well cautions fans interested in donating to beware, as the "use of either Russell's name or the Cubs' name without permission from the parties is illegal." As he explains, the site purports to want to raise funds for getting Russell released from the Cubs, but in reality, they are actually raising funds to help victims of domestic violence."
Finally, I reached out to the Domestic Violence Legal Clinic of Chicago but was unable to reach anyone for comment. I will be updating this story if I receive additional statements from any parties involved.
No more excuses, no more apologizes. It's time to #ReleaseRussell. The Addison Russell Pink Slip Fund is a campaign created by a group of Cubs fans who are heartbroken at the idea of seeing this abusive monster in a Cubs uniform in the 2019 season. https://t.co/Ak36B0cBeG

— Chicago Cubs: #ReleaseRussell (@releaserussell) January 10, 2019