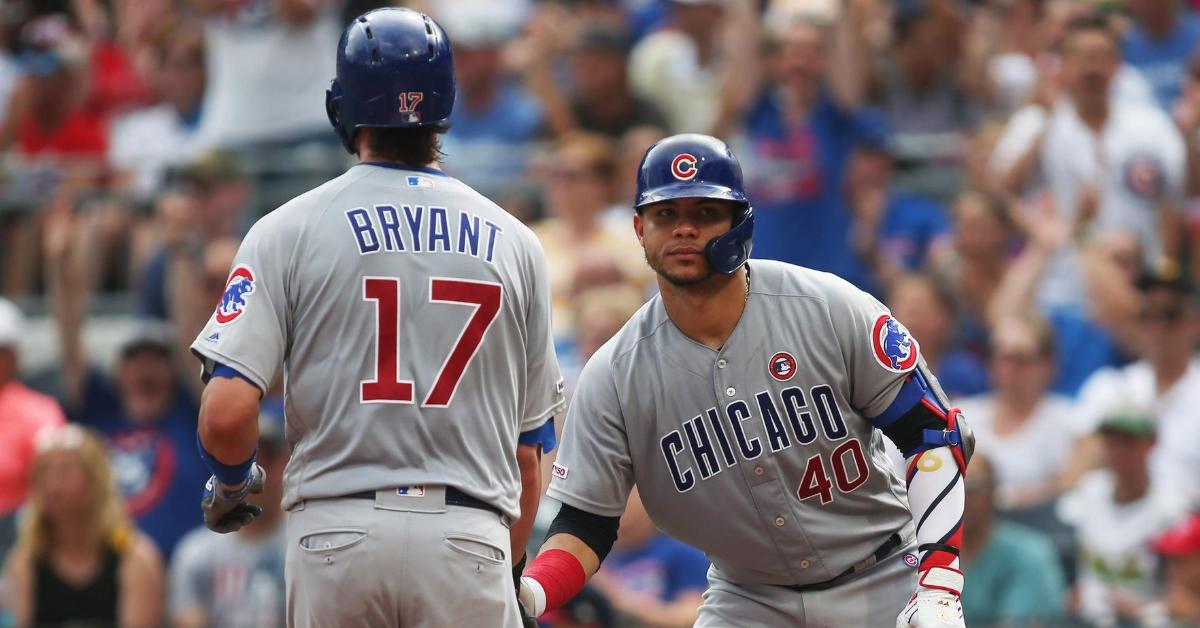 | | |
| --- | --- |
| Cubs News: Fly the W, Maddon's job on the line, Kaplan's rant, Garcia's debut, Smokies take heat | |
---
Next Game: Saturday, 6:15 PM CDT: Cubs @ White Sox LHP Jon Lester (7-6, 3.89 ERA), vs RHP Lucas Giolito (11-2, 2.72 ERA).
Thursday's Game Recap:
With another series loss in the books, the Cubs attempted to regain some composure and dignity yesterday, as they tried to avoid the sweep. For the Cubs it was Jose Quintana (5-7, 4.21 ERA); for the Pirates, it was Jordan Lyles (5-4, 3.71 ERA). The Cubs lineup would also feature Robel Garcia getting his first MLB start (at second), while Kris Bryant started in right.
At this point, I'm going to break away from my usual recap with commentary, and refer you to Cole Little's recap, for a detailed review of the game, as I have a ton of other stuff to cover. Here are just the abridged highlights.
Quintana gave up three runs over the first four innings but was fantastic overall for a total of seven innings. He worked smart and efficiently, averaging about 12 tosses per frame.
The Cubs grabbed an early 1-0 lead in the first on Kris Bryant's opposite-field homer, then added another on Albert Almora's blast in the second, then two more with Willson Contreras' homer in the third (Cubs up 4-2 at that point).
*Don't say it*
*Don't say it*
*Don't say it*
*Don't say it*

KB, you're a firework. pic.twitter.com/KBAlejptVl

— Chicago Cubs (@Cubs) July 4, 2019
launches! #EverybodyIn pic.twitter.com/2cE1WQyo1p

— Chicago Cubs (@Cubs) July 4, 2019
.@WContreras40 joins the festivities! ??????#EverybodyIn pic.twitter.com/e6G15mr2mt

— Chicago Cubs (@Cubs) July 4, 2019
Newcomer, Robel Garcia, made his debut at second base, and after striking out and committing a fielding error in the second, resurrected himself at the plate. His first MLB hit was a solid triple.
Robel Garcia triples for his first big league hit!#EverybodyIn pic.twitter.com/KTNHN2KFeJ

— Chicago Cubs (@Cubs) July 4, 2019
Next, the Cubs would explode for a five-run fifth, with plenty of situational hitting for all.
Before this game ended, Garcia would also single and collect his first major league homer, leaving him a chance to hit for the cycle in his first start. Garcia would go down on strikes in the ninth, on what I believe to be a bad call on a check swing. If you missed it, don't worry, this kid will be here for a while.
The Robel Prize.#EverybodyIn pic.twitter.com/HGhbTAOnB2

— Chicago Cubs (@Cubs) July 4, 2019
In the end, Chicago obliterated the Bucs by a final of 11-3.

CUBS NEWS AND NOTES:
Cubs/White Sox Probable Pitchers Sunday, 1:10 PM: RHP Kyle Hendricks (7-6, 3.45 ERA) vs RHP Ivan Nova (3-7, 5.92 ERA).
The new kid: I'll write off Robel Garcia's first two strikeouts (one on Wednesday, then his first AB yesterday) as pressure to perform, and I'll disregard his fielding error as jitters, but what the kid demonstrated beyond that was pure gold. Three for five at the plate (1B, 3B, HR), an RBI, and some solid fielding, not to mention his speed on the bases. If I were one of those underperforming infield guys, I'd probably be a bit nervous.
The skid: With the W yesterday, the Cubs avoided their first sweep in a series of four or more games since June 20th through 23rd, 1983.
The stretch ends: With the conclusion of yesterday's game, the Cubs have now finished a stretch of 50 games in 52 days. The Cubs will have three off days from July 18th through 29th, as play resumes after the All-Star break.
Empty rhetoric, or serious threats? Theo Epstein made a speech over the winter that was supposed to have sent a message: Play or be gone. Not a whole bunch has been done since then- neither by guys playing terribly or by upper-management who threatened action. Now that the Cubs have found themselves in a real bind, Theo's once again on the warpath.
Theo is pissed. The Cubs are a mess. Big changes coming if the team doesn't turn it around soon: https://t.co/DqnKzmMT4w

— Patrick Mooney (@PJ_Mooney) July 4, 2019
Maddon on Wednesday's loss: "You get back in the huddle. That's all you can do. You don't cry; you don't throw things. You get back in the huddle." I agree, Joe, but I have a feeling that there may be some different guys in the huddle very soon (and quite possibly a different man running the show).
Are Maddon's days numbered? As I listened to ESPN 1000 yesterday morning, Jesse Rogers discussed the Cubs' plight. Jesse, not at all a knee-jerk kind of guy, suggested that with the Cubs just over .500 at the All-Star break, a managerial change over the next week wasn't out of the question.
"At some point, there has to be a level of accountability!" @thekapman is FED UP with the #Cubs recent miscues and ugly losses ?? pic.twitter.com/cQa4DrGms3

— Cubs Talk (@NBCSCubs) July 4, 2019
Maddon's ejection: Not that Joe didn't have a valid argument, after all, Lyles had been throwing up-and-in all day long. Still, I read that as nothing more than an over-the-top and completely choreographed act by Joe, as he's feeling the heat from ownership and upper management. Strange, that the Cubs were back and forth with the Bucs for 3-1/2 innings, but then exploded offensively when Mark Loretta took the helm.
Kaplan's rant: David Kaplan (ESPN and the Cubs' pre/post game host) went on a post-game rant on Wednesday that went viral. He screamed for Javy to be benched following him, dogging it to first on what should have been a double, and that was only the beginning. In a Chicago Tribune article, Kaplan is quoted as saying that Maddon should tell his players, "I am not going to go down and lose my job with guys not playing the game the right way."
"I'd be really freaking pissed off; this team is going this way. At some point, there has to be a level of accountability." Kaplan added, "It obviously can't continue. There have been too many words about it and not enough action."
The article also includes the following: "Memo to Tom Ricketts: When you've lost The Kapman, you've lost Cubs Nation."
Maddon on Baez: Javier Baez goofed on Wednesday night. Much like Contreras last year, Javy thought a ball was going out: but it didn't. David Kaplan was all over him in his rant, but Maddon is defending his shortstop:
"You watch Javy play, who happens to play almost every day, to criticize his effort or his heart, I can't go there. If he made a mistake last night, he did, and he would own up to it. Nobody plays harder or means more to this team than he does."
He'll do it his way: After Wednesday night's loss, Joe Maddon said that Addison Russell made the wrong decision when he threw home instead of to first base for an out. When asked, Russell stood by his decision and said he'd do the same thing again. The Cubs don't need these types of renegade decisions being made, especially by a beleaguered 2B/SS who's only got a job because of the Cubs lack options.
Free agency for Cargo: After clearing waivers on Wednesday, Carlos Gonzalez has chosen free agency, as opposed to playing for the Iowa Cubs. Original reports said Gonzalez was going to accept the minor league option, at least temporarily, until his hitting improved, but for whatever reason, he elected to test the market, hoping to sign an MLB deal elsewhere.
Smokies take heat: The Tennessee Smokies made a wild design on their field for the 4th of July, but a lighthearted joke referencing patriotism and Colin Kaepernick went south, fast.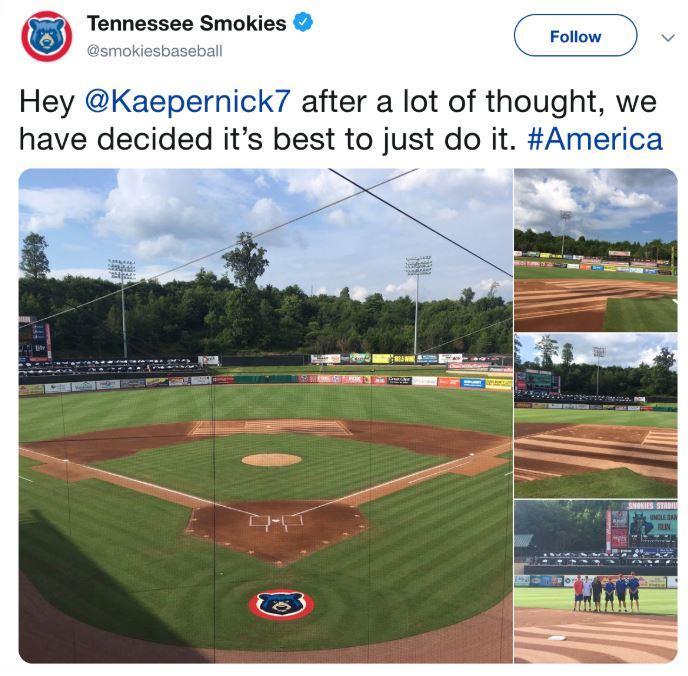 Regarding one of our recent tweets regarding @Kaepernick7 and our field design for tonight's game, it was meant to be a light-hearted take on a current situation. We did not mean to offend anyone by it. If it did, we certainly apologize.

— Tennessee Smokies (@smokiesbaseball) July 4, 2019
Shake it off, Smokies. People need to put their big girl panties, recognize humor, and quit being so overly sensitive about everything.

— Ken Allison (@KenAllison18) July 4, 2019
Baseball Quotes: "They give you a round bat, and they throw you a round ball, and they tell you to hit it square." -Willie Stargell
There was only one night game a year. On the 4th of July, the whole sky would brighten up with fireworks, giving us just enough light for a game. ????????

pic.twitter.com/ejiAhfGZe2

— Baseball Quotes (@BaseballQuotes1) July 4, 2019
Cub Birthdays: Celebrating yesterday, were ex-Cubs Johnny Ábrego (57), Dan Larson (65), Wayne Nordhagen (71), and posthumously, Bill Tremel (90), Chuck Tanner (91), and Bill Sullivan (166).
NL CENTRAL SCHEDULE (June 23 – June 29, 2019)
(Wins are in green, losses in red)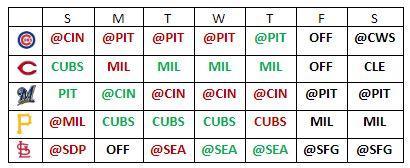 NL CENTRAL SCOREBOARD/STANDINGS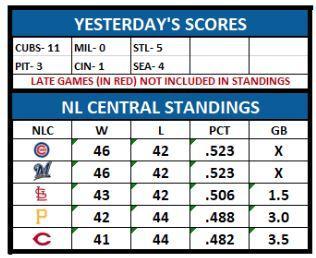 Tags: Cubs Baseball
,
,
Jose Quintana
,
Robel Garcia
,
,
Willson Contreras
,
Kyle Hendricks
,
,
Addison Russell
,
Joe Maddon
,
Theo Epstein
,
Mark Loretta