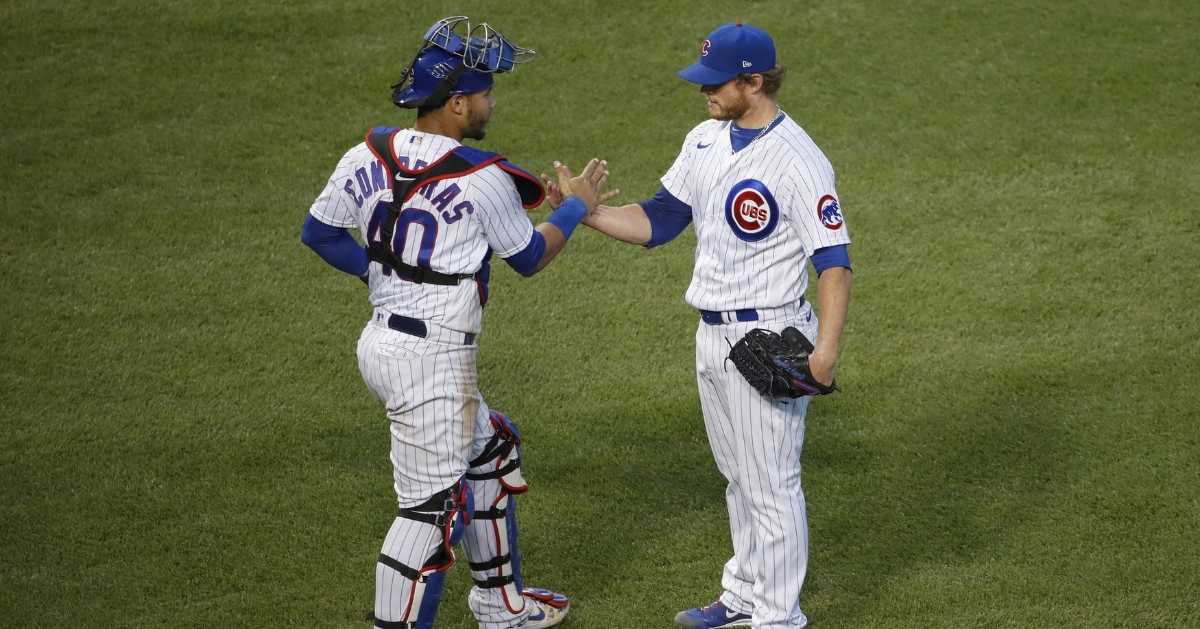 | | |
| --- | --- |
| Four Takeaways from Cubs-Cardinals series | |
---
| | | |
| --- | --- | --- |
| Thursday, August 20, 2020, 9:18 AM | | |
It wasn't easy, or pretty, but the Cubs managed to take three of five from St. Louis despite limping to the finish line. Not only did we continue some of the recent issues that have held the Cubs back on full display again, but now they have had to deal with other obstacles that were avoided early on.
Nagging injuries have started to pile up, forcing players to miss time or hit the IL, while the starting pitching has been good, but not at the level they started the season. We shouldn't have expected them to pitch that well all season, but pitching is a dire need when your offense is struggling.
Although I am happy, the Cubs took three games in the series, and they very easily could have taken four of the five as only the first game of the doubleheader yesterday was out of reach. Here are some takeaways from that series.
It is time for a lineup shakeup:
I was willing to give David Ross the benefit of the doubt with his lineup with hopes guys would work out of their slumps. It is becoming abundantly clear that is not the case, and a lineup shakeup is needed. With our top five guys in the batting order hitting under 250, they need to start moving down and let the hot hitters lead the way.
Ian Happ continues to be the best hitter on the team and right now should be inserted into the leadoff role as he has been getting on base at a ridiculous clip. Behind him in the No. 2 spot should be either Jason Kipnis or Nico Hoerner. Average aside for Hoernerte, he is a great contact hitter, much like Kipnis. Both can move Happ into scoring position to set things up for the rest of the lineup. Everything else beyond the top two could be a crapshoot as things need to get done to get people going.
Another day, another Ian Happ ??

105.8 mph off the bat pic.twitter.com/BSyu4aj3wx

— Marquee Sports Network (@WatchMarquee) August 19, 2020
Two times in this series with the game on the line, David Bote is coming through to lift the Cubs. Although he has never been much of an everyday player, Bote certainly has a flair for the dramatics and is someone I want Bote at the plate with the game on the line.
Bote is a versatile infielder who gets a few starts a week. His defense has dramatically improved, but there are still some holes to iron out with his swing. However, you can count on him that he will deliver a professional at-bat with the game on the line. If I'm the Cubs and I'm looking for a big hit, Bote is the one I am calling on right now.
David Bote gets big knocks. #WhereStoriesPlay pic.twitter.com/jqE4r5QW6N

— Chicago Cubs (@Cubs) August 20, 2020
Craig Kimbrel is looking like his old self:
You can't argue that Kimbrel has struggled ever since he has put on the Cubs uniform. Much like the rest of the bullpen this season, his first few outings were not pleasant, causing Kimbrel to lose his closer job. Well, don't look now, but things are changing for the good of the team.
The bullpen significantly improved posting the eighth-best ERA in all of baseball in August, but Kimbrel has been downright impressive in his last three outings. Last night was a perfect example of what I mean as he not only looked like his old self but looked the best he ever has in a Cubs uniform. I don't want to jump the gun and say Kimbrel is entirely back. At least not yet, but it was a great sign to see that yesterday.
Dirty Craig. ?? pic.twitter.com/zbXd405K4D

— Chicago Cubs (@Cubs) August 20, 2020
Doubleheader rule:
Although weird, seven-inning doubleheaders are fun, the baseball purists will crucify me on this one, but the seven-inning doubleheaders are nice to watch, and I would love this rule to stick long term. If you ask Happ and some of the other players, they like this change also.
A seven-inning doubleheader may be new to fans of the MLB circuit, but this has been going on for a long time in the minor leagues. It shortens games to protect players healthy, but it makes scheduling a lot easier because you don't have to do day-night double dips. Instead, you play one game, rest and reset for 45 minutes and your back at it.
With all the weird rule changes we have seen this season, this is one of the few rules that could stick around beyond this season if the players back the change. From all accounts, it sure seems like the players love the seven-inning games, so don't be surprised to see these beyond 2020.
Very, very clutchy.@pepsi pic.twitter.com/KbpRXmETVy

— Chicago Cubs (@Cubs) August 20, 2020