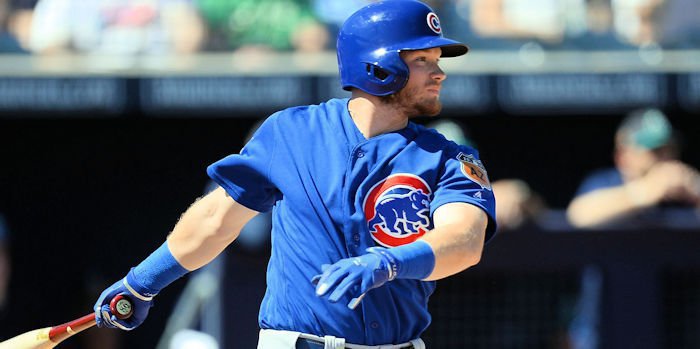 | | |
| --- | --- |
| Happ homers twice as Cubs sweep Cardinals | |
---
| | | |
| --- | --- | --- |
| Sunday, June 4, 2017, 10:57 PM | | |
CHICAGO -- Producing with runners in scoring position has been an issue for the Chicago Cubs all season long, but tonight was an exception. Winning 7-6 over the St. Louis Cardinals, the Cubs took advantage of five runs being scored with two outs to sweep the Cardinals at Wrigley Field for the first time since 2006. Going 3-4 with runners in scoring position, Chicago performed well when the stakes were high on Sunday night, riding a two-homer performance from rookie sensation Ian Happ to victory.
Starting pitchers Kyle Hendricks of Chicago and Michael Wacha of St. Louis mowed through opposing batters in the opening innings, making the gaudy final run totals somewhat surprising in retrospect. Cubs center fielder Ian Happ changed the pace of the game in the bottom of the third, though, taking Wacha deep on a home run to right. Interestingly enough, Happ made his MLB debut against the Cardinals last month in a game that also saw Happ hit a homer, and his third-inning blast tonight marked the beginning of a solid night at the plate for the young man.
Happy trails. ?? pic.twitter.com/gPk9IJWdP0

— Chicago Cubs (@Cubs) June 5, 2017
Former Cub Dexter Fowler incited the Cardinals offensively in the ensuing half inning, earning a leadoff walk and stealing second thereafter. Hendricks, who was clearly rattled, proceeded to walk another batter and then gave up a three-run home run to St. Louis right fielder Stephen Piscotty. The long ball was Piscotty's first homer since mid-April, and it put the Cardinals on top 3-1.
Hendricks's fourth inning nightmare did not end with the round-tripper, however, as he then allowed a single to Cardinals third baseman Jedd Gyorko and was next victimized by way of another stealing of second base. Gyorko capitalized off of his steal by scoring on a single by St. Louis second baseman Paul DeJong afterward. In the next at-bat, Cardinals shortstop Aledmys Diaz doubled to left but the Cubs were able to hold DeJong at third. Hendricks caught a break after that, with the pitcher, Wacha, taking his turn at the plate and grounding out.
The Cubs did not stay down for long, using a five-run fourth to take a 6-4 lead. Producing arguably their best two-out rally of the season thus far, the Cubs drew outs in their first two at-bats of the fourth frame but took advantage of an error by Piscotty later in the inning to open the floodgates and take the lead. Following a walk and an infield single by shortstop Addison Russell, who hustled down the line and beat out a throw at first, Chicago was able to pull within one run on a single by pinch hitter Albert Almora that was misplayed by Piscotty in right.
The error enabled two runs to score and put Almora at third. Wacha fell apart after that, walking a batter and then giving up another home run to Happ. Hitting his second blast to right on the evening, Happ now boasts four home runs and nine RBI this season, many of which have come against the Cardinals. He finished the game 2-6 with four RBI. Wacha, on the other hand, did not have a great night, but his lackluster start was somewhat deceptive, as the six earned runs that he was charged with were skewed due to the Piscotty error.
When 40,000 of your friends want to say "Thanks." pic.twitter.com/UPoNzttqWv

— Chicago Cubs (@Cubs) June 5, 2017
Cubs first baseman Anthony Rizzo led off the bottom of the fifth with a liner in the gap between left and center that he unsuccessfully attempted to stretch into a triple, getting gunned down at third to send him back to the dugout. Wacha was pulled a few at-bats later, and the Cubs went dormant with the bat for a stretch.
Meanwhile, Hendricks was pulled at the conclusion of the fourth inning, allowing four runs on four hits and three walks, and his replacement in the fifth, reliever Justin Grimm, fared well, but Hector Rondon took to the mound in the sixth and struggled. Cards catcher Yadier Molina started off with a single and followed that up with a steal, one of three for St. Louis in the game. Rondon next walked a batter and then threw a wild pitch that put runners on second and third with no outs.
Rondon was left in the game to battle out of his sticky situation, though, and he was able to do so but not before letting Chicago's lead slip away. In back-to-back at-bats, De Jong hit an RBI groundout to short and Diaz hit an RBI ground-rule double to center, tying the game up at six runs apiece. But in the bottom of the seventh, pinch hitter Jon Jay put the Cubs back on top against his old team, as Jay hit a pivotal two-out single that scored Rizzo, who had singled at the start of the inning. The single resulted in Jay's eighth RBI of the season, which proved to be the winning run for Chicago.
.@jonjayU is batting .450 (9-for-20) as a pinch-hitter this season, the 2nd-best mark in the NL (min. 10 PA). pic.twitter.com/gInlvlJSnO

— Chicago Cubs (@Cubs) June 5, 2017
Cubs right fielder Jason Heyward, another former Cardinal, was on first at the time of the hit by Jay and was thrown out attempting to advance to third, but the one-run lead proved to be enough, as the Cubs won 7-6 after relievers Carl Edwards and Koji Uehara went six up, six down in the eighth and ninth innings to secure the three-game sweep. Cubs reliever Pedro Strop claimed the win to move to 2-2 overall, while Cardinals reliever Matt Bowman, who gave up the RBI single to Jay, accrued the loss to become 1-2. Also, Edwards collected his seventh hold of the year, and Uehara garnered his second save. Chicago now stands at 28-27, putting them one game behind the Milwaukee Brewers in the National League Central standings. At 26-28, St. Louis is 2.5 games out of first.
June 5, 2017