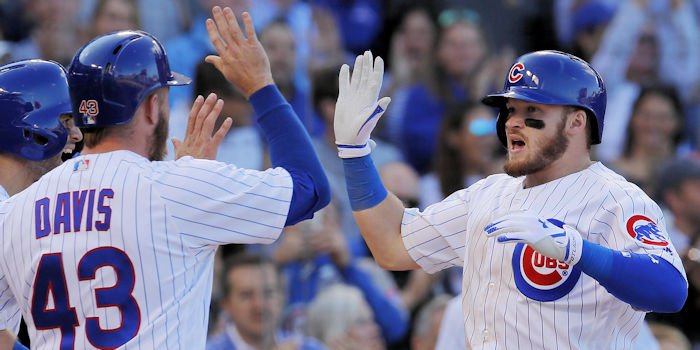 | | |
| --- | --- |
| Happ smashes go-ahead home run to down Reds | |
---
| | | |
| --- | --- | --- |
| Friday, September 29, 2017, 5:42 PM | | |
The rookie utility man does it again as Ian Happ blasted a home run into the left-field bleachers to beat the Reds 5-4. For the second day in a row, half of the offensive lineup rode the bench to give them some off days after clinching the NL Central. Jon Jay, Ben Zobrist, Willson Contreras, Happ and Kyle Schwarber all received playing time without the need for any platoon approach. Happ started the day playing third base to add to his utility-man resume.
The Cubs jumped on the board first after Jon Jay hit a sacrifice fly to score Alex Avila from third. Second-year pitcher Robert Stephenson (5-6, 4.68 ERA) stifled the rest of the lineup through another three innings limiting the Cubs to just one hit after that. Jon Jay reached base on a bunt single and went to second base on the throwing error.
After looking sharp the first two times through the order, Quintana was ambushed by four consecutive hits from the bottom half the Reds' lineup. Stephenson bunted into a double play, but Phillip Ervin singled to left to give the Reds the lead at 3-2. Felix Pena relieved Quintana and gave up a walk and a single to Joey Votto for the fourth run of the inning before striking out Eugenio Suarez.
Hector Rondon relieved Pena in the seventh and pitched a 1-2-3 inning. However, manager Joe Maddon gave the Venezuelan reliever a chance to hit in the bottom of the frame. Rondon had only ever had two at-bats before today. He reached base on a swinging bunt to the catcher that was challenged by Maddon it was so close. had to be challenged to give Rondon his first ever hit.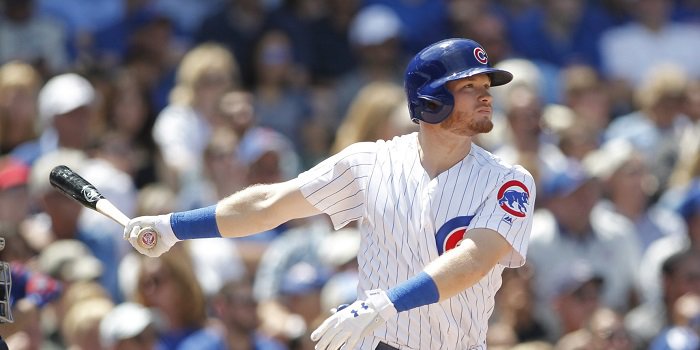 Tommy La Stella makes the most of the few at-bats he receives. He singled to right field with one out. Taylor Davis followed him with a tapper that was just slow enough that Suarez couldn't make a throw from third base. Schwarber struck out on just four pitches, but Ian Happ came to the rescue. For a moment the ball looked like it was too high and might fall short, but the wind carried it up and out. Happ's 24 HR is the 2nd-highest total by a rookie switch-hitter in the NL ever, trailing only PIT's Josh Bell from this season.
Justin Grimm converted his first save attempt since August 8th, 2015 against San Francisco. Despite his 5.53 ERA this year, Grimm has looked a lot like his former self over the past few weeks.
Jake Arrieta was originally slated to pitch tomorrow, but will instead forego it and make his next appearance in game 3 of the NLDS. Jon Lester will face rookie swingman Jackson Stephens (2-0, 3.86 ERA) at 3:05 PM CDT tomorrow.
Swingman Mike Montgomery will get the start on Sunday to end out the regular season slate of games.