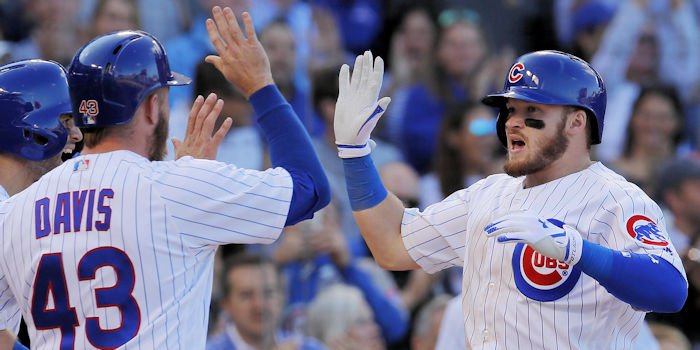 | | |
| --- | --- |
| Have the Cubs finally found their leadoff man? | |
---
CHICAGO -- One of the biggest questions facing the Cubs in spring training was who was going to bat leadoff this year. I wrote about this before after Kris Bryant said he would hit volunteer to bat leadoff for the Chicago Cubs. I laid out some options for the Cubs including the notion of signing free agent Lorenzo Cain. That did not work out as he signed with rivals to the north with the Milwaukee Brewers.
Another reliable option was Albert Almora Jr., who for all intents and purposes can still win the job. Though he has struggled from the plate this spring, he has a 2 for 19 line so far and a homer. He has been impressive defensively with some phenomenal diving plays in the outfield but isn't having a breakout spring I hoped he would.
Enter a man who came up to the big leagues just last year and forced the Cubs to find a spot on the team for him. Now it looks as though outfielder Ian Happ may force Joe Maddon's hand again and could win the Opening Day center field and leadoff job.
To say Happ has had a phenomenal spring is a massive understatement as he currently boasts four home runs with a .492 average, eight rbi, and a whopping 1.190 Slugging Percentage in only eight games. Most importantly in the leadoff spot, he has a .500 on-base percentage.
His game reminds me of a younger version of Charlie Blackmon. An outfielder who is good defensively, not great who is a patient hitter that can work counts and draw walks. With that, he can also drive in runs and be invaluable for this team. Especially with Rizzo, Schwarber, Bryant, and Contreras batting behind him. Not to mention, he can play multiple positions and another player that Maddon can plug in different spots on the diamond.
Two years ago it was manager Joe Maddon saying 'as Dexter Fowler Goes, the Cubs Go.' Now, Happ is taking the Cactus League by storm. If he keeps his production up, he could be guiding the Cubs towards another possible World Series crown.
Now it is as Happ goes the Cubs Go.