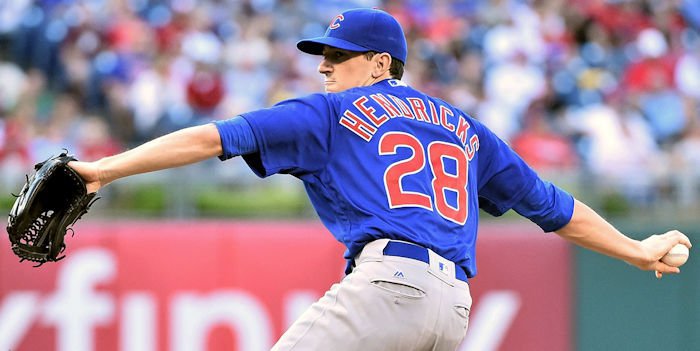 | | |
| --- | --- |
| Cubs News: Hendricks shown up by Shields on the mound | |
---
CHICAGO -- The Chicago Cubs were unable to muster up much electricity at the plate on Tuesday night against veteran Chicago White Sox right-hander James Shields. As for the Cubs' starting pitcher, Kyle Hendricks struggled early, and it ultimately cost the Cubs the game. A letdown of a matchup, especially considering how exciting Monday night's opener of the Crosstown Classic was, the White Sox collected an easy 3-0 victory over the Cubs, who looked virtually helpless at the plate.
Hendricks was shaky out of the gate, walking the first batter whom he faced and allowing the second to reach base via a single. Soon after, with one out, first baseman Jose Abreu stepped up to the plate and proceeded to bring in the first run of the night with a single to center. Abreu was 2-4 in the game. Hendricks escaped the first inning without giving up any additional runs, though, but the absence of run support which he received made that a moot point.
Thanks to a rarely seen catcher's interference, Cubs third baseman Tommy La Stella took first base in the top of the second to load the bases with two outs. But, in anticlimactic fashion, center fielder Dexter Fowler, who was hitless on the evening, then fouled out to end the Cubs' scoring threat.
Thereafter, a pitching duel commenced, with Hendricks and Shields mowing through the batting orders. However, White Sox right fielder Adam Eaton put an end to that trend by crushing a home run into the right field bleachers in the bottom of the fifth to give the Sox a 2-0 lead.
In the bottom of the sixth, Hendricks was questionably pulled from the game with two outs, and his replacement, the often-used Travis Wood, struggled with his command, walking the first three batters whom he faced. The third walk drew a run in to provide the White Sox with a 3-0 advantage that proved to be more than enough.
The remainder of the matchup featured little offensive excitement. Reliever Joe Nathan, a recent addition to the Cubs' roster, went three up, three down in the bottom of the seventh and appeared to be back in Major League form. Shields, who has gradually improved since getting off to a putrid start with the White Sox, earned the win after giving up only four hits and zero runs in 7.2 innings on the mound. Although he struck out seven batters, Hendricks was charged with all three of the White Sox's runs and was also charged with the loss because of it.
The Crosstown Class will now migrate to the north side of Chicago for the remaining two games, as the Cubs (59-40) will be looking to avoid a sweep at the hands of the White Sox (50-50) by returning to winning form at the Friendly Confines.
Living the dream. #YearLongRetirementPartyhttps://t.co/N72wFERhbC (Via MLB Fans) pic.twitter.com/PFRJtWhS0Y

— Chicago Cubs (@Cubs) July 27, 2016
#CrosstownCup heads to Wrigley Field tomorrow. pic.twitter.com/ObppgZ96aN

— Chicago Cubs (@Cubs) July 27, 2016