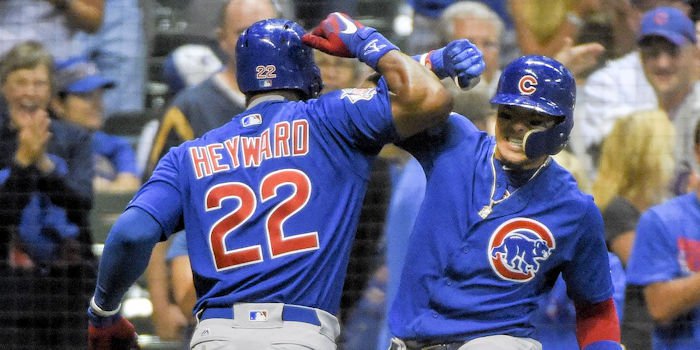 | | |
| --- | --- |
| Heyward's homer lifts Cubs in extras | |
---
MILWAUKEE – The Cubs eked out a victory over the Brewers, 2-1 in 11 innings, and up another game in the standings for a 1.5 game lead in the National League Central. The Brewers pitching was a mixed bag, but it kept the Cubs in check for most of the night.
Kyle Hendricks (4-3, 3.80 ERA) pitched incredibly well allowing one run on six hits and three strikeouts in 5.1 innings of work. Hendricks got hammered a bit because he wasn't commanding his fastball as well as he usually does. The main hard contact given up was in the first inning when Eric Thames stroked a single to center and Ryan Braun followed him up with a double to deep center field. Walking zero batters helped to keep Hendricks' pitch count low and relatively out of trouble.
Kris Bryant hit the ball well, swinging for contact instead of power. He had three singles and scored Jon Jay in the seventh inning for the Cubs only run in the first 10 innings of the game. Each hit was solid contact, but with a much lower launch angle than his usual swings.
The Cubs had a few more chances in this game early on when they had two men on in the second inning with one out and the bases loaded in the third inning after making two quick outs to start the inning. The Cubs' clutch hitting started to cool off a good bit as they face teams with a winning percentage over .500.
In the 11th inning, Jason Heyward came to bat with one out and nobody on and emphatically scorched a ball into the right-center bullpen. Heyward ran around the bases jumping and fist-pumping all the way. He also made up for his relatively poor night at the plate, previously going 0-for-4 with two strikeouts.
Deuces. ???? pic.twitter.com/h0qhdCd9RL

— Chicago Cubs (@Cubs) July 30, 2017
Tomorrow, the Cubs finish off this series with John Lackey (7-9, 4.97 ERA) toeing the rubber against Zach Davies (12-4, 4.45 ERA). First pitch is scheduled for 1:10 PM CDT.