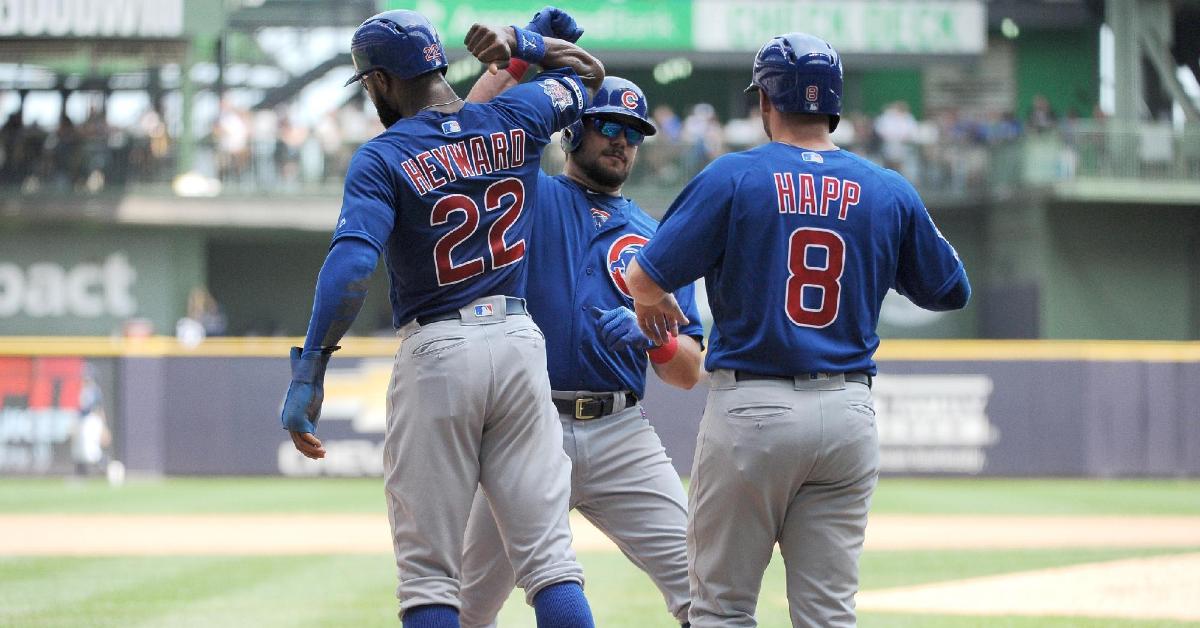 | | |
| --- | --- |
| If the Cubs play in 2020, should they have their foot on the gas? | |
---
| | | |
| --- | --- | --- |
| Sunday, May 24, 2020, 8:40 AM | | |
It is still a huge unknown whether or not the MLB season will be played in 2020. The obvious looming factor is the lasting impact of coronavirus across America. While places like Korea have been able to resume baseball with alternative rules that attempt to practice social distancing and include frequent testing of their players, places like Korea have also been able to lower the curve and truly battle Covid-19.
The United States has far more problems aside from when baseball can return, including putting a plan in place to reopen the country's economy, allocating resources for nationwide spread testing and of course providing safety to the essential workers and health care operators who are always at risk — all of this while also getting a large amount of the country to simply obey orders and not continue to put people at risk for contracting the virus.
On top of the issue of health and safety that not only the players will face, but the entire world is facing, baseball is also struggling to reach an agreement surrounding the protocols, playoffs, rules, regulations, and economics of the game should baseball return in 2020.
In the original agreement back in March made by the MLB and the Major League Baseball Player's Association that gave the MLB the right to shorten the draft (which they officially did, to five rounds), the players got their wish of service time counting regardless of if the season is played. While both groups agreed that playing baseball is a priority, no final decisions were made. Since it seemed at best a half-season would be played, both sides agreed to cut the salaries in half for this season.
In a new proposal/ meeting last week, the groups discussed a plan to start a second spring training in early June and then have regular-season baseball resuming during the Fourth of July weekend in stadiums with no fans. Some additional stipulations reportedly include fines for high-fiving, spitting, dipping, licking your fingers, as well as the premise that if a baseball touches more than one player in a play, that baseball will be thrown out. On top of that, the games will be played in each team's home stadium, there will be a universal designated hitter, there will be roughly 82 games, and the playoffs will be expanded to nearly half the league making the playoffs.
This has not been officially included, but there will likely be expanded rosters and the ability to test any player whenever needed frequently.
Nationwide testing needs to be at a place to sustain this as well as non-millionaire patients — but the MLB has been very cooperative and considerate of healthcare protocols. The second agreement where the MLB's owners approved the new plan included that each state's and city's officials would need to approve baseball being played in their town.
So that all brings us to this crucial question, the Cubs will need to ask themselves in David Ross' first year as manager. With an 82 game season and a high chance at making the postseason (where we know anything can happen), should we put our foot on the gas and hope to catch fire, and create another winning season — which may cost the Cubs economically in the long run if they do not get below the luxury tax for a third consecutive year. Or, should the Cubs try to shed some payroll and use the 82 game season as an opportunity to step back and retool for the future, which is already dicey.
It is an interesting question to analyze, and one that may simply be answered on the fly. With an 82 game season, the first 20 games or so could tell you all you need to know. A hot start could mean put the pedal to the metal and try to win again with this group, especially since making the playoffs is easier. A slow start could mean, let's sell off some of these guys since so many other teams think they can win, and let's turn this group into one set up for success beyond this season and next.
I could undoubtedly see the Cubs' bats crushing their way to a playoff berth, especially since a likely expanded roster could mean more pitchers to eat innings, which could preserve the likes of Jon Lester and company to be able to pitch come playoff time.
Both are intriguing options, and both I think are equally likely. The best part is, success is available at the end of both tunnels.
But the fact of the matter is, the economics of the game could be longly impacted regardless of if a 2020 season gets paid because there is hardly any revenue with no fans either way. On the flip side, a new collective bargaining agreement is on its way following 2021, which can help put a bandaid on the wounds Covid-19 could leave — so why not try again to win now, while you have the players and at least some of the money?