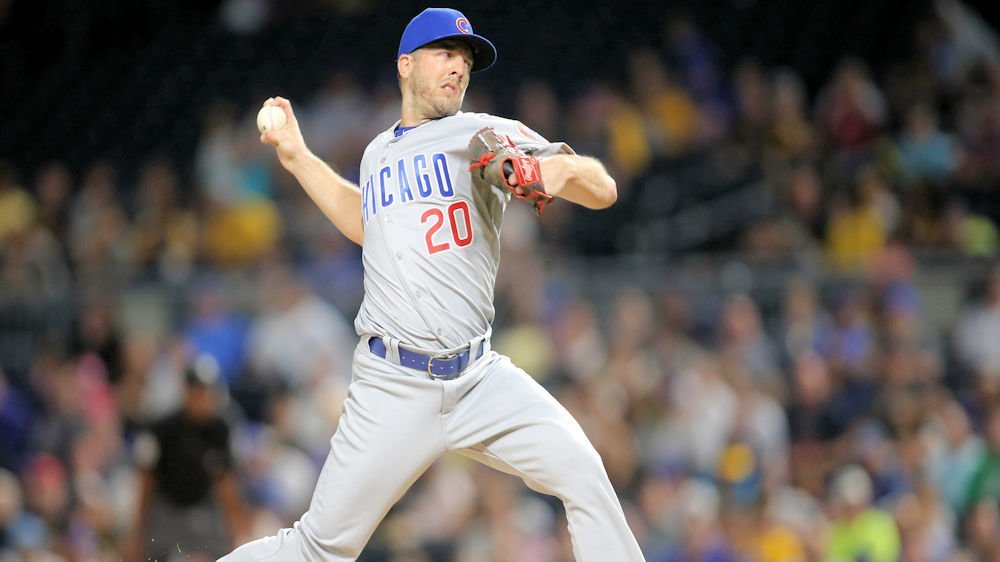 | | |
| --- | --- |
| Cubs News: Inside Look at Newest Cub: Brandon Kintzler | |
---
| | | |
| --- | --- | --- |
| Monday, August 6, 2018, 2:33 PM | | |
I recently had the opportunity to chat with Rick Kintzler, the father of 34-year-old, Cubs' reliever, Brandon Kintzler. Mr. Kintzler was kind enough to allow me an interview, about the Cub's newest acquisition, in order to help introduce Chicago to his son.
KEN: Can you tell me a little bit about Brandon's childhood?
RICK: Very active. He started racing BMX when he was two years-old. It's been said that he was the first two year-old to race sanctioned BMX. From the time he was three, until around eight, usually about once every three weeks we traveled the country, racing. He had great sponsors. Google "Brandon Kintzler's jump." Colin Cowherd did a feature on him when he was the local news guy, [about Brandon] jumping his bicycle over 16 kids when he was four years old; watch it, it's on YouTube. I kid around and say that's what made Colin famous. He retired from BMX the first time at age eight, and at age six, he was a national champion. He played tee ball and coach-pitch at age six and seven, and pitched his first game at age eight. A legitimate no-hitter, he walked one kid.
KEN: When did you start to sense that baseball was more than just a hobby for him?
RICK: In short I would say his freshman year of college, although it was always a love for him. When he was 11, his friends that he played winter ball against, recruited him to join their team, which at the time was one of only three in Las Vegas. They were called the Yard Dawgs, and were coached by Kevin Kohler, who is Brandon's agent. It's kind of cool that he's been with his agent since age 11. In the off season, major league players like Eddie Guardado and Adam Melhuse came out and worked, and talked to the boys, so it helped his love for the game. When it came time to go to college, he wanted to go in order to play baseball. His high school basically said that he'd go as pitcher. He was a good hitter and a solid infielder, but he threw strikes consistently at a very young age. He went to Pasadena City College in Southern California, and it was there the scouts would show up only when he pitched. I drove down three times a week to film him, so that he had video to watch, in order for him to work on his form. It's not mentioned much but he's actually a two-time 40th round draft pick.
KEN: What did he major in during college?
RICK: Baseball. He only went to junior college for two years to get an Associates in business. If it weren't for his baseball career, Brandon would have likely taken over a family owned business. We made it clear to schools that were recruiting him, that his main intent was to play baseball. He had an academic scholarship to attend school near home if he didn't go somewhere to play baseball.
KEN: What was the mood like when he was drafted?
RICK: The first time, we kind of knew he was going to be a "draft and follow," but we had a party, "Vegas style," in a suite at the Rio the night before. In the morning as we were listening, he heard names that he knew, that he felt he should of went before. When they said "the New York Yankees select right handed pitcher, Brandon Kintzler," it was an amazing, proud moment. The next year everyone was surprised that the Yankees didn't sign him. He led Dixie State to the National Championship, and in his first eight games he was 8-0 with a 0.00 ERA as a starter. I'm not sure if you are aware of the rule back then, but a team had up until two weeks before the draft to sign a draft and follow, unless the player's team was still playing, which his was. So three days before the draft, the Yankees called him and they didn't really want a 5'10" pitcher and they were sending him back to the draft. He was already committed to a full scholarship to the University of Nevada, Las Vegas, but he didn't want to go back to school. We were at the JUCO (Junior College) World Series when this went down, so the word got out quick that he wanted to go pro. While he was riding in the parade in St. George, Utah on the back of a firetruck, the Padres called him and asked him if he was available the second day, and asked what was his price was. He said make me an offer, and when they did, he said, "Draft me, I'll sign." So we threw a smaller party and waited for his name- another proud moment.
KEN: Who taught Brandon how to throw his specialty pitches?
RICK: Basically, he was self-taught. Watching other pitchers and talking to them about how they did things. Greg Maddux told him how he throws from the 1st base side of the rubber, so Brandon moved over. Brandon loved it because it allowed his sinker to stay in the zone longer which created more swings off the handle.
KEN: When was the first time you got to see your son pitch as a major-leaguer?
RICK: September 10, 2010 against the Chicago Cubs, it was his debut, and I was there.
KEN: So now it's been nine years, and he's with his fourth team. Who's been his favorite so far?
RICK: Not the Brewers, so it was probably with the Twins. He had Eddie Guardado there, who was like a big brother to him growing up. He liked DC, but he's a high-energy player, and he loves playing at Wrigley. He said, "It's not a game, it's an event, and that's how the Cubs play." The fans are good everywhere, but in just the few days he's been there, I hear more excitement in his voice, and that's from the energy he's getting from the Cubs' fans. I don't ask a lot of questions during the season though. I'll be there for the series against the Nationals next week. I can't wait, Wrigley's always been on my bucket list.
KEN: Wrigley Field is the ultimate place to see a ballgame, but then again, I'm somewhat partial. Have the trades been hard on him?
RICK: No. Last year we felt it was going to happen, and I thought it was going to be the Cubs. This year it was a shock. Mike Rizzo made some statements about Brandon, and they were proven false. There was even a report that they talked to Brandon before, but they never did; it was all BS. The first night it was like, "Did that really just happen?" But you have to look at the bright side, you go from a third-place team to a first place team. First place teams aren't looking for people who don't perform. He knows he's a performer, and glad that he's wanted now. He's going there to do a job. Besides, I think I look better in blue hats than I did in red hats!
KEN: How did he react when he was accused of leaking to the media?
RICK: He wasn't happy. He felt as though his character was being attacked.
KEN: Under the circumstances, was it hard for him to leave DC?
RICK: To be honest, I don't ask him anything that might bring negative thoughts. It would've been hard if he got traded to the Tigers, but it's the Chicago Cubs; half of Vegas loves the Cubs. I know that he had a lot of friends on the Nationals team, so it's hard for him to leave them behind.
KEN: Is he chomping at the bit to pitch against the Nats next week?
RICK: It'll probably be emotional, he's a competitor and he knows there's a lot of talent over there. He likes to pitch strength against strength.
KEN: When Brandon's not throwing 92 mph fastballs, what's he doing in his off time?
RICK: He spends a lot time with his wife, Melissa. They were married in December of 2012, in a drive-thru wedding chapel in Las Vegas. He put a tuxedo on his dog, Bo [named after Bo Jackson], and drove right up to the window. He also has a 2-1/2 year old "mini-him," and a seven-month-old daughter. He really only takes about three to four weeks off during the off-season, before he's back in the gym, six days a week.
KEN: Things with the trade happened so quickly. Has he been able to relocate his family to the Chicago area yet?
RICK: They are coming Tuesday. MLB wives already deserve a metal, but there should be a special award for the ones whose husbands get traded during the season.
KEN: How long does Brandon foresee being able to pitch?
RICK: He really feels that he has at least three good years in him still.
KEN: What's next for Brandon Kintzler?
RICK: When he's done playing, I would say coaching. He's a student of the game and loves teaching what he knows.
KEN: Well, there you have it. A little bit of an inside look into Chicago's newest relief pitcher, Brandon Kintzler. Mr. Kintzler, I sincerely thank you for your time, and please wish your son continued happiness and success from all of us at CubsHQ.