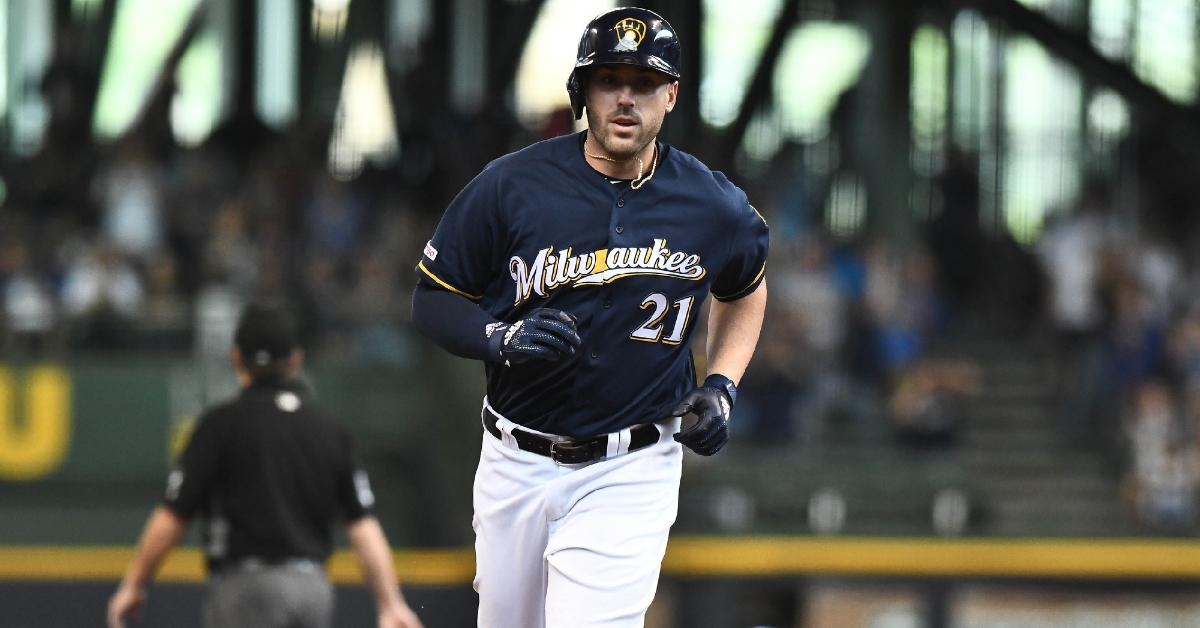 | | |
| --- | --- |
| Cubs News: Interesting options added to free agent pool | |
---
We already knew this year's free-agent class was going to be full of intrigue as several new and big-name players would be testing the market for the first time. Well, that list got even larger and more intriguing Monday as the non-tender deadline passed for each team, with several new names being added to the list.
With the Cubs moving on from Addison Russell during this period, he will quickly become a player that a lot of teams would want in their lineup as they try to uncover his old 2016 self. That was the biggest of names coming from the Cubs organization, but several other key names have been added to this year's free-agent pool giving the Cubs even more options moving forward.
Catchers: In an ideal world, the Cubs are set at catcher with Willson Contreras and Victor Caratini manning the backstop. With trade rumors surrounding both Caratini and Contreras, it appears that one of these men will be dealt this winter, meaning the Cubs will be in line for a backup catcher this season. Looking at the Cubs system, Miguel Amaya is the man fans would love to see, but he is three years away from making the big-league roster.
In the meantime, John Ryan Murphy, Josh Phegley, Kevin Plawecki, are all names that the Cubs may look into if they indeed are in the market for a major league back up. Murphy and Plawecki may be more of a AAA depth option given their struggles to hit the ball while Phegley is more your prototypical big league back up. None of these options will cost a ton of money, but it will, of course, fill the need.
As far as positional players go, the Cubs are mainly set across the diamond, but with Russell being non tendered, it may leave an opening for a small signing bending a trade. Two of the biggest names added to the Free Agent pool are third basemen Travis Shaw and Maikel Franco. It was just a few years ago that had Franco in a similar position to Kris Bryant in terms of service time and grievance. Things have not worked out well for him since as he has become an average player at best.
Shaw is more of an interesting case given what we saw last year as opposed to years prior. Known for his primary position of third base, Shaw played some first and even second in recent seasons hoping to find a spot in the lineup after hitting 66 homers combined in 2017 and 18. Then last season came in which Shaw battled injuries all season and eventually wound up in AAA after struggling to hit the ball all season. Ideally, he will be looking at a starting spot next season and possibly a one-year prove-it deal to show last season isn't who he is.
Other infielders joining the party are Yolmer Sanchez (White Sox), second baseman Cesar Hernandez (Philadelphia Phillies), and utility infielder Jose Peraza (Cincinnati). Of this list, Peraza certainly has the most upside as he can play three positions well. Versatility is something the Cubs have always been fond of, so that would be something to look for if the Cubs add depth over quality.
Perhaps the biggest surprise in terms of position players happens to be a centerfielder, which at this point is another position the Cubs need to fill. With tons of talk surrounding Trading for Whit Merrifield to solve the leadoff spot as well as center field or second base, Kevin Pillar had a breakout year for San Francisco last season. He could be a valuable pickup for either a fourth outfielder or yes, a starting-caliber Center fielder who can lead off.
Pillar possesses great speed at the top of the lineup and plays reckless abandonees on defense not caring about his body at all. His added pop in his bat was a pleasant surprise this season, which could allow him to compete for a starting spot anywhere he goes. The Cubs would be wise to kick the tires on him knowing his price will be like Merrifield while also not costing a ton in a trade.
Steven Souza Jr also finds himself on this list, and I am hoping he is given a chance somewhere. It was just two seasons ago when the Diamondbacks inked Souza to a large contract after having a few breakout seasons with the Tampa Bay Rays. However, a series of injuries and a horrific knee injury ended his season last year while also putting his career in limbo.
Now comes, comes the two most surprising names on this list as the Cubs most definitely need to keep tabs on these men. With the Cubs making drastic changes to their bullpen, two players that were non-tendered yesterday may fill needs that the Cubs have lacked in recent seasons. Let's start with former Cincinnati Reds pitcher Kevin Gausman.
The former Baltimore Oriole starter was traded to the Braves during the 2018 season, where he helped them make a playoff push in September. 2019 was a different story as Gausman missed the first half of the season with a shoulder injury and then never could get back on track, eventually being traded to the Reds.
Yes, he made a few starts for Cincinnati, but the Reds elected to move him to the pen after they acquired Trevor Bauer, and it worked out in his favor. Ideally, Gausman does have the stuff to be in the starting rotation, but I like him in a Tyler Chatwood role as a swingman. However, he could also give you some good innings of middle relief, and if you put him in the pen permanently, I expect him to succeed.
Perhaps the most important name and if you ask me a must-have for the Cubs is former Oakland Athletic closer Blake Treinen. After the A's acquired him from the Nationals before last season, Treinen established himself as an elite closer who was unworldly during the 2018 campaign. Last season was a completely different story as he not only struggled but lost the closer job and is now looking for work yet again.
I was honestly surprised to see his name not get tendered despite the rough season he had last year. Given the way he dominated in 18, you knew a decline would happen in 19 as it would have been near impossible for him to match those numbers again. However, Oakland nor the MLB expected him to struggle as much as he did last year, but that does happen to relievers.
With Craig Kimbrel set to be the Closer next season, Treinen could be signed to become the set-up man which is a role he filled for three seasons with the Nats. Not too mention, his experience as a closer also helps should Kimbrel be unavailable for a few days making this a win/win for each party. Not only would Treinen be put in a position to prove himself, but the Cubs would add a killer arm to the back end of their bullpen, which struggled all season.
The final names added to the non-tender list happen to be starting pitchers, as we all expect the Cubs to look at. Ideally, I don't expect the Cubs to break the bank on starters this season, but I don't expect them to go overly cheap either as a middle of the rotation option could be what they are leaning towards. Two names that were added to the free-agent pool this season are Aaron Sanchez and Taijuan Walker.
Walker is an intriguing piece who is coming back from Tommy John surgery but should be ready for spring. The once top pitcher in the Mariners system was dealt to Arizona in 2017 as the Diamondbacks were looking to revamp their rotation. After an up and down first few starts, Walker ended up being shut down before ultimately having Tommy John surgery. Now on the way back, this hard thrower would be a nice option to have in your rotation where if things don t work out, you have a strong arm to the pen.
Sanchez, on the other hand, will have plenty of suitors despite recovering from back surgery that will force him to miss some time this year. Known as a back of the rotation starter, the journeyman had a revelation this past season for the Nationals as he made a name for himself in the playoffs this season by nearly no hitting a hot St. Louis Cardinals team. His age (35) is undoubtedly a concern, but outside of this surgery, Sanchez has always been durable enough to give you plenty of innings and keep his teams in ball games.
Remember, these are just names that have been added to the Free Agent Pool, and the Cubs have not been in contact with anyone yet. These are not projections more, so options based on what the Cubs need to fill and the approach they seem to be taking right now.

Upgrade Your Account
Unlock premium boards and exclusive features (e.g. ad-free) by upgrading your account today.
Upgrade Now