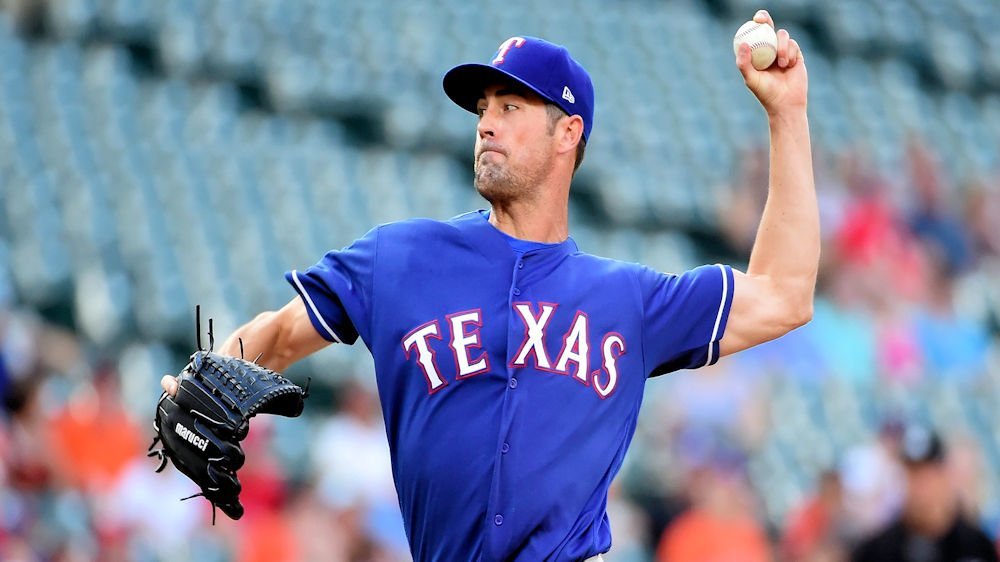 | | |
| --- | --- |
| Is Cole Hamels the right fit for the Cubs? | |
---
| | | |
| --- | --- | --- |
| Friday, July 27, 2018, 7:54 AM | | |
I've been belly-aching for weeks now that the Cubs needed to obtain some pitching help before the non-waiver trade deadline passed, and another hideous start by Tyler Chatwood had only served to strengthen my position. In case you missed it, Chatwood went 4-2/3, gave up four runs on five hits, walked six and fanned four. He also managed to give up one each of his signature homerun balls and wild pitches.
Pending medicals, the Cubs have obtained Cole Hamels from the Rangers, in exchange for minor league pitcher Rollie Lacy (11th rd pick in 2017), another prospect and salary relief to be paid to Texas. Hamels next scheduled start for the Rangers would have been on Saturday, July 28, so he could feasibly be worked into the Cubs' rotation without anyone missing a beat.
So what do we know about Cole Hamels? Well, he's a 34-year-old southpaw (almost 35), who is now in his 13th season in the majors. His numbers are less than stellar this year with the Texas Rangers (5-9, 4.72 ERA), and he gains free-agency next year ($6 million buyout for 2019). Over the course of his career, he's gone 152-111, with a 3.43 ERA, and he no-hit the Cubs in 2015. He's spent the last 3.5 seasons with the Rangers, and the balance of his career was spent with Philly.
When compared to Tyler Chatwood, almost anyone shines, and Hamels numbers are indeed better than Chatwood's, despite a nearly comparable ERA. So far this season, Chatwood has given up 82 hits and 85 walks, while striking out 78. Hamels has given up 115 hits with 42 walks while fanning 114. Whereas Chatwood is at almost a 1:1 (.99) SO/BB ratio, Hamels is looking a lot more attractive with a 2.71 SO/BB rate. Ironically, the two have each given up a combined total of 167 walks and hits, but it's important to note that Chatwood has pitched only 89.1 innings in 18 starts (average of 4.95 innings per start), as opposed to 114.1 innings in 20 starts (average of 5.71 innings per start) for Hamels.
What's the plan for Hamels? He's a starter, which is good, but if the Cubs plan to start him, either Chatwood comes out of the rotation (if there is a God), or Montgomery returns to the bullpen. Hamels is also a rental, which means if Chatwood gets yanked and Hamels doesn't re-sign with Chicago, they're going to be short a starter next year, and that's assuming that Montgomery stays in the rotation. Otherwise, they're going to be short two. You can argue that Darvish will be back by then, but I'm not banking on anything with that man. Granted, the Cubs can undoubtedly find another starter in the off-season, and few choices could be any more frustrating than Darvish or Chatwood.
This is it. This is what most of us have wanted, though maybe not exactly whom we wanted. Time to see if the Cubs are finally ready to make a statement, to both MLB and Tyler Chatwood that the Cubs are getting ready for a run, and no one will stand in their way.