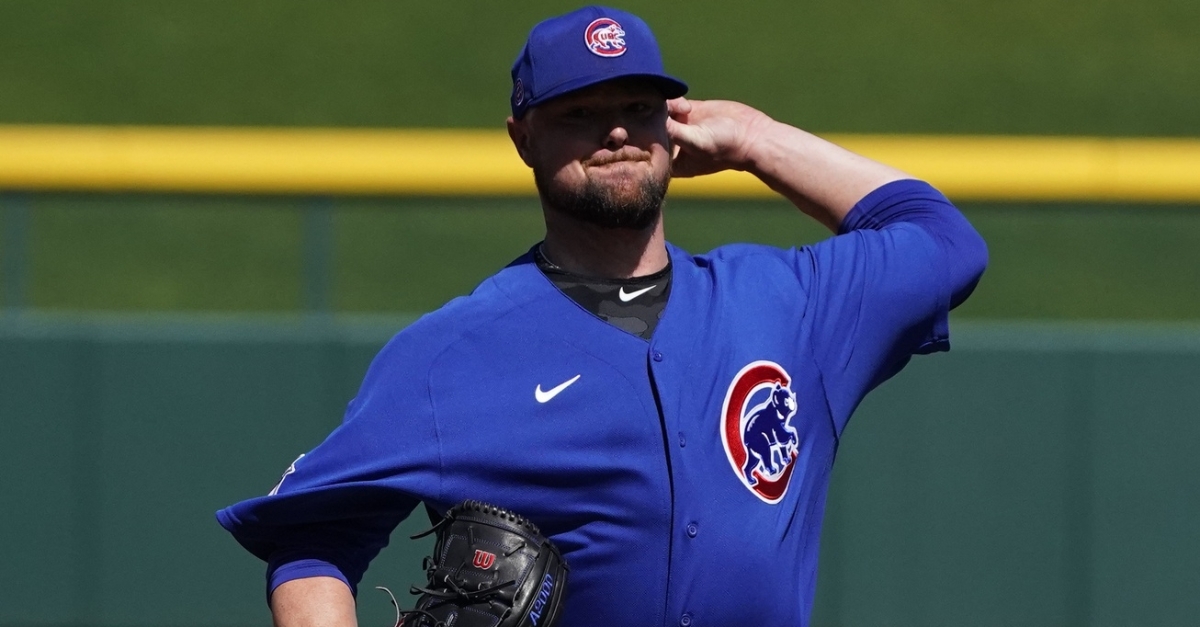 | | |
| --- | --- |
| Cubs News: Is Jon Lester a future Hall of Famer? | |
---
There are two achievements in baseball that every player strives for above any other, winning World Series Championships and being inducted into the Hall of Fame. When it comes to pitchers in baseball history who have been inducted as players, we are talking about some of the greatest ever to pick up a baseball.
Names like Cy Young, Nolan Ryan, Sandy Koufax, and Greg Maddux jump off the page as their stats and career numbers wow any readers. When taking a look at the pitchers in baseball who may end up in baseball lore forever with their names called and plaques carved in Cooperstown, names like Clayton Kershaw, Max Scherzer, Felix Hernandez, Madison Bumgarner, and Justin Verlander come to mind.
When you look beyond some of the likely no brainer Hall of Famers, there are a few current big leaguers who currently sit as fringe Hall of Famers — and the Cubs have a few of those players. Jon Lester is the one we will focus on in this article, as his Hall of Fame candidacy and resume may be impacted hard by this Covid-19 shortened season.
It is unknown whether or not any baseball will be played this season, but regardless of the amount of baseball that will be played in 2020, players will be awarded the same amount of service time as they earned in 2019, meaning Lester will have the final year of his contract play out regardless of if he throws a pitch this year.
In his career, Lester has accumulated a record of 190-108, as he is closing in on the 200 win mark. In addition to that, Lester has pitched to a career 3.56 ERA. The lefty has 15 complete games, four shutouts, 2,537.2 innings pitched while punching out 2,355 batters in his 14-year career.
Lester has been named to five all-star teams and has won the coveted World Series ring three times. In his latest ring, Lester was named NLCS Co-MVP with fellow Cub Javier Baez. In his nine years pitching in the playoffs, Lester has pitched to a 2.51 ERA across 17 series. In his career in the fall classic, Lester is 4-1. In the postseason, Lester has struck out 133 batters in 154 innings — and the big lefty has won nine postseason games in his career.
Despite never winning a Cy Young, Lester has finished in the top-5 three times, including a second-place finish to Max Scherzer in 2016 — and in 2018, Lester finished 9th. However, Lester's legacy doesn't need a Cy Young to prove how dominant he can be, especially in big playoff games or meaningful games in the stretch of a season.
When you look at Lester's numbers compared to the hall of fame pitchers, he obviously is a ways off from the Christy Mathewson and Randy Johnsons of the baseball world, but what if you averaged the numbers of all 80 pitchers who have been inducted as players into baseball's Hall of Fame in Cooperstown.
The average pitcher pitches 18 years, has a 246-171 record, a WAR of 69, a 3.00 ERA, 3,683 innings while striking out 2,127 batters.
Here is how Lester stacks up against past Hall of Famers' averages through his 14-year career. Lester is 190-108, with a WAR of 44, a 3.56 ERA, with 2,537.2 innings under his belt and 2,355 batters being punched out.
As mentioned previously, Lester has just one year left on his six-year deal he signed with Chicago before the 2015 season. The Tacoma native is 36 years old, and his performance has declined a bit over the last few years, so there may not be much of a chance for Lester to pad his future Hall of Fame resume.
While most pitchers use the last few years of their career to chase a title and pad their career numbers, Luster may not get that chance. Especially with the coronavirus temporarily shutting down the MLB, this could mean one of Lester's last chance in his winding career to earn an induction to baseball's Hall of Fame passing him by.
I do not anticipate Lester retiring after this season, nor do I expect this season to be fully canceled. I think Lester will have at least a few more chances to bolster up his already impressive resume to earn him baseball immortality in Cooperstown. As it stands right now, he is still on the fringe.
But if we've learned one thing, don't doubt Big Jon Lester.