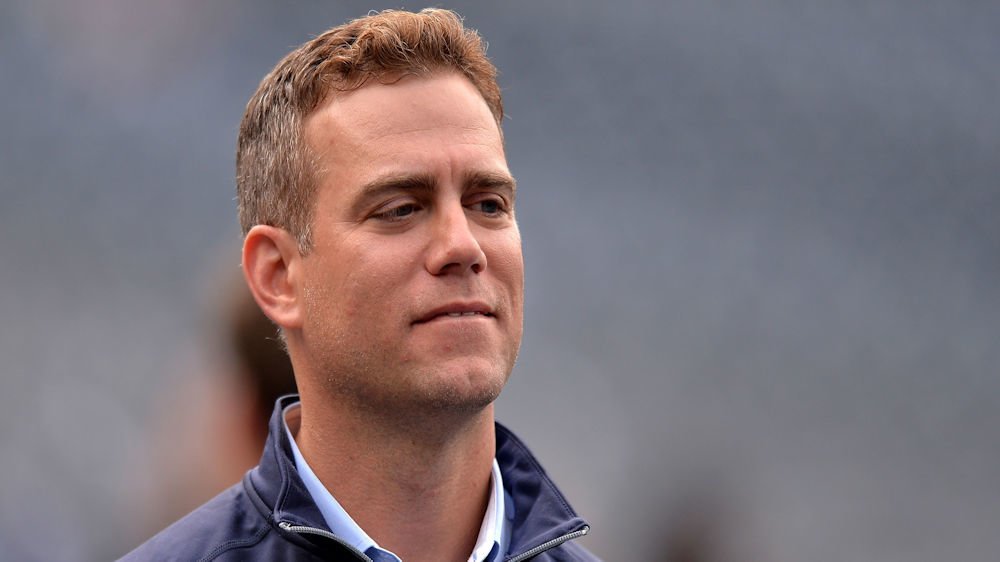 | | |
| --- | --- |
| Cubs News: Is it Groundhog Day for Theo Epstein? | |
---
| | | |
| --- | --- | --- |
| Friday, November 16, 2018, 9:35 AM | | |
Theo Epstein was tabbed as the youngest general manager in MLB history at age 28 in 2002 by the Boston Red Sox. He helped lead the Red Sox to two World Series titles (2004 and 2007), and his players were a vital part of the 2013 team that won after he left. Epstein also helped the Cubs win their World Series in 2016. Those two feats are enough to punch his ticket to Cooperstown, but he has had issues maintaining success through free agency first in Boston, and it's starting to look that way in Chicago as well.
For all the good he has done rebuilding the Cubs and making them winners consistently, he needs to watch his spending, or he's going to have the same issue that led he had in Boston.
He drafted well in his tenure in Boston (2002-2011) with Jacoby Ellsbury, Jonathan Papelbon, Mookie Betts, Anthony Rizzo, and Jackie Bradley Jr., so he's a proven amateur talent evaluator. He has made shrewd trades acquiring Curt Schilling for four players whom never amounted to much. He got Josh Beckett and Mike Lowell for four minor leaguers although two went on to success in the majors (Anibal Sanchez and Hanley Ramirez). The players acquired were critical reasons for both World Series during the Epstein regime.
His downfall in Boston was big money free agent signings. He gave big money deals to Matt Clement 3 yr./25.8 million, Julio Lugo 4yr/36, Edgar Renteria 4yr/40, and the biggest bust of all Daisuke Matsuzaka 6yr/51 plus 51 million fee. All of those came between 2004-2006, and only Daisuke had any success for Boston, and that was for just the first two seasons. That doesn't include his most expensive and last big money deal in Boston Carl Crawford 7yr/142 million. All of those signings inflated the Red Sox payroll and didn't lead to success. They did win in 2007 but only Daisuke was a significant contributor, Crawford was long gone by the time the Red Sox won again in 2013. In the years after the 2007 World Series, the Red Sox payroll were as follows 2008: 133 million, 2009: 122 million, 2010: 162 million 2011: 161 million good for the fourth highest salary in 2008-09, the second highest in 2010 and the third highest in 2011.
Epstein left after the 2011 season to help rebuild the Chicago Cubs. He succeeded as it was a rebuild from the studs up. A new owner, new stadium to figure out, and a unique way of doing rebuilding through the draft and with trades. Epstein worked his magic yet again, and the Cubs behind draft picks Kris Bryant and Kyle Schwarber along with players who were traded for Anthony Rizzo, Jake Arrieta, and Aroldis Chapman helped lead the Cubs to the much celebrated 2016 World Series title.
Epstein started spending in earnest to accelerate the rebuild before the 2015 season signing a player; he drafted with the Red Sox Jon Lester 6yr/155 million that has turned out to be one of the few long-term deals that have worked out under Epstein. He also signed Jason Heyward 8yr/184 million, Yu Darvish 6yr/126 million which haven't worked out as the Cubs envisioned. Heyward has been serviceable at times but not for what they are paying him. This is starting to look a lot like the last years of his Boston tenure, the big money deals didn't pay off, and Boston had an inflated payroll with record and success that didn't match although the Cubs have won a lot of games the playoff success the last two years is trending downward.
The Cubs have spent themselves into a corner, and now they have to find a way to recoup their losses before it is too late. This window with these young players that Epstein is closing rapidly. Decisions need to be made on who stays and who goes sooner rather than later. One can't help but wonder if it's Groundhog Day for Theo Epstein.