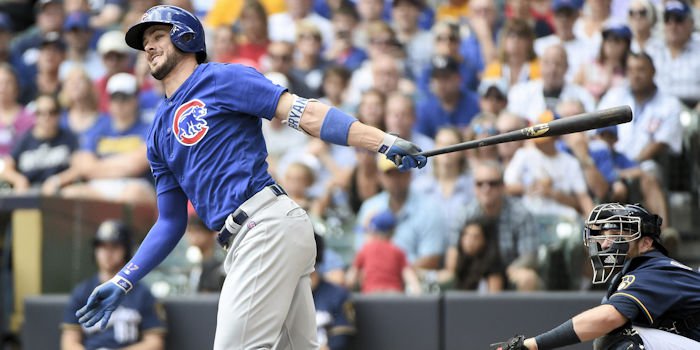 | | |
| --- | --- |
| Cubs News: Kris Bryant deserves more MVP consideration | |
---
| | | |
| --- | --- | --- |
| Tuesday, September 26, 2017, 3:23 PM | | |
CHICAGO -- There is a logjam as far as the National League MVP race is concerned and who is going to win it is still up in the air. A few of the names tossed around are superstars Giancarlo Stanton, Paul Goldschmidt, Joey Votto, Corey Seager, Charlie Blackmon, and Nolan Arenado. All of those names are worthy of the honor and they are in the top 10 as far as WAR goes according to Fangraphs. One name no one is talking about is the reigning NL MVP, Kris Bryant.
It is widely considered that Kris Bryant is having an "off year" with only 29 home runs and 73 RBI (70th in MLB) he isn't coming close to tallying the stats he had last year as far as traditional numbers are concerned. Part of the reason he wasn't discussed is he struggled for much of the first half of the year and voted to the All-Star team. His second half he has turned it on and returned to MVP form and beyond. So much so that he leads the National League with 6.8 Wins Above Replacement. During the second half of the season, he has been sizzling with a .332 average with 11 homers.
Bryant has a .297 batting average and a .411 on-base percentage which is better than his MVP year last season. He is sixth in the league in WRC+ and sports the fifth best overall baserunning mark. He has improved his total defensive rating from a negative to a +1.9 rating. He also bats second, and that could be one of the reasons for less RBI opportunities but has scored an impressive 110 runs which puts him at fifth best in the majors. Another crazy stat is that he is slashing .426 with four homers, 14 RBI in his current 12-game on-base streak. He also has a RBI in five straight games.
Perhaps the most impressive thing about Kris Bryant this year is his strikeout to walk ratio which he has improved on for the third straight season. Last year he had a 10.7% walk percentage and a 22% strikeout percentage. This year he has improved on those numbers again with a 14.4% walk rate and an 18.9% strikeout percentage.
Should Kris Bryant be named NL MVP? Perhaps yes, perhaps not. The field is so tight-knit that you can't blame anyone for voting for any of the names listed at the start of this article. Bryant is again showing that he is one of the best overall players in the National League and deserves more respect as reigning National League MVP.