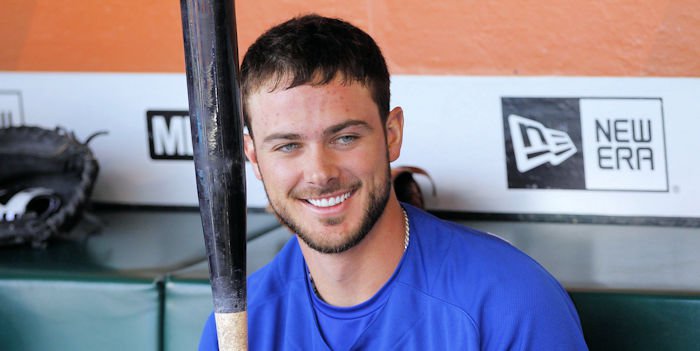 | | |
| --- | --- |
| Cubs News: Kris Bryant for MVP? A Look at the Numbers | |
---
CHICAGO -- Could Kris Bryant be the MVP? The Chicago slugger has had no signs of a sophomore slump, as he has led the Cubs to one of the best seasons in club history thus far. As a rookie, Bryant took home the Rookie of the Year Award, set the club record for most home runs by a rookie, and helped the team reach the NLCS for the first time since 2003. If he were to win the MVP this year, it would be the 4th award in four years: Dick Howser trophy for college player of the year, Minor League player of the year, ROY, and now MVP (not to mention his Golden Spikes Award too).
If Bryant was playing in the American League, this might be a different story, as Jose Altuve, Mike Trout, and Josh Donaldson are having amazing years. But in the NL, he leads all players (pitchers included) in Wins Above Replacement at 5.5. Plus, with a solid 28 home runs and .290/.385/.546 slash line, he is having a solid year both with traditional numbers and advanced statistics.
Let's go through the numbers, and see if we can prove that Bryant has been the best all across the board. To make things easier, let's look at only the five position players with the highest WAR: Bryant, Corey Seager, Nolan Arenado, Anthony Rizzo, and Starling Marte (sorry, Daniel Murphy). Baseball-reference is a great place to scrape data, and using a program like R allows you to analyze it. Let's observe the basic statistics:
Bryant: .288/.383/.548, 28 HRs, 73 RBIs, 147 OPS+
Rizzo: .292/.398/.568, 25 HRs, 85 RBIs, 157 OPS+
Arenado: .279/.351/.548, 30 HRs, 95 RBIs, 118 OPS+
Marte: .316/.373/.461, 7 HRs, 40 RBIs, 122 OPS+
Seager: .307/.360/.528, 21 HRs, 56 RBIs, 137 OPS+
OK... so Bryant does not lead in ANY of these categories, so why is he even in contention? There is a lot to say about the rest of the guys that the traditional numbers do not cover. For example, Arenado has the most home runs and RBIs of the five, but his OPS+ is the lowest. OPS is On-Base Plus Slugging Percentage, and OPS+ adjusts for ballpark effects. In Colorado, offensive numbers are so skewed because Coors Field is at such a high elevation, thus there is a low air density, and the only way to solve the problem is by having the largest outfield in baseball. This is why for many years Coors Field gave up not only the most home runs, but the most doubles and triples as well.
Round two. Let's look at their advanced metrics. These stats focus on how well a player is versus an average player. Think about Wins Above Replacement – a WAR of 0 means that the player presents 0 wins that a replacement player would add (think a AAA player). Thus, RAA is Runs Above Average, WAA is Wins Above Average, and RAR is Runs Above Replacement.
Bryant: 41 RAA, 4.0 WAA, 56 RAR, 5.5 WAR
Rizzo: 32 RAA, 3.2 WAA, 48 RAR, 4.7 WAR
Arenado: 27 RAA, 2.7 WAA, 43 RAR, 4.2 WAR
Marte: 32 RAA, 3.2 WAA, 46 RAR, 4.6 WAR
Seager: 30 RAA, 2.9 WAA, 45 RAR, 4.4 WAR
This is Bryant's case for MVP. Not only does he lead in every category, but he leads by almost a full win! It is some of the small things that Bryant can do that make him a superstar, besides hitting for power. He can get on base, he has speed to steal and stretch singles into doubles, and his defense has really stepped up.
One thing about Bryant that has set him apart is that he has suddenly become a multi- positional player. We expected to see some movement to the outfield, but now that he has played all outfield positions, third base, first base, and even shortstop (for only one inning, sure, but that's still awesome), he has become Ben Zobrist 2.0. So while he might not have an arm like Marte's, or the range like Arenado, he is able to move around wherever Joe Maddon needs him.
There is still one thing that Bryant needs to work on: hitting in clutch situations. Last year, Bryant hit a walk off home run in late July against the Rockies, after being in quite a slump. After that game, the Cubs went on a tear, going 19-9 in both August and September, and October baseball was back on the North side. This year, while trying to recover from the worst stretch of the season, Bryant had the chance to walk off against the Mets, bases loaded, one out. Instead, he grounds into a double play, and the Mets escape with a win. Sure, one bad play cannot change a player's season, but it is noticeable when an MVP caliber (not to mention the Cubs' messiah) player ends it like that.
Let's compare win probability statistics. Win Probability Added (WPA) is the change in probability caused by this batter during the game. A change of +/- 1 would indicate that one win is added or lost. WPA+ measures the sum of positive events for the batter, and WPA – measures the sum of negative events. LI is Leverage Index, which is the amount of pressure the batter saw in a game (1.0 is average, below 1.0 is low pressure, above 1.0 is high pressure). All of these stats are calculated into a Win Probability Clutch stat, which is the difference between WPA in high context situations and context-neutral WPA.
Bryant: 1.0 WPA, 9.7 WPA+, -8.7 WPA-, 0.94 aLI, 3.4 WPA/LI, -2.3 Clutch
Rizzo: 4.1 WPA, 11.2 WPA+, -7.1 WPA-, 0.96 aLI, 3.6 WPA/LI, 0.6 Clutch
Arenado: 2.2 WPA, 11.0 WPA+, -8.7 WPA-, 1.00 aLI, 2.3 WPA/LI, -0.1 Clutch
Marte: 2.1 WPA, 9.5 WPA+, -7.4 WPA-, 1.02 aLI, 1.6 WPA/LI, 0.5 Clutch
Seager: 1.3 WPA, 9.5 WPA+, -8.2 WPA-, 0.97 aLI, 2.1 WPA/LI, -0.8 Clutch
Sure, it is tough to "be clutch" as evident in the fact that no one here has a high clutch factor. However, a -2.3 Clutch rating for Bryant is statistically significant among the average. It is also important to note that last year he had a 1.8 Clutch rating.
If Bryant can reach 40 home runs and start hitting more in the clutch, then I think he will win the MVP outright. But somebody else gets hot in September, then this will be a different story. He does not need another three home run game, but nobody will be complaining if he does it again. The Cubs have not had an MVP since Sammy Sosa back in 1998 – could Bryant be the next?
(Evan Boyd is a senior studying statistics at the University of Wisconsin-Madison. As a writer and a data analyst, Evan is looking into sports analytics for a career. Evan also is the Station Manager at WSUM 91.7 FM Madison student radio. Feel free to reach out to him at enboyd@wisc.edu for any questions or for a resume, and follow him on Twitter @eboyd42)

Upgrade Your Account
Unlock premium boards and exclusive features (e.g. ad-free) by upgrading your account today.
Upgrade Now