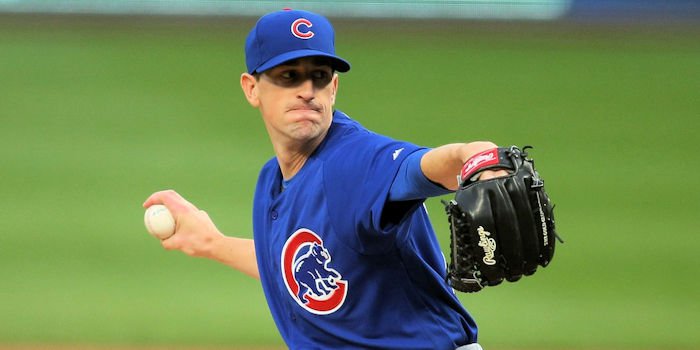 | | |
| --- | --- |
| Cubs News: Kyle Hendricks, JA Happ and trade scenarios | |
---
| | | |
| --- | --- | --- |
| Tuesday, July 10, 2018, 6:22 PM | | |
I don't think I have been more disappointed by a Cubs loss this season than I was Monday night, as the Cubs fell to the Giants, 2-1 in the eleventh inning.
It's no secret, Kyle Hendricks has had some rough outings lately, but he was nothing short of brilliant Monday night. In true, old-school fashion, Hendricks emerged from the Cubs' dugout to take the mound to start the ninth inning. There'd be no complete game for him though, as a slow offensive effort by the Cubs yielded only one run, while a couple of defensive gaffs earlier in the game allowed the Giants to score an unearned run, tying the game at one each. After Kyle issued a one-out walk in the ninth (his only one of the game), Joe Maddon decided that Hendricks had had enough, and replaced him with Randy Rosario.
Kyle Hendricks had nothing to be ashamed of as he walked from the mound, receiving a standing ovation for his effort and endurance, from Cubs' and Giants' fans alike. Hendricks finished the game with 109 pitches, eight strikeouts, one walk, five hits and one unearned run, in 8-1/3 innings of work.
To add insult to injury, the Brewers lost to the Marlins, 4-3 in ten innings, moving the Cubs to within one game of first place; a Cubs win would have cut Milwaukee's lead to just a half-game. Nobody can expect help from Miami this season, yet they gave us a gift last night and the North Siders couldn't capitalize on it. After losing last night, the Cubs remain 1-1/2 games out of first.
It seems as though Jon Lester has been carrying all of the weight for the Cubs starting rotation for quite some time. Other starters in the rotation have quietly achieved wins, despite obvious struggles, but none have looked as solid as Big Jon. As the non-waiver trade deadline looms, the Cubs need to look for a solution (or solutions) to fix their ailing starting rotation. I've seen comments on social media lately that suggest Hendricks should be traded due to his rough performances, but I knew it was only a matter of time before he got it figured out and turned it all around. I never had any doubt that he was safe from being traded, and his outing in S.F. Monday night should solidify that for any doubters in the crowd.
Although Theo Epstein commented recently that the team wasn't looking for another starter, the Cubs have now expressed interest in Toronto (LHP) J.A. Happ. Despite a 4.44 ERA, Happ has gone 10-5 this season with the Jays. While the Cubs aren't ready to part with the $126M Yu Darvish (yet…but it's coming…), I have a strong feeling that you'll see Chatwood DFA, as his trade value seems worthless, and the Cubs will need to make a hole if they can bring J.A. Happ aboard.
Who goes though, if they can swing a trade with Blue Birds? My guess (which always seems unpopular) is that cash alone isn't going to buy him- so in addition to some loot and possibly a prospect, look for at least one big-name player to go to the great-white north (Ian Happ, David Bote, Victor Caratini, or Addison Russell). The Jays recently traded utility man, Steve Pearce to Boston, so Ian Happ may be someone they're quite interested in obtaining.
Bear in mind that baseball is a business, and each and every team is in it to win games, divisions and World Series titles. Nobody wants to see a player like Ian Happ or Addison Russell traded, but at the end of the day, very few players stay with the same club for their entire career. The Cubs have rebounded from the loss of players like Aroldis Chapman, Dexter Fowler, and Hector Rondon, and they will recover from whoever may be traded this year. I say, whatever the cost, get Happ here from Toronto, and cut the losses and insanity with Tyler Chatwood.

Tags: Cubs Baseball
,
Kyle Hendricks
,
,
Yu Darvish
,
Ian Happ
,
Victor Caratini
,
Addison Russell
,
Aroldis Chapman
,
Dexter Fowler
,
Hector Rondon
,
Tyler Chatwood
,
Joe Maddon
,
Theo Epstein