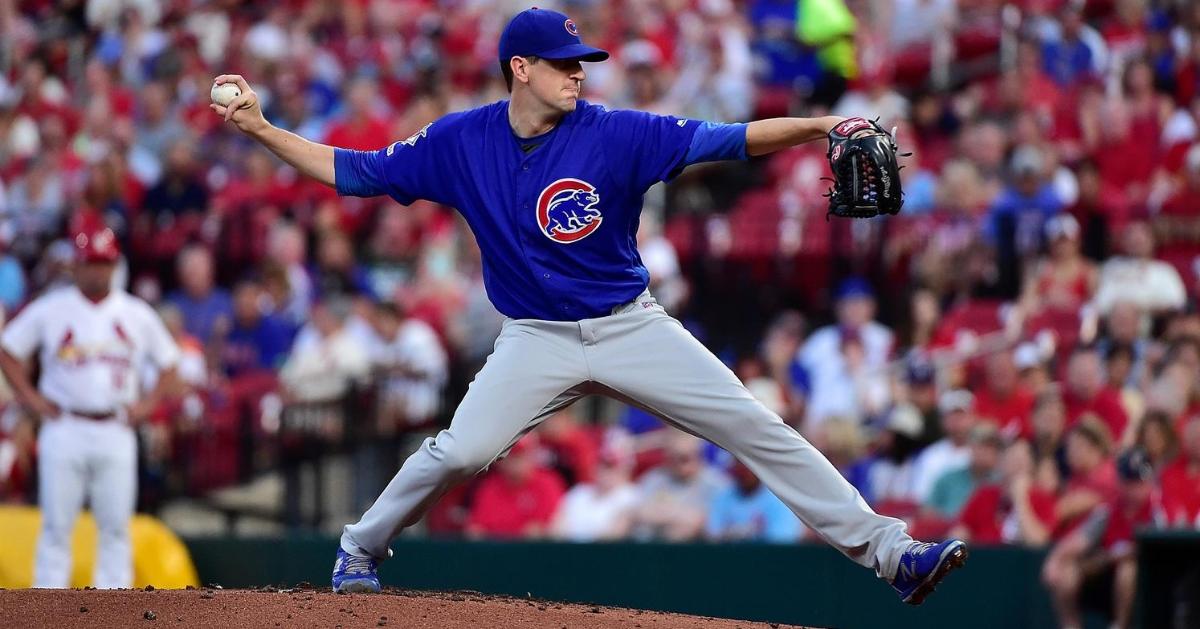 | | |
| --- | --- |
| Kyle Hendricks dominates as Cubs shut out Cardinals | |
---
| | | |
| --- | --- | --- |
| Thursday, August 1, 2019, 12:43 AM | | |
ST. LOUIS — On a day filled with trade-deadline madness, the pitching staff for the Chicago Cubs (57-50) stabilized the hysteria with a marvelous performance at Busch Stadium. Shutting out the St. Louis Cardinals (57-50) on the road, the Cubs won 2-0 behind a solid outing from starting pitcher Kyle Hendricks. Despite compiling nine hits, the Cardinals drew zero walks and went 2-for-15 with runners in scoring position. As for the Cubs, who tallied eight hits, they went 1-for-8 with runners in scoring position, with their lone hit in such a situation proving to be the winning hit.
Early on, offense was hard to come by for both teams. Leadoff doubles were wasted in the top and bottom halves of the second frame. Then, in the top of the third, Cubs catcher Willson Contreras spoiled a scoring opportunity by getting thrown out while attempting to stretch a single into a double, thereby ending the inning and leaving a runner stranded at third base. In the bottom of the third, the Cardinals blew a scoring chance of their own after catching a break on a blatant no-call.
Cardinals catcher Matt Wieters led off the bottom of the third with a double and then reached third base on an ensuing throwing error committed by Cubs shortstop Javier Baez. However, while racing up the baseline after hitting a nubber, Cardinals starting pitcher Miles Mikolas interfered with David Bote, who was covering first base, but was not called out for it. Mikolas slapped at Bote's glove in an attempt at preventing Bote from reaching out to his side and catching Baez's wide throw. As a result, the Cardinals boasted baserunners on the corners with no outs. Hendricks buckled down, though, and recorded three straight outs to leave both runners stranded.
Three cheers for that bunt single by Mikolas. #TimeToFly pic.twitter.com/9eld37Oof7

— FOX Sports Midwest (@FSMidwest) August 1, 2019
St. Louis consistently squandered auspicious offensive situations, as the three leadoff 2-baggers hit by the Cardinals on the night failed to produce any runs. A couple of great catches in foul ground helped the Cubs' defensive efforts, with third baseman Kris Bryant and first baseman Anthony Rizzo each snagging a popup while leaning over some kind of partition in foul territory. The scoreless tie was finally broken in the top of the sixth, and it came as a result of Cubs outfielder Ian Happ, who was recently called up, recording his first big-league RBI of 2019.
KB! pic.twitter.com/Y81OPT0dtP

— Chicago Cubs (@Cubs) August 1, 2019
.@ARizzo44 charges at the Cardnals dugout all by himself. pic.twitter.com/XCEeyfvngw

— Chicago Cubs (@Cubs) August 1, 2019
A fielding error allowed Bryant to reach base with one out in the sixth, which was followed by a walk of Rizzo. Two at-bats later, Happ produced in the clutch by way of a 2-out RBI single that plated Bryant from third base. The base knock to right field skirted past Cardinals first baseman Paul Goldschmidt and gave the Cubs a 1-0 advantage. Later, in the eighth, the Cubs tacked on an insurance run when Wieters suffered an embarrassing throwing error that enabled Baez to scored from second base.
An offensive tweet from the Cubs. pic.twitter.com/Z7xYlLiITJ

— Chicago Cubs (@Cubs) August 1, 2019
With two outs in the top of the eighth, Baez drove a fly ball down the left-field line that ricocheted off Cardinals left fielder Yairo Munoz's glove and landed in fair territory before bouncing into the stands. The ball was initially ruled foul, but a successful Cubs challenge resulted in the call being changed to a ground-rule double. Thereafter, Baez was seemingly caught in a pickle when Wieters geared up to throw to second base with "Javy" straying too far from the bag, but Baez flustered Wieters when he darted for third base. Inexplicably, Wieters threw behind Baez, and his ill-fated throw to second was well off the mark, as it bounced into the outfield and gifted Baez an easy run that put the Cubs up 2-0.
File this under "Stuff that only happens when Javy is on base." pic.twitter.com/ySy7NwTvzx

— Chicago Cubs (@Cubs) August 1, 2019
Cubs closer Craig Kimbrel found himself in a jam in the bottom of the ninth after the Cardinals hit a single and a double in back-to-back at-bats with one out. Kimbrel buckled down after that and forced a groundout and a strikeout to finish off the Cubs' 2-0 shutout victory for his eighth save. As for Hendricks, he picked up the winning decision as a reward for his seven scoreless innings pitched, which included seven strikeouts. The outcome, which occurred on the night after the Cardinals won the series opener, guaranteed that this particular Cardinals-Cubs series would be the first one of the season to not end in a sweep.
Chicago Cubs at St. Louis Cardinals
Jul 31, 2019
1
2
3
4
5
6
7
8
9
R
H
E
Chicago (57-50)
0
0
0
0
0
1
0
1
0
2
8
1
St. Louis (57-50)
0
0
0
0
0
0
0
0
0
0
9
2
W: Kyle Hendricks (9-9) L: Miles Mikolas (7-11) S: Craig Kimbrel (8)