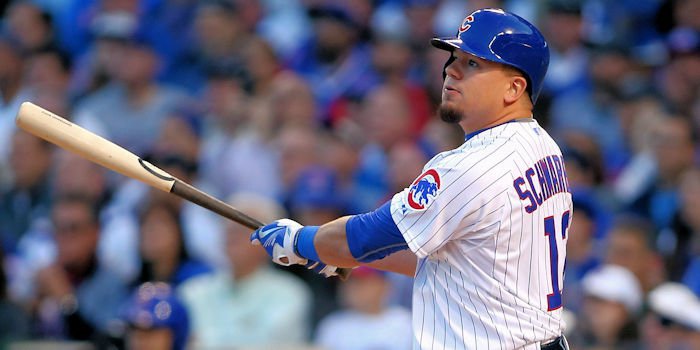 | | |
| --- | --- |
| Cubs News: Kyle Schwarber: "I want to be an MVP" | |
---
Chicago Cubs slugging outfielder Kyle Schwarber is one of the most beloved players on the North Side despite having a rough sophomore season.
However, despite weekly trade rumors about him, Schwarber has committed to being the best version of himself and has already gotten more explosive and lost a reported 20 pounds working out this offseason.
ESPN's Jesse Rogers recently was at one his training sessions and Schwarber has lofty aspirations about the 2018 season and his destiny in the big leagues.
"Everyone is caught up in the weight-loss thing," Schwarber said via ESPN. "I'm not. I'm training my body for 162 games times nine innings or maybe more. I want to be an MVP. I want to be a Gold Glover. I want to set my standards really high."
This is some extraordinary goals for the raw outfielder, but I would never bet against Schwarber after him coming back as a World Series hero so swiftly after his injury in 2016.
"As soon as that season ended, I wanted to do everything in my power not to have the feeling that I had this past year," he said. "I want to be great. You have to do all those little things to be great."
In 2017, Schwarber batted .211 with 30 homers and 59 RBIs.
"I don't want just to be known as some guy that played for the Cubs. I want to be a leader. I want to be the best player I can be. And that means getting in the best shape I can be."
For his two-year major league career, he is hitting .222 with 46 dingers, 102 RBIs, and .329 on-base percentage. Look for huge things for Schwarber in 2018 with his dedication to being the best.