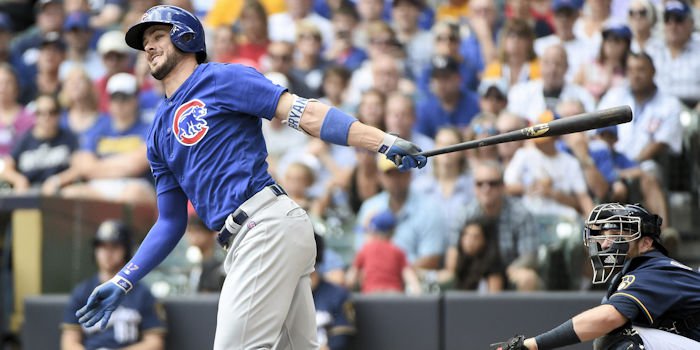 | | |
| --- | --- |
| Cubs News: Latest Kris Bryant trade rumblings | |
---
Now Kris Bryant's market may move.
The major league baseball world was surrounded by news of the punishments delivered to the Astros organization after the MLB investigated the involvements in the sign-stealing saga that was first reported on by Ken Rosenthal.
Those punishments include Astros manager AJ Hinch and general manager Jeff Luhnow being suspended for a full year of baseball activities, the team being fined five million dollars, and the organization will lose its first and second-round picks in the 2020 and 2021 drafts.
Regardless of whether or not you think the 2017 title should be revoked, the players should be fined, suspended, or banned — the MLB acted, and the Astros responded. The Astros decided to fire AJ Hinch and Jeff Luhnow from their positions, as did the Red Sox with Alex Cora (who was involved on the Astros bench in 2017 and with the Red Sox ever since).
While that was undoubtedly the main focus of the MLB world on Tuesday, but amongst the rumblings of that scandal, some hot stove news struck in the late afternoon. The Twins answered their third base question by signing 2015 AL MVP Josh Donaldson to a four year, 90 plus million dollar deal. Donaldson had a 30 plus home run year last season for the Braves and was one of the hottest commodities of this offseason.
Across the MLB, the Donaldson move is expected to be the first domino of many to fall for the market, including Kris Bryant's, to heat up.
The Angels, of course, signed Anthony Rendon, the Reds got Mike Moustakas, now the Twins with Donaldson and the Rangers and Braves are still looking for one, and the Dodgers and Nationals may be lurking in the market as well.
With those four teams searching for a player to man the hot corner, and no valuable third baseman available for just money, it seems likely that the Kris Bryant and Nolan Arenado trade markets will begin to build.
The Cubs have reportedly been engaged in talks about Bryant with the Nationals, Braves, Rangers, and even the Diamondbacks are reportedly in the mix to try and land KB.
For the Rockies, Arenado has been the subject of talks with the Cardinals and Cubs, among others — with the Cardinals looking like favorites to land the perennial all-star.
Several executives have said that it is almost certain that Bryant switches uniforms before the beginning of this season — but that, of course, must come after the MLBPA settles his service time grievance, declaring when he will be a free agent (after 2020 or 2021).
As for Arenado, it has been reported that an Arenado deal has never been more likely, and has better odds of happening than a Francisco Lindor or Mookie Betts trade.
The first domino has fallen, and now it seems likely that the trade market can heat up around the hot corner. We may see some superstars in new colors come April.