| | |
| --- | --- |
| Chicago Cubs: Latest news and rumors: Baez, Zambrano, Harper and more | |
---
| | | |
| --- | --- | --- |
| Friday, November 9, 2018, 11:27 AM | | |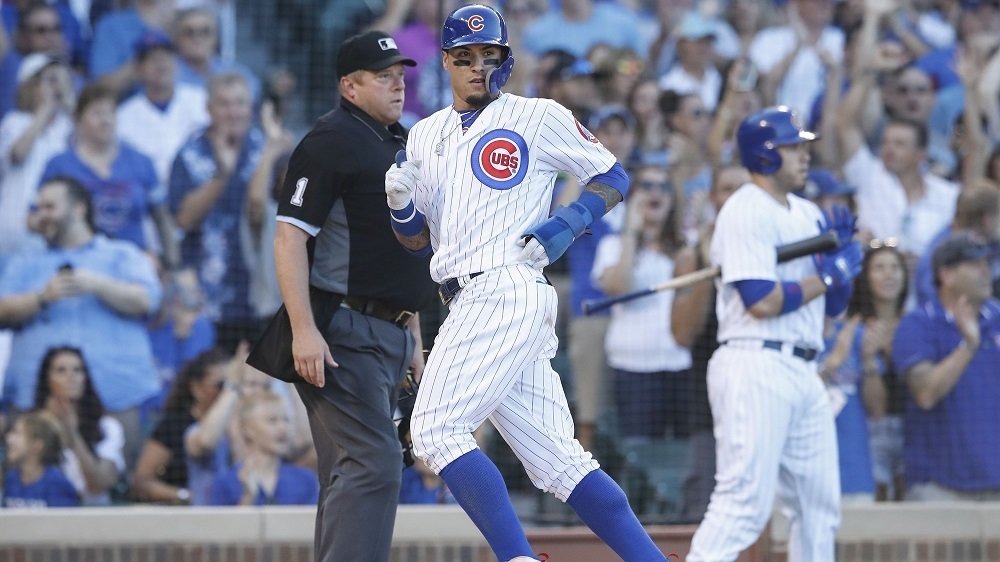 As another week of the offseason nears its end, news in the world of the Chicago Cubs seemed to be more about bullets than big, breaking news stories. The Hot Stove is still heating up, but Theo seems to have it set on "warm," at least for the time being.
Here's a look at this week's Cub news and a few assorted rumors.
Javier Baez: After missing out on a Golden Glove Award, and presumably losing MVP honors to Christian Yelich in the final month of the season, Baez managed to walk away from 2018 with his first Silver Slugger Award. Baez joins former Cub Ryne Sandberg as the only second basemen from Chicago to win the offensive honor.
Congratulations to @javy23baez on winning his first career National League #SilverSlugger Award! pic.twitter.com/sWTbP2dWxL

— Chicago Cubs (@Cubs) November 8, 2018
Carlos Zambrano: There was speculation throughout the 2018 season that former Cubs' right-hander Carlos Zambrano was contemplating a comeback, but now it looks as though the 37-year-old is taking a definitive step toward that goal. Zambrano is pitching in the Venezuelan Winter League, leaving fans and management to wonder if Zambrano's next stop might be MLB. In twelve seasons with the Cubs, Zambrano posted a .592 winning percentage (132-91), with a 3.66 ERA.
Jim Hickey: On Tuesday of this week, ESPN's Jesse Rogers called the shot; Hickey would be fired as the Cubs' pitching coach. When Theo Epstein was asked earlier this week about Hickey's fate, he declined to comment, leading most to believe that an announcement was coming soon- perhaps as early as today, once Epstein was due to be back in Chicago. It has been speculated that the Cubs may be waiting to officially fire Hickey until a replacement has been secured.
Curt Young: Rumors abound that the Cubs may be seeking the coaching services of Young, who is currently serving as the pitching coach for the Giants. Young does have ties to Theo Epstein, as he was on Boston's coaching staff in 2011. Still, under contract in San Francisco, it remains unclear whether the Giants will allow talks between Young and the Cubs. While fans are screaming for retired Cubs' hurler Greg Maddux to be appointed to the position, there have been rumors that the Cubs may have interest in another guy named Maddux, but this one's first name is Mike.
Scott Boras/Addison Russell: To no one's surprise, Boras managed to momentarily hijack the spotlight during the meetings in Carlsbad, California this week, in order to give a stump speech about why the Cubs should (and, in his opinion, would) keep Addison Russell. The Cubs have made no decision yet on Russell's future with the team, and personally, I still think he'll be sent packing. No one can blame Boras for trying to protect his client, and his tactics and timing seemed to be borderline genius. On the one hand, he publicly painted the Cubs into a corner through a sort of guilt-trip, and at the same time, he subliminally makes it known that Russell may be for sale. I tip my cap to you, Mr. Boras, you are a sly one.
Bryce Harper: By all accounts, Harper is due to meet with the Cubs' camp this weekend, but is it possible that he may be getting wooed by the White Sox as well? Harper arrived in Chicago to catch a Blackhawks game last night and found his name and number on one of the United Center's marquis, sandwiched around a White Sox logo. Everybody seems to want to have a shot at him, but the hoopla has gotten so crazy, that he may want to change his last name to "Hyper." The rumors about where he'll land have gotten so fast and furious, that I wouldn't be surprised to hear the Plumber's Union was trying to sign him after Harper was seen entering a public restroom.
Hang in there folks, things have got to start happening soon. For those keeping score, Opening Day 2019 is now 138 days away.