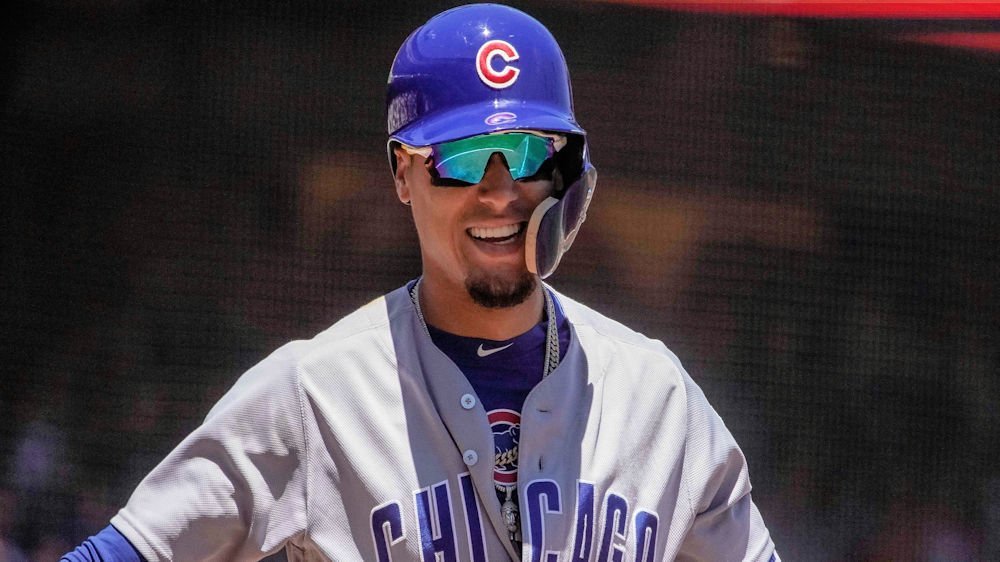 | | |
| --- | --- |
| Cubs News: Latest news and rumors: Baez, deGrom, Harper and more | |
---
| | | |
| --- | --- | --- |
| Sunday, November 18, 2018, 5:01 PM | | |
Cubs' 2019 Opener: 130 days out. If everybody starts walking now, we can all tailgate in Texas.
Yankees/Bryce Harper: For the Yankees, signing Bryce Harper may come down to whether or not the Yanks can buy back their YES Network (Yankees Entertainment and Sports). As many teams move toward their own TV distribution methods, increased revenue from broadcasting is used, in part, to offset exorbitant player salaries. For Chicago (either the Cubs or the White Sox), landing Harper may be as simple as having the best food, if you're foolish enough to believe that rumor.
Javy Baez; southpaw? We all know Javy can work magic on the field, but how about throwing right-handed, when he is actually a left-hander? Baez revealed during the MVP Award ceremony that he functions in the rest of his life as a lefty, including when he writes. I'm shocked that no autograph recipient ever noticed this.
What's the key to @Cubs NL MVP finalist @javy23baez's defensive versatility?

He's a lefty! pic.twitter.com/cfzu79U9Ap

— MLB Network (@MLBNetwork) November 17, 2018
Arizona Fall League: The Salt River Rafters led the AFL Championship Game all the way into the bottom of the ninth by a score of 2-0, and although the Peoria Javelinas rallied in the bottom of the ninth to tie it, they couldn't push that winning run across in regulation play. The Javelinas walked it off in the bottom of the tenth though, on a Braxton Davidson home run; final score 3-2.
In an ironic twist of fate (no pun intended) Davidson injured his right leg while celebrating the walk-off as he rounded the bases. While the team celebrated on-field, Davidson was being tended to in the locker room; there was no injury report immediately available. Peoria Javelinas' second-baseman, Keston Hiura (MIL prospect) took home the AFL MVP honors.Cubs News: Latest news and rumors: Baez, deGrom, Harper and more
A walk-off bat flip as nice as the pitcher's jersey number. @MLBazFallLeague | @Braves | @Braxdavidson pic.twitter.com/AfFoEf63aG

— Cut4 (@Cut4) November 17, 2018
Patrick Corbin: MLB Trade Rumors is speculating on which teams may land Corbin. The top five (in order) include the Yankees, Phillies, Braves, Astros, and Nationals. As the days wear on, I can't seem to shake the concern that Darvish will ever be 100% again, making me wish the Cubs' name was on that list.
Nathan Eovaldi: Despite having had Tommy John surgery not once, but twice, Eovaldi's stock seems to be on the rise. Nearly one-third of the MLB teams are currently in pursuit of the twenty-eight-year-old right-hander, and more are expected to join the race.
Reds: Presumably looking for right-hander Matt Harvey's replacement, Cincinnati is reportedly pursuing righty Marcus Stroman. Stroman had a less than desirable season in 2018, posting a 5.54 ERA with a 1.476 WHIP in 19 starts (102.1 IP).
Padres: San Diego is looking to bolster their rotation and then some. Rumors now have the Friars looking to deal with the Mets for Jacob deGrom. (Please see my note from above about the Cubs needing to be on this list.)
Kenley Jansen: The Dodgers' closer is due to undergo heart surgery on Monday, November 26 to fix problems regarding atrial fibrillation. Generally, A-fib does not require treatment, though some suffer symptoms from it. Jansen expects to be down anywhere from two to eight weeks following the surgery, depending on how much the doctors have to do to correct it.
Chicago Sports Alliance: The Chicago Sports Alliance, made up of the Bears, Bulls, Blackhawks, Cubs and White Sox, has announced that it will donate $1M in grants to support anti-violence initiatives in Chicago.
At a luncheon today, #ChicagoSportsAlliance announced it will donate $1M in grants to support anti-violence initiatives in our city. pic.twitter.com/84kdk9aEnw

— Chicago Cubs (@Cubs) November 16, 2018
Join me tomorrow night at 6:00 PM eastern for another round of the latest in news and rumors, and don't forget to peruse the site for other news and commentary.