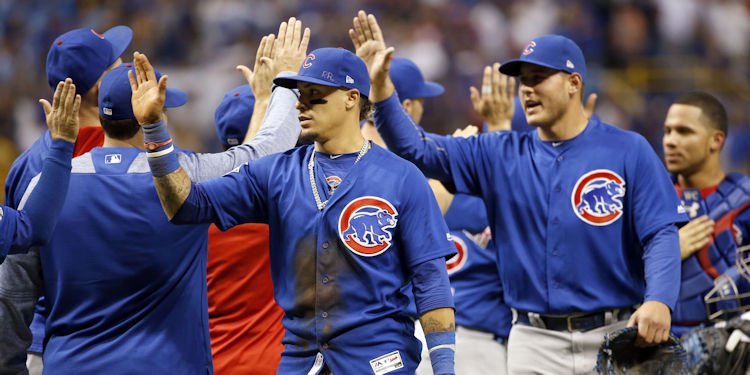 | | |
| --- | --- |
| Latest news and rumors: Chicago Winters, Cold Stove, and MLB stoppage talk | |
---
| | | |
| --- | --- | --- |
| Wednesday, January 30, 2019, 6:09 PM | | |
Cubs' news and notes
Cubs' Opening Day: 57 days. (March 28 vs. Rangers)
Pitchers/Catchers Report: 14 Days.
First Spring Training game: 25 Days. (Saturday, February 23, Brewers vs. Cubs at Sloan Park)
Chicago Weather: Nothing at all was going on in the world of the Cubs today, so I thought I would take a moment to send my thoughts to all of you who are in and around Chicago and other areas affected by the Arctic Blast. Not too bad here in southwest Missouri, about eight above this morning with a windchill in the negative teens, but I certainly feel for those of you up north.
The Cubs sent out a tweet today acknowledging that they'd gladly play ball when it's 29 above, but that 29 below was a different story.
29° F = Baseball weather.

-29° F = Not. So. Much. ?? pic.twitter.com/GzDDGc1F9L

— Chicago Cubs (@Cubs) January 30, 2019
I hate to sound like that news guy on your local station who thinks he's your mother, but… (1) Use caution with space heaters or kerosene heaters, (2) Dress In layers if you have to be out, (3) Keep the faucets dripping to prevent freezing, (4) Don't forget your pets who are outside, and finally, (5)
Keep the first responders and law enforcement officers in your thoughts and prayers.
I lived that life for several years as a paramedic, and I can tell you, we never got "snow days." They're there for you, no matter the weather, and they leave their own families behind in this weather to serve you and yours.
Wallpaper Wednesday: It's that time again- Cubs' Twitter has free cellphone wallpapers, with a variety to choose from. Forget the snow and ice and download something that at least looks warm.
Cold weather. Hot new lock screens. #WallpaperWednesday pic.twitter.com/i8DgOj9rxq

— Chicago Cubs (@Cubs) January 30, 2019
Latest news and rumors from around the league
Strike or lockout coming? According to MLB Trade Rumors: "Veteran reporter Ken Rosenthal has sounded the alarm for the possibility of a MLB work stoppage in a piece today at The Athletic (subscription required). He opens the article with the eyebrow-raising observation that 'the threat of the sport's first work stoppage since 1994-95 is palpable.'" MLB Trade Rumors goes on to say, "Importantly, Rosenthal does not cite sources for the proposition that a strike or lockout are specifically being contemplated now or in the immediate future. But the fact that such a well-placed reporter characterizes the state of affairs in that manner is noteworthy in and of itself."
Retirement announcements: Tigers' 1B/C Jarrod Saltalamacchia, has announced his retirement. Also retiring is former MLB righty, Dillon Gee, formerly of the Mets, Royals, Rangers, and Twins. Gee spent the 2018 season in Japan, playing for the Chunichi Dragons.
Blue Jays: Toronto has announced that they have signed free-agent shortstop, Freddy Galvis to a one-year deal worth $5M with a club option for 2020. In turn, the team has designated RHP Danny Barnes for assignment.
D-Backs: The Diamondbacks have signed free-agent reliever, Greg Holland to a one-year $3.5M (with an additional $3.5M in bonuses). Arizona has also extended the contract of manager, Torey Lovullo for two years. Lovullo's contract was due to expire at the end of the 2019 season.
Marlins: Miami has signed former Yanks' infielder, Neil Walker to a one-year, $2M deal, and in turn, have designated RHP Nick Wittgren for assignment.
Padres: Although SD has emerged as a contender for Manny Machado, they are also keeping an eye on Mike Moustakas. According to reports, Moustakas has come "highly recommended" from Padres' first-baseman, Eric Hosmer.
Pirates: (I'm pretty sure this is the first time I have typed that team all off-season…). Pittsburgh has signed former Royals' right-hander Brandon Maurer to a minor league deal.
Rangers: Texas has signed free-agent reliever, Shawn Kelley to a one-year, $2.5M deal with a club option and have designated OF John Andreoli for assignment.
Red Sox: Boston has signed former Mets' RHP Jenrry Mejia to a minor league deal which will include an invite to major-league spring training. Mejia will make $625k if he makes the majors. MLB reinstated Mejia following a ban due to three positive tests for PED.
Reds: The rebuild continues in Cincinnati, as today the Reds announced that they had signed lefty reliever Ian Krol to a minor league deal. He'll receive an invitation to participate in MLB Spring Training as a non-roster player.