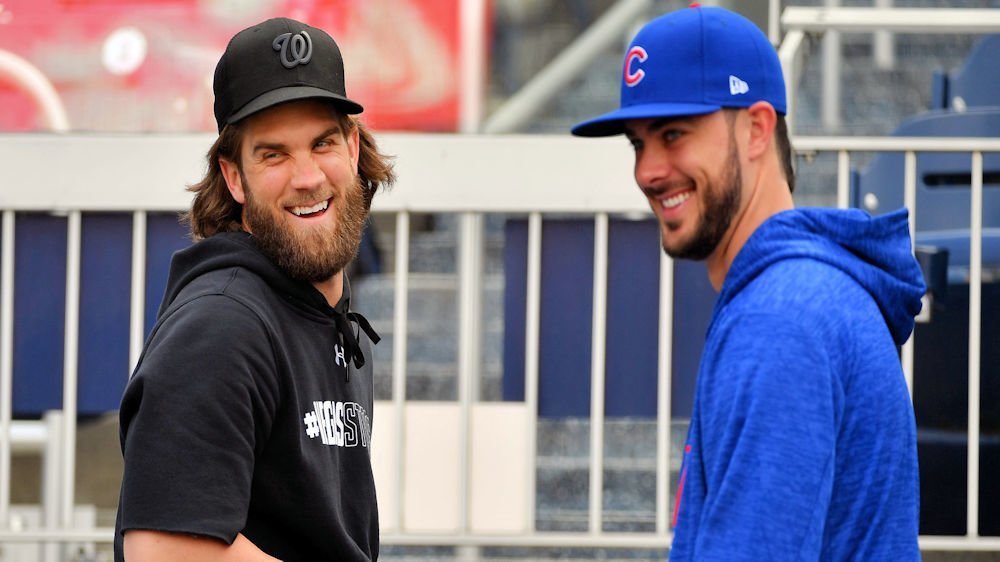 | | |
| --- | --- |
| Cubs News: Latest news and rumors: Did Machado tip his hand? Harper and Bryant, Kikuchi signs, more | |
---
| | | |
| --- | --- | --- |
| Tuesday, January 1, 2019, 6:01 PM | | |
Happy New Year everyone! OK, so the owners and GM's weren't "drunk trading" last night, although I still say they should have, but some things happened, nonetheless. Once again, they are making noise in Seattle, some good, some bad, but give Jerry Dipoto credit- he seems to be doing things daily to rebuild the Mariners.
The Cubs, meanwhile, seem content to continue enjoying the holiday season. Time is ticking though, and when the Cubs' front office re-opens on Thursday, I will suspect that Theo will have his thinking cap on.
Cubs' news and notes
Cubs' Opening Day: 86 days.
Pitchers/Catchers Report: 41 Days.
First Spring Training game: 54 Days. (Saturday, February 23, Brewers vs. Cubs at Sloan Park)
Holes left to fill: With the rotation set and Theo Epstein seemingly content with his infield, the immediate focus for the Cubs in the new year would seem to be filling holes in the bullpen. Barring any trades or releases, the Cubs still need to fill the spots vacated by Jesse Chavez, Jorge De La Rosa, Jaime Garcia, and Justin Wilson.
More on Harper: All the buzz on social media this morning regarded Kris Bryant and Bryce Harper spending New Year's Eve together last night. "Could this be a sign?" "Did Bryant give Harper a sales pitch?"
Calm down, people, the last I knew, they were best friends who shared the same hometown. Nothing more, nothing less. The Cubs chances of landing Harper rely on the Ricketts' family and Theo Epstein. Bryant may tell Harper how much he'd love to be teammates, but that's about as far as he will play into Harper's decision. Nothing to see here, please move along.Cubs News: Latest news and rumors: Did Machado tip his hand? Harper and Bryant, Kikuchi signs, more
Kris Bryant and Bryce Harper celebrated the New Year together.??

(Picture via Jess_Bryant IG) pic.twitter.com/9isK05Q7r0

— Daniel Greenberg (@ChiSportUpdates) January 1, 2019
Cole Hamels: How is Cole Hamels celebrating New Years? In style, that's how. Hamels and his wife are enjoying a New Year's vacation in Maui. (Meanwhile, they are talking about snow in my area…sheesh, I miss living in Florida…)
Last sunset of the year!!! #maui pic.twitter.com/zVGrvsgnED

— Cole Hamels (@ColeHamels) January 1, 2019
Latest news and rumors from around the league
Manny Machado: Props to Jon Heyman for picking up on this little tidbit- Machado has started following the YES Network on social media- this is the Yanks' TV network. Does it mean anything? Maybe, maybe not, but it is interesting. Ironically, within two hours of Heyman's tweet, Machado then unfollowed the YES Network. Coincidence?
fwiw, Manny Machado has started following YES Network, the Yankees' station, on instagram. could be a sign. or could be nothing.

— Jon Heyman (@JonHeyman) January 1, 2019
Golden State Warriors: Huh? Yes, I meant the Warriors. The back-to-back NBA Champion Golden State Warriors led all U.S. professional sports teams in social media engagements during the calendar year of 2018, surpassing the Dallas Cowboys, Boston Red Sox, New England Patriots, L.A. Dodgers, and Chicago Cubs, among others.
Mariners: Reports say that Seattle has reached an agreement with free-agent, Japanese star, Yusei Kikuchi. The deal is for three years and $43M, at which point the Mariners can trigger a four-year, $66M extension. If they don't, Kikuchi can either opt into free agency or accept fourth-year option at $13M.
Kikuchi is currently ranked as the #7 free-agent this off-season. At the rate Jerry Dipoto is going, you can expect Kikuchi to be traded within a week. Just saying…
In other Mariners' news, Seattle has filed its answer in the lawsuit brought against them by Dr. Lorena Martin. As you'll recall, Martin is suing the Mariners, alleging racial and gender discrimination.
In addition to stating that Martin's allegations are false, the Mariners claim that they received multiple complaints that Martin "created a hostile work environment" and that she "misrepresented herself as a medical doctor." The Mariners have reportedly received reports that Martin implemented her practices for treating injured players in place of doctors' orders.
In their defense of Martin's lawsuit, the team is seeking to void the remainder of Martin's contract, as well as seeking damages for her accusations on social media that team officials made discriminatory remarks about Latino players. An investigation into Martin's accusations was launched by MLB, which has not yet made its findings public.