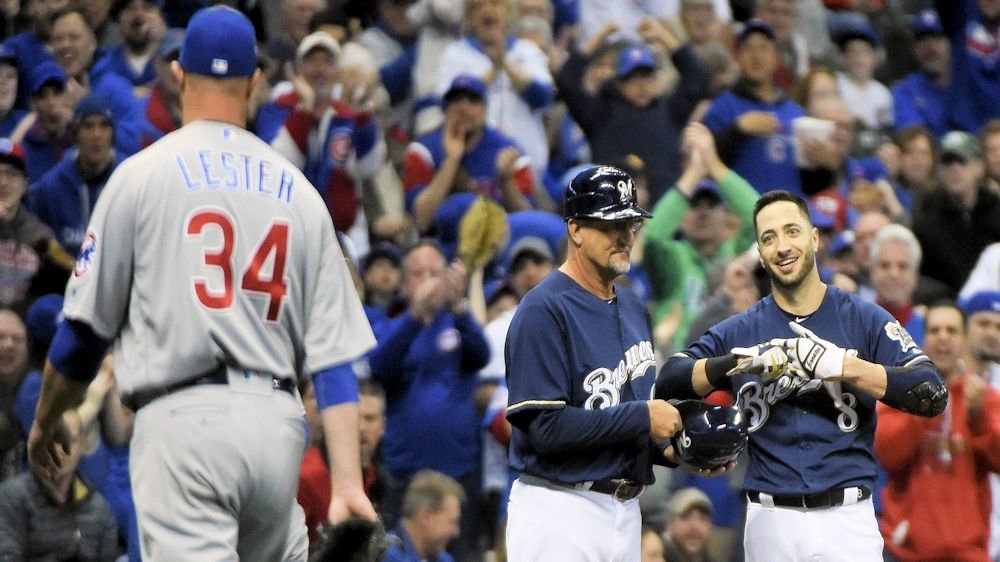 | | |
| --- | --- |
| Cubs News: Latest news and rumors: FanGraph Predictions, HOF Inductees, and more | |
---
Cubs' news and notes:
Cubs' Opening Day: 64 days. (March 28 vs Rangers)
Pitchers/Catchers Report: 21 Days.
First Spring Training game: 32 Days. (Saturday, February 23, Brewers vs. Cubs at Sloan Park)
Brandon Morrow: When asked about the Cubs and their decision regarding the 2019 team, Morrow said, "The team you're going to put out there is good enough in everybody's eyes to win the division. Win the World Series."
FanGraphs: According to FanGraphs, by October, the NL Central should finish up looking like this in 2019: Cubs: 87-75; Cardinals: 86-76; Reds: 81-81; Pirates: 80-82; Brewers: 79-83.
Projected to finish ahead of the Cubs in the National League are the Dodgers (93-69) and the Nationals (92-70). The Red Sox are once again the MLB favorites, projected to go 97-65.
On this date: On January 23, 2015, the Cubs lost one of the greats: Rest in Peace, Ernie "Mr. Cub" Banks, let's play two.
Anthony Rizzo: The Cubs first baseman had some nice words about Banks today via his Twitter account:
Missing Mr. Cub today and every day. pic.twitter.com/EKE4EXamSq

— Anthony Rizzo (@ARizzo44) January 23, 2019
Latest news and rumors from around the league
HOF Inductees: Welcome to Cooperstown, Edgar Martinez, Mike Mussina, Roy Halladay, and Mariano Rivera. Not surprisingly absent, are players tied to the steroid scandal: Sammy Sosa, Barry Bonds and Roger Clemens.
Welcome to the team, gentlemen. #HOF2019 pic.twitter.com/QwjuNulyaB

— Baseball Hall ? (@baseballhall) January 23, 2019
Doug Glanville on Mussina: "Facing Mike Mussina was like battling seasickness. He would go up in the zone, down in the zone, then repeat. High fastball, nasty curve, time-warp changeup. It was a battle in four dimensions. Up-down. In-out. Fast-slow. Nausea-headache. The best strategy was Alka-Seltzer."
Another slow day for the Hot Stove, although players are slowly being plucked off the list of available free agents. Still, it's surprising that some of the biggest names on the list (Harper, Machado, Pollock, Kimbrel, and Keuchel among others) remain unsigned.
By all indications, Harper and Machado were expected to sign in January, and with just a week remaining in the month, news of signings shouldn't be that far away. It's likely that once the pair of superstars sign, all hell will break loose with the rest of the free-agent field.
Athletics: Oakland has claimed right-hander, Parker Bridwell off waivers from the Angels.
Brewers: Per a club announcement, the Brewers have promoted David Stearns to the position of president of baseball operations. He has also received a contract extension of unknown length.
D-Backs: Arizona has agreed to a minor league deal with OF, Travis Snider; unclear if this includes an invite to spring training.
Giants: SF has signed LHP Drew Pomeranz to a one-year, $1.5M deal. With incentives factored in, Pomeranz can max-out at $5M.
Mariners: Seattle has reached an agreement for a minor league deal with OF Ichiro Suzuki. The ageless outfielder turned 45 in October. If Suzuki makes the majors, he will earn $750k.
Padres: SD has now had talks with Harper, Machado, Moustakas and Marwin Gonzalez. It's not known if they are the "mystery team" with regard to Machado.
Rangers:Texas has signed righty-reliever, Zach McCallister.
Cuba: Cuban shortstop, about Sanchez has now been cleared to sign with MLB teams.