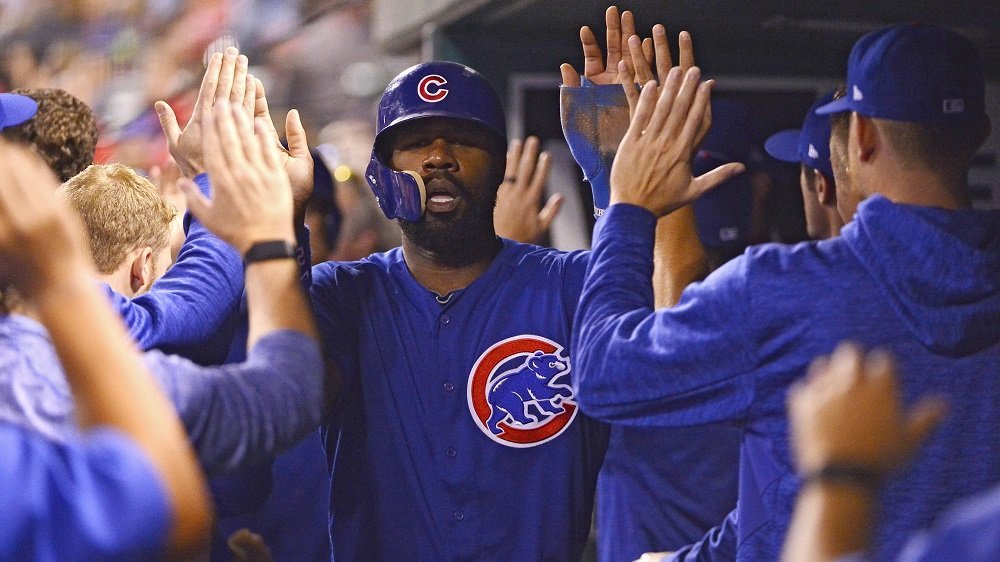 | | |
| --- | --- |
| Cubs News: Latest news and rumors: Heyward's $184 million contract, RIP Mr. Cub, and more | |
---
| | | |
| --- | --- | --- |
| Friday, February 1, 2019, 9:07 AM | | |
Cubs' news and notes
Cubs' Opening Day: 55 days. (March 28 vs. Rangers)
Pitchers/Catchers Report: 12 Days.
First Spring Training game: 22 Days. (Saturday, February 23, Brewers vs. Cubs at Sloan Park)
Jason Heyward: It should be no shock to Cubs' ownership, management or even the fans, but ESPN has ranked Jason Heyward's contract as the sixth worst active contract in MLB, and the worst among the Cubs current contracts. Heyward is currently signed on an eight-year, $184M deal, and has yet to play the caliber of ball that one would expect for that kind of money. Intangibles like his leadership ability are great, and his glove is second to none, but for that much money there's no reason he should be hitting eighth and not driving in runs.
Happy belated birthday: Mr. Cubs- Ernie Banks, would have turned 88 on Thursday. Also celebrating birthdays yesterday are former Cubs, Tommy La Stella (30), (and posthumously) former Cubs Hank Aguirre (88), Charlie Wedemeyer (105), Ray Brown (130), and Bob Ferguson (174).
#OTD in 1931, @baseballhall member and iconic @Cubs shortstop Ernie Banks was born! A two-time NL MVP and 11-time NL All-Star, Banks clubbed 512 home runs and notched 2,583 hits during his 19-year career. pic.twitter.com/Z4YdwB9TNn

— MLBPAA (@MLBPAA) February 1, 2019
"There's sunshine, fresh air, and the team's behind us. Let's play two." On Mr. Cub's, Ernie Banks', birthday may there be a little extra sunshine in your day ?? @cubs Photo: Doug McWilliams https://t.co/FikPUuP3I4 pic.twitter.com/T1fjsq9TEk

— Baseball Hall ? (@baseballhall) January 31, 2019
Latest news and rumors from around the league
Bryce Harper: As the saga for where Harper will sign drags on into what seems like an eternity, the Padres have announced that they met with Harper last evening.
There is said to be a fifth team "on the periphery" of the Harper talks, but as it stands now, the White Sox, Padres, Nationals, and Phillies remain the front-runners.
Harper goes into his meeting with Padres higherups tonight with at least 4 teams in realistic play: phillies, nats, chisox and pads. Several other teams are showing interest but most of those are believed interested in shorter term deals.

— Jon Heyman (@JonHeyman) January 31, 2019
JT Realmuto: As trade talks continue for the all-star catcher, five teams are still in the picture: Reds, Padres, Dodgers, Brave, and the Rays. At this point, LA is not considered to be part of the top-four likely to land him.
A's: Oakland is among the teams considering catcher, Matt Wieters. The A's had been looking at Jonathan Lucroy before he ended up signing with the Angels.
Astros: Houston has signed former Brewers starter, Wade Miley to a one-year, $4.5M deal, with an extra million available in bonuses.
D-Backs: Arizona has designated RHP Jake Barrett for assignment.
Pirates: Pittsburgh has signed outfielder JB Shuck to a minor league deal which includes an invite to spring training.
Reds: In their effort to rebuild and become a contender in 2019, Cincinnati is now rumored to be in "serious discussions" with left-handed reliever, Zach Duke.
Rockies: The team has re-signed Nolan Arenado to a record-breaking arbitration contract of $26M.
Twins: Minnesota has signed LHP Martin Perez to a one-year deal and has designated right-hander, Chase De Jong for assignment. The Twins are figured to add at least one more reliever to their bullpen, and rumors say they may be looking at Ryan Madson.