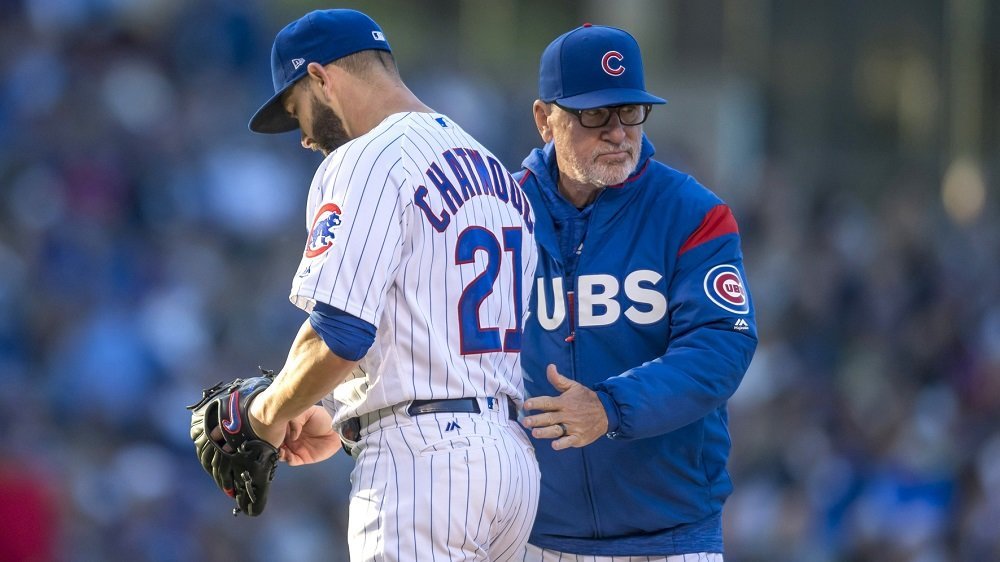 | | |
| --- | --- |
| Cubs News: Latest news and rumors: Maddon's last year? Harper's game, Sox make Machado an offer, more | |
---
Cubs' news and notes
Cubs' Opening Day: 84 days.
Pitchers/Catchers Report: 39 Days.
First Spring Training game: 52 Days. (Saturday, February 23, Brewers vs. Cubs at Sloan Park)
World Series or bust: According to Bob Nightengale of the USA Today, if the Cubs don't make it to the big-dance in 2019, Joe Maddon is finished in Chicago. Already hinting at Joe's replacement, NBC Sports Chicago has offered up the names David Ross and Mark Derosa as possible suitors for the job.
Jesse Rogers on the Cubs: In an article by ESPN's Jesse Rogers this morning, Rogers points out what many fans have already been eluding to.
"A team coming off a disappointing finish -- combined with a quiet winter so far -- is starting to feel the heat from an expectant fan base. More important, the Cubs are feeling the heat from a division they seemingly owned at this time a year ago. That hold has faded. Milwaukee overtook Chicago for the NL Central title in 2018, and St. Louis and Cincinnati have been as active as anyone this offseason. The gap is closing in a division without a rebuilding team. That's a rarity in baseball these days, and there will be no easy wins."
Latest news and rumors from around the league
Bryce Harper: Last night there were confirmed reports that Harper has had more than a couple of ten-year offers with high average annual values (AAV).
According to MLB Trade Rumors, the "teams remain unknown," however, we know that the Nationals and Phillies make up two of them. He wanted a decade-long deal, and he has offers. His offers are for the hundreds of millions offered that he demanded. So, what is he waiting for now? Just my opinion, but this is becoming a cat-and-mouse game that is rather unbecoming to Harper.
Braves: Atlanta has announced that former INF/OF Matt Tuiasosopo has announced his retirement and will now serve as manager for the Rome Braves, the club's Low-A affiliate. In the same press release, the Braves also announced the retirement of INF/OF Alfredo Amezaga who will also serve as a coach within the organization, in a "to-be-determined" capacity.
Brewers: Milwaukee continues to eye free-agent second-baseman Brian Dozier as a means to fill the vacancy left by Jonathan Schoop.
Dodgers: The Dodgers have signed right-hander Markus Solbach to a minor league contract, as announced by Solbach's team in the Australian Baseball League, the Adelaide Bite.
Indians: Cleveland has signed former Royals' RHP Justin Grimm to a minor league deal with an invite to spring training.
Phillies: The Phillies are reportedly have signed former Yankees, free-agent reliever, David Robertson. A two-year deal worth a guaranteed $23M.
Twins: Minnesota has designated RHP Aaron Slegers for assignment.
White Sox: Sports writers are projecting that if the Sox fail to get Machado or Harper, that outfielder AJ Pollock may be their next target. USA
Today's Bob Nightengale is reporting that "The Chicago White Sox are more engaged with Manny Machado than Bryce Harper at the moment and have officially made an offer to Machado. They have yet to make a formal offer to Harper but have been in constant contact."
Yankees: NY is reportedly doing everything they can to retain reliever, Zach Britton. Several teams have approached Britton, but the Yanks aren't willing to give up him just yet.