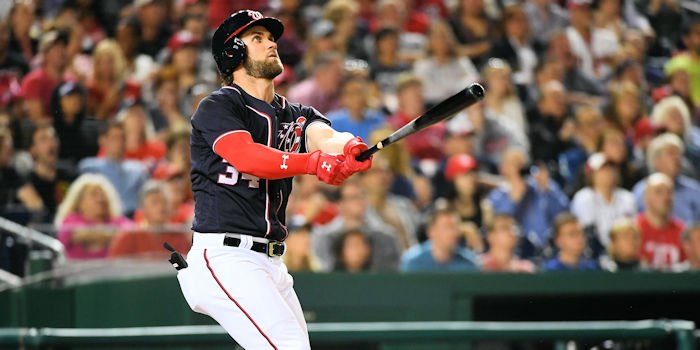 | | |
| --- | --- |
| Latest news and rumors: Rosenthal on Harper, Phillies land McCutchen, and much more | |
---
| | | |
| --- | --- | --- |
| Tuesday, December 11, 2018, 6:01 PM | | |
Cubs' news and notes
Opening Day: 107 days.
Ken Rosenthal: Citing sources, Rosenthal is tweeting that "The Cubs and Cardinals are among the other teams not engaged in a pursuit of Harper."
Cubs' targets: According to Mark Gonzalez of the Chicago Tribune, the Cubs continue to target late-inning relievers, a backup catcher and possibly a middle-infielder at the winter meetings, though nothing has materialized yet. Jed Hoyer states that the team wants to find their missing leadership in the form of a veteran-reserve (presumably a catcher), rather than to impose the task on a marquee player.
Joe Maddon: The Cubs manager has been sighted at the Winter Meetings on Tuesday. He spoke on MLB radio and said the following to his critics:
"I am not going to apologize for averaging 97 wins. At the same time, I get it."
El "rock star" Joe Maddon... también es manager de #Cubs #WinterMeetings pic.twitter.com/y9iNtgC9a4

— Enrique Rojas/ESPN (@Enrique_Rojas1) December 11, 2018
Latest from the winter meetings and the Hot Stove
See you next year: Not the news most fans want to hear, but the general consensus in Vegas is that Manny Machado and Bryce Harper will most likely wait until after January first to sign anywhere. Machado is said to be making four in-person visits in the coming days.
Retirement announcements: Former Boston/Cleveland RHP Justin Masterson has announced his retirement, as has former Seattle RHP Tom Wilhelmsen.
Bryce Harper: Agent Scott Boras is reportedly furious with Nationals' managing principal owner, Mark Lerner, for recently said the Nationals probably couldn't do any better than the extension they offered Harper. League rules dictate how a team can talk publicly about negotiations. Boras said he won't go to the Player's Union but says he will deal with the patriarch of the family, Ted Lerner, from here-on-out regarding Harper negotiations. Latest news and rumors: Rosenthal on Harper, Phillies land McCutchen, and much more
Michael Brantley: Things heating up for Brantley with the White Sox, Phillies and Braves all looking. Philly is starting to spend that "stupid" amount of money they talked about.
JA Happ: Happ is being labeled as the "next domino to fall" in Vegas, and talks are heating up. Reports say Happ has two-year offers from over a half-dozen teams, but he is holding firm to his desire for three-years/$48M. Thus far ten teams have been connected to him, and others may arise. Insiders are saying the first team to offer three-years will win.
The possible super-trade: Talk continues about a three-way blockbuster deal between the Yankees, Mets, and Marlins. Ken Rosenthal says there's still a long way to go, however, it is shaping up to like the Yanks would get Syndergaard, the Mets would wind up with Realmuto, and Miguel Andujar could wind up in Miami, with other players and prospects being involved. Mets said to be pushing hard for Realmuto.
Astros: Houston spent a team-record $182M last year on payroll, and they are projected to increase that amount this year. Reports say they'll stay under the $206M threshold but may spend a significant amount to further their World Series chances in 2019. Astros also talking to Michael Brantley.
Athletics: Take another veteran, free-agent backstop off the market, as the A's have signed former D-Back/Mariner, Chris Herrmann. Terms are not yet known.
Blue Jays: Toronto has released veteran shortstop, Troy Tulowitzki, making him a free-agent. Tulowitzki sat out all of 2018 due to bone spurs in his feet and is still owed $38M for 2019 and 2020.
Braves: GM Alex Anthopoulos says Mike Foltynewicz is not for sale.
Giants: SF is receiving "a ton of calls" on lefty Will Smith, with St. Louis known to be the most aggressive pursuer thus far. SF also showing interest in Yusei Kikuchi.
Marlins: Miami has outrighted infielder Yadiel Rivera and RHP Brett Graves in order to open 40-man roster spots ahead of Thursday's Rule 5 Draft.
Mets: NY said to be "kicking the tires" on AJ Pollock. If the Mets can't land Realmuto, backup options include Ramos, Grandal or Maldonado.
Phillies: The Phillies have announced that they've reached a deal with OF Andrew McCutchen. The deal is reported for three years and $50M, with an option for a fourth year. Don't count Philly out just yet, they are still pursuing both Harper and Machado, and are now involved in talks for Realmuto as well.
Pirates: Pittsburgh has agreed to terms with free-agent, right-handed reliever, Jordan Lyles. Details not yet available.
Rays: The Rays are reported to be exploring multiple options including Charlie Morton and Carlos Santana.
Reds: Cincinnati reportedly seeking trade options for their rotation with Cleveland for Kluber and Bauer. Reds also showing interest in Wade Miley.
Red Sox: Boston reportedly "out" on Kimbrel but may be trying to reunite with Joe Kelly. Red Sox also reportedly taking offers on veteran righty Rick Porcello ($21M owed for 2019) and are "willing to talk about" SS Xander Bogaerts (projected $11.9M in arbitration) and CF Jackie Bradley, Jr. ($7.9M).
White Sox: The South-Siders have landed veteran right-hander, Ivan Nova from the Pirates in exchange will receive RHP prospect Yordi Rosario and $500k in international money.