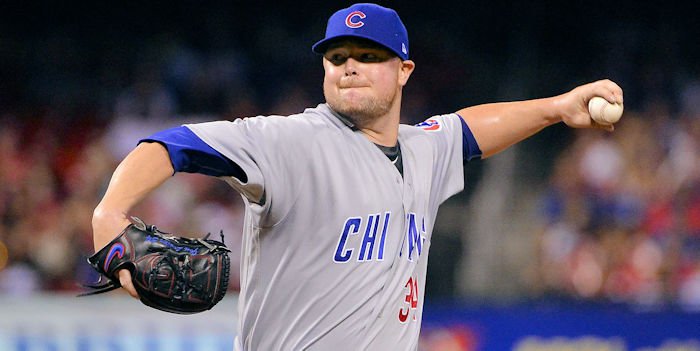 | | |
| --- | --- |
| Lester rebounds, Cubs demolish Cardinals | |
---
With a playoff spot a virtual lock, the Cubs needed Jon Lester (12-8, 4.46 ERA) to return to playoff form. His success is inextricably linked to the team's overall success in October. He put the minds of the Chicago faithful at ease holding the Cardinals to one run over six innings and help give the Cubs an impressive 10-2 win. There were rumors he was pitching through injury, but it didn't look like that tonight. His pitching was fluid, effective and dynamic.
Lester did give up a couple of hard-hit balls, including a homer to Jedd Gyorko, but he looked comfortable. He needs to be in tip-top form for what is, hopefully, a long October grind. He induced nine whiffs (a couple particularly nasty ones) out of 58 total strikes. The four strikeouts aren't amazing, but Lester pitched more to contact than for the strikeout.
Luckily, it wasn't left all up to Lester. The lineup jumped all over rookie Luke Weaver (7-2, 3.23 ERA) for eight runs in just the first three innings. Just a few weeks ago, Cardinals' manager Mike Matheny tried to put his best, veteran pitchers in line to slow down the Cubs. Chicago swept them instead and some were left wondering if breakout rookie Weaver could have done better. He couldn't. He was chased after just three innings. He left after having his ERA bloated by 1.18 runs.
All in all, the Cardinals used up six total relief pitchers which will benefit the playoff-ready Cubs lineup for the rest of the series.
Addison Russell has been on an absolute tear since coming back from a plantar fasciitis injury in early September. Tonight, he blasted a double to clear the bases in the first inning giving Lester a lead to work with before he even took the mound. He scored Jason Heyward's double in the next at-bat. For the game, Russell went 1-for-4 with 3 RBI and two runs.
Reigning NL MVP Kris Bryant also turned on the jets to help contribute in every category. He blasted a homer, walked, singled, and even sent Yadier Molina out of the game after fouling off two balls in a row into his mask.
The Cubs best play of the game actually came on a foul ball. Addison Russell was tracking a ball just past the third base dugout when he dove into the stands. Russell didn't catch the ball, but he did destroy some poor Cardinal fan's nachos in the process. Like the nice man he is, Russell replaced his nachos at the end of the inning.
With a Cubs win or a Brewers loss tomorrow, the Cubs will clinch the NL Central crown for the second year in a row. Jake Arrieta (14-9, 3.43 ERA) will try to bring it home tomorrow on the mound facing ace Carlos Martinez (12-11, 3.63 ERA). Game time is slated for 7:00 PM CDT and will be televised on ESPN.